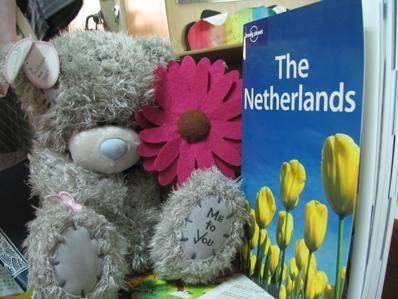 My first meeting in real was the 4th of July 2004. Although I know her more than a half year, the relationship was based on internet. This brief story tells my preparation and my first impressions.

——————————————————————————–
In January we fall in love, we intensified our daily contacts on internet. Regular meetings, sharing our daily life. Su Ching told me much about her experiences with working in the restaurant and her days at the university. I told many about my work and the fun with my daughters Chrissy and Tessa. In February I went to visit my brother who is living in Argentina. I booked this ticket already a half year before. I was thinking "can I change it to destination Taiwan?". Although I was looking forward to meet my brother a lot, I realized that I preferred to meet Su Ching. Argentina had many internet locations and a time difference of 11 hours with Taiwan, so I could easily meet Su Ching online. After my breakfast, I connected to internet. She finished her evening working at the restaurant at that time.
After my 2 weeks holiday in Argentina, I ordered a flight ticket to Taiwan for the first 2 weeks of July. Then the real countdown for our first meeting started. I had many questions in my mind "How will she be in real?", "Is she small or tall?", "Is her hair as beautiful as I saw in webcam?", "Will she react shy when I see her the first moment?". Many question of which I was looking forward to discover the reality. I felt happy thinking about it.
In the meantime I discussed several issues with her. Nice and funny issues, but also serious and difficult ones, such as her CP daughter. I tried to find solutions for her daughter. Discussing all kind of options and possibilities. I have daughter myself of which I take care of, so I can imagine Su Ching's feelings to realize the best life for her. Also we talked about my background. I had a good life before, always happy, except for my marriage.
Before our first meeting in July I realized that the fundamentals of our relationship are good. We could discuss any issue, with maintaining mutual respect to our own opinions. I realize that I am a western man with different culture background, but I have been working a long time in Taiwan. I know some basic differences about our two cultures. I have to admit that the Chinese work ethic is better than the general Dutch one. This is what I admire especially. Also in case of Su Ching. She is studying at university while working almost 40 hours per week.
The last week before I left to Taiwan I was very busy at my work. I only had limited time to think about July 4. When I departed in the plane, I had recurred questions. I first started to feel a bit nervous…..it was should be a wonderful moment. The landed at Taipei Chen Kai Check airport….I passed immigration….got my luggage and saw the final sliding door….
I was expecting 100s of Taiwan people…the door opened….I saw only a few people…and 2 beautiful eyes looking at me. She waved….I walked to her….I caressed her and gave her a big hug.
We walked to the bus station…she was silent; no words…I could see that see felt a bit nervous. So I started to talk and talk in order to hide my own tense. Our first meeting had started !!
During my 2 weeks in Taiwan I had the opportunity to discover the island with Su Ching. Even I worked a long time in Taiwan years before, I seldom had the opportunity to explore beautiful Taiwan. She organized several tours, mountains, Taipei 101, Hsinchu, etc. I really enjoyed my holidays. I brought Spekulaas for her, special Dutch cookies….and of course Dutch Tulips 
After 2 weeks, my love for her got more and more. I could do only one thing before I left to the Netherlands again. I invited her to come to Europe to continue our love and happiness.
Bart, 30-12-2004
Picture: Presents from Netherlands for our first real meet.