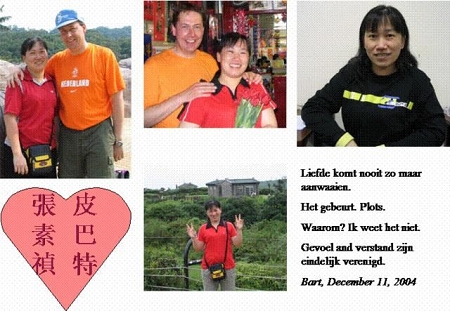 A story one week after we fall in love

After I meet Susanna the first time in November 2003, I had regular contact with her. Every day I received an e-mail of her and we met on ICQ or MSN. However, sometimes she suddenly vanished. No e-mail, no on-line contact. After, it seemed that Susanna's dorm had cut-off of electricity or internet because of repair works. That time, I worried about her, especially she was not able to contact me.
After we fall in love in January, we exchanged our mobile phone numbers in order to avoid the problems as just described. We both were able to give a call when something unexpected happened. Susanna, however, was that time a bit shy to give a phone call and I never wanted to disturb her daily life unless it was really important.
At the end of January 2004, just a week after we fall in love, Susanna did not come online. No e-mail….nothing. Next day I woke up, I checked my e-mail and again nothing. I became a bit worried. At that time I was in my former job, where we did not have internet connection at my desk. So I went during lunch time to one location with internet connection….no dinner, only checking if I received an e-mail. Again, no e-mail message.
After I went home, I check my e-mail again…and again and again…..nothing received.
I start to worry very much. All kind questions passed my mind. Did she forget me? Has she become ill? Or even worse: did she have an accident?
After a while I decided to call her. I was very happy to hear her voice. But she did not say many words. I asked her what happened, but she said only a few words, without giving me any explanation about what happened. At that time, I worried even more and more. What happened?
The next morning I received two very long e-mail messages from my darling. This is one essential statement that she wrote:
"I am very sorry to you Bart. I hadn't given you a clear explaination in phone.
I think you must worry for the whole day, right?
I want to tell you that I didn't mind that you called me, I was touched when I received your call.
You touched me so much because I knew you were worried about me.
I felt it deeply, Bart."
I was very happy to read this. I understood what happened. The electricity of her dorm was disconnected without any announcement. She was worried herself about me, but because shyness she could not call me. When I called her, she was intense happy. She could tell anything….no words …only feeling. She had tears of happiness…..
I realized that our friendship and love are very special.
…………wrote by Bart 11.12.2004