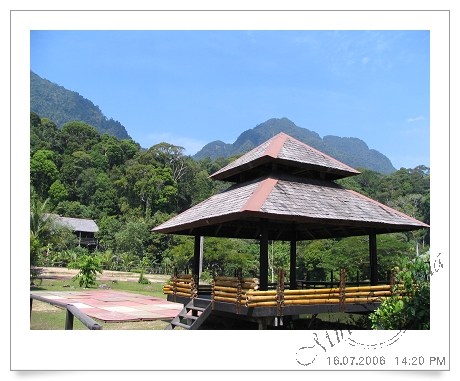 文化村內一瞥。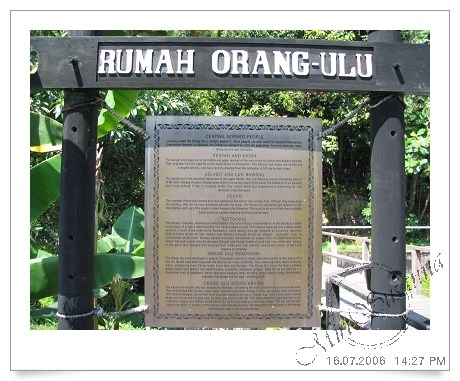 內陸民族的住所。( 官方網頁介紹,Infomation of SCV )
CENTRAL BORNEO PEOPLE
Loosely called the Orang Ulu ( upriver people ), these people are also found in adjacent Kalimantan ( Indonesian Borneo ). In Sarawak, the Orang Ulu account 5.3% the population. Formerly animists, many Orang Ulu are now Christians.
KENYAH AND KAYAN
The Kenyah and Kayan live in the middle and upper reaches of the main rivers of Central and Eastern Sarawak. They originate from the uplands of the Kayan River in Kalimantan. The Kenyah and Kayan are skilled and energetic farmers, who have recently diverted from the cultivation of hill rice to cash crops.
KELABIT AND LUN BAWANG
The Kelabit live in the mountain fastnesses of the upper Baram; their Lun Bawang cousins inhabit the interior of Miri and Limbang Divisions though some of them are moving nearer to the coast. The Kelabit and Lun Bawang have long cultivated rice in irrigated fields; this makes them less dependent in searching for new farmlands every few years.
TATTOOING
The Kayans, Kenyahs, Kelabits and Iban practice this form of body ornamentation. In the old days, a tattoo on the back of a man's hand signified that he had taken a head. The Kayans believed that a tattoo would serve as a torch in the underworld. Nowadays, some young men get tattooed on a journey. Iban men liked to tattoo almost all their bodies, with designs variously known as "dragon", '"scorpion", "dog" or ornamental scroll work. Women usually confined themselves to simple wrist or hand decorations. Kayan men and women may be tattooed, Kenyah and Kelabit ladies of rank had very elaborate tattoos in the past, lacy designs that covered their limbs and took months, sometimes years, of pain and expense to complete.
ORANG ULU BEADWORK
The Orang Ulu have developed a general Sarawakian interest in glass and stone beads to the status of a fine art. Beads have been imported into Borneo for many centuries. They were important items of barter trade, originating from China, India, West Asia and Europe. The Orang Ulu value the larger antique beads, which they fashion into head-dresses, bracelets, necklaces, girdles. Seed beads are used for the distinctive craft of beadwork, which decorates baskets, baby carriers, sword sheats, belts, head-bands, bracelets, hat blazes and hat tops – anything at all !!
ORANG ULU WOODCARVING
The Kayan and Kenyah, and their cousins the Berawan, are among the most skilled wood carvers in Sarawak. They embellished their houses, boats, tools, musical instruments, articles of daily use and personal ornaments with masterly designs. One of their most important motifs is the aso, a "dragon dog" with a long snout, curling fangs and horns, and bulging eyes. Its body may end in scaly tall. This figure played an important part in the traditional religion and folklore of the Orang Ulu, and is also used as a tattooing design. The aso may be seen supporting tables or salvers, bottle stoppers and war canoe prows. The elaborately carved masks of the Kenyah were formerly used in harvest ceremonies.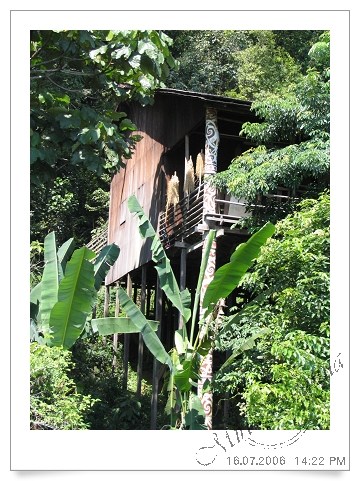 巴冷刀 ( Parang ) 的製造。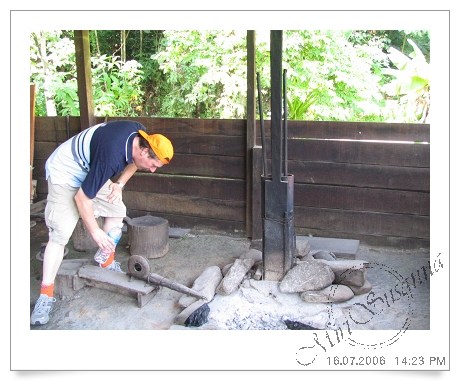 現場沒有人講解,我家巴特只好自己研究起來。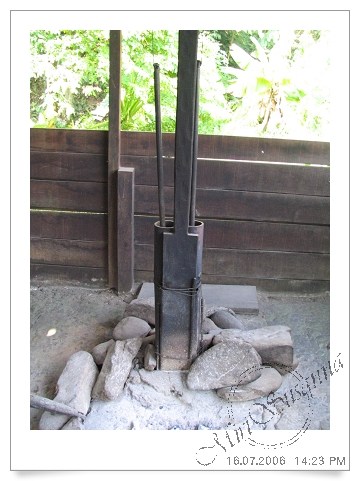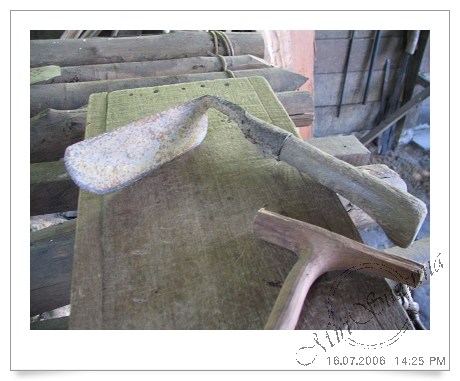 小鐮刀。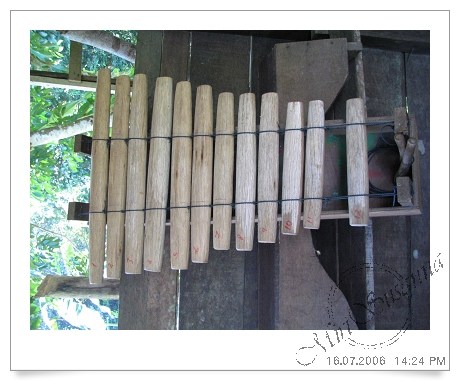 木製的樂器。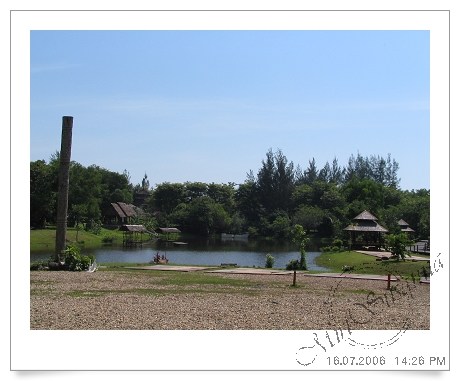 文化村一瞥。

內陸民族的高腳長屋。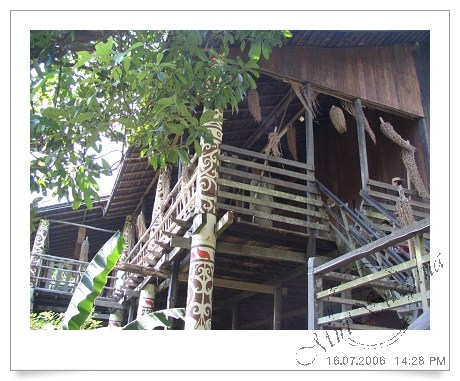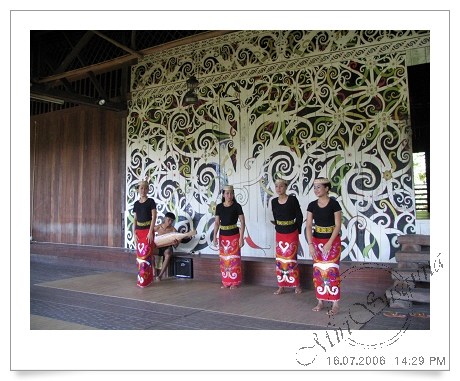 現場有一小段的舞蹈表演。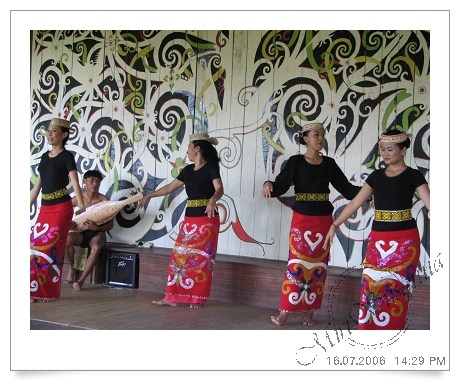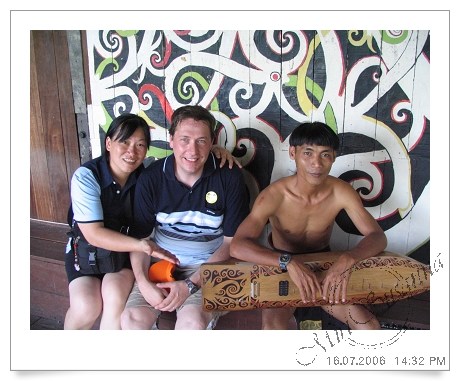 和樂手合照。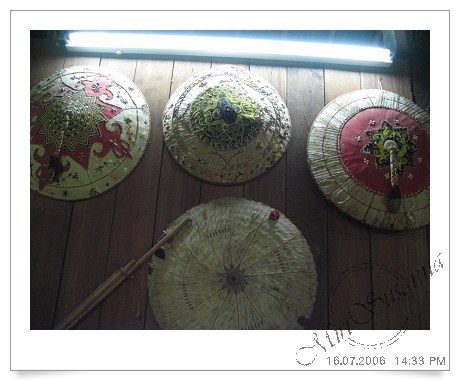 漂亮的斗笠。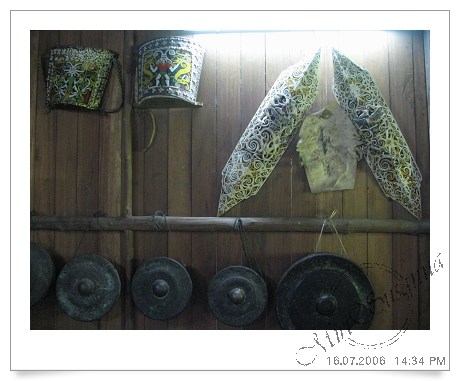 左上為揹小孩的籃子,圖案都是手工串珠的作品;右上為盾牌;下方為樂器銅鑼。

漂亮吧?這就是Aso的圖案。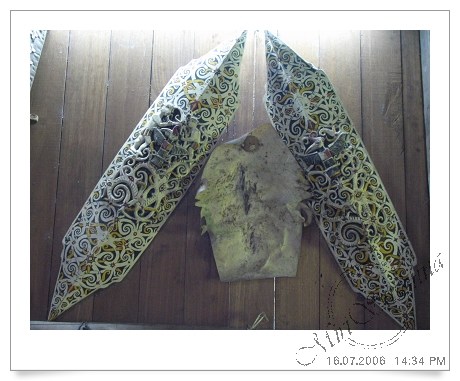 典型的內陸民族圖騰。

小廚房。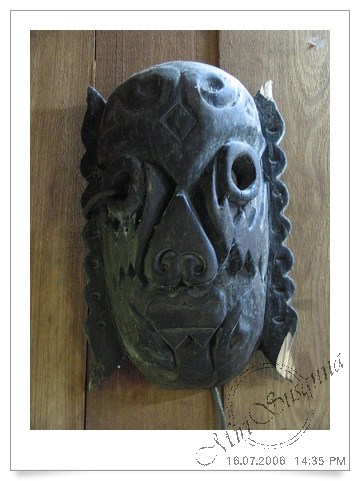 木雕面具。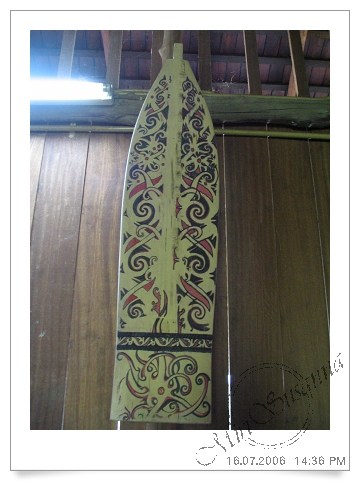 這個應該是樂器。

這是木雕裝飾品。

樂器看來粗拙,但敲出來的調調還蠻動聽的。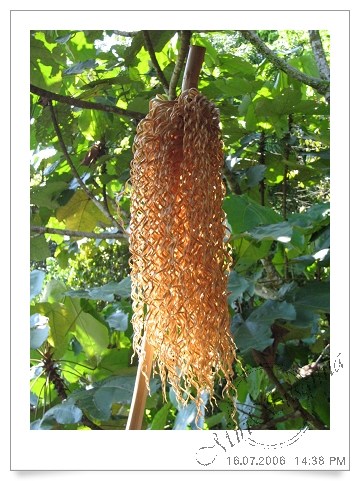 這是用小刀慢慢一絲一絲刮出來的裝飾品唷﹗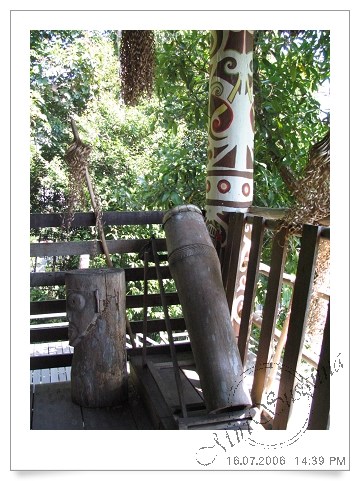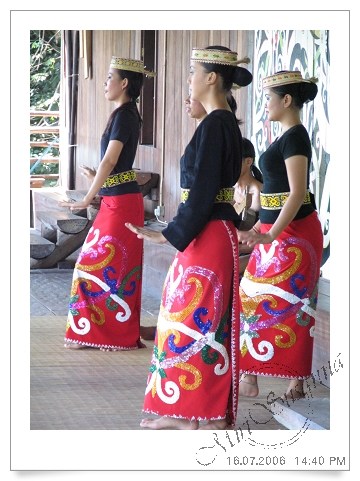 翩翩起舞的土著姑娘。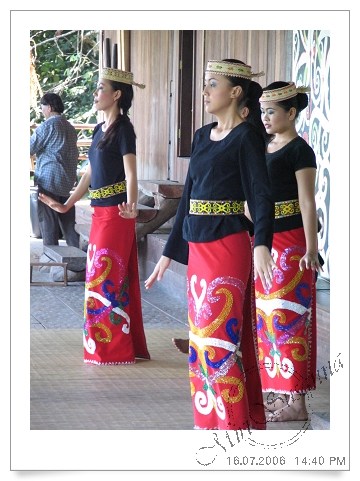 普南族的房子。
 PENAN
The nomadic Penan are hunters and food gatherers and live in very simple huts. Though they keep dogs for hunting, they do not rear domestic animals for food. The Penan are unchallenged masters in the manufacture and use of the jungle's silent weapon, the blowpipe. This used to be one of their most valuable barter products, besides basketry and finely plainted mats.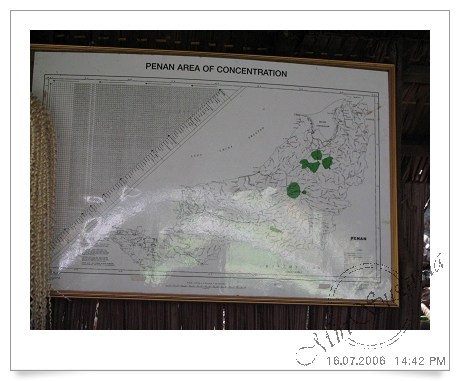 普南族的分佈區。

簡陋的小屋。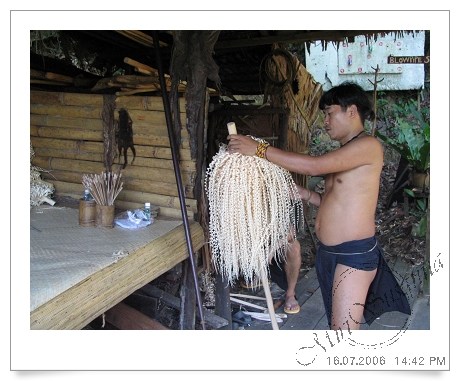 表演裝飾品的製造過程。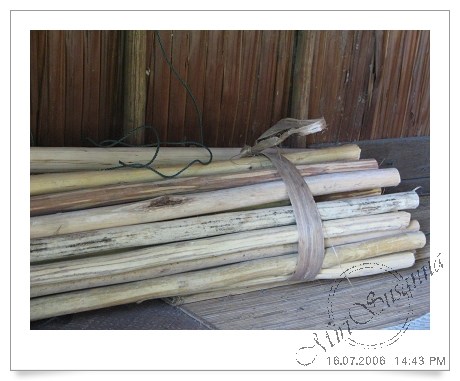 製造木飾品的木條。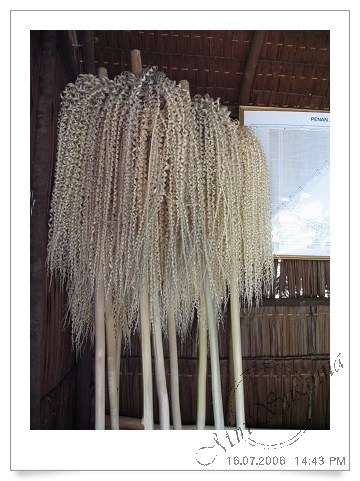 成品。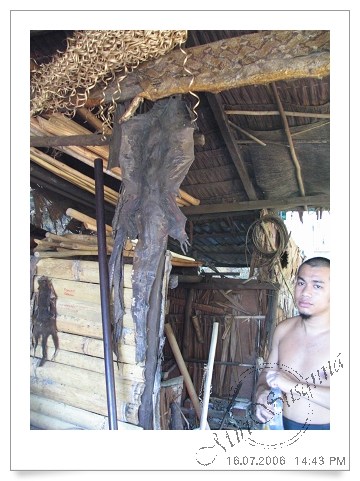 牆上還掛有獸皮,大的那副應該是四腳蛇(大蜥蜴)。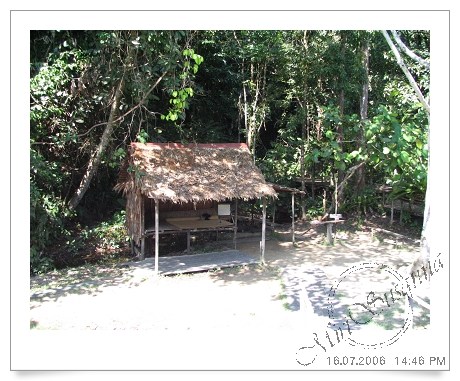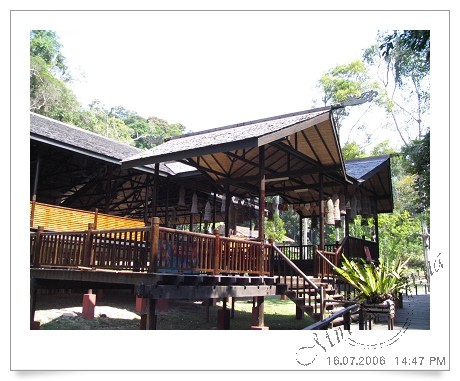 文化村內的活動中心。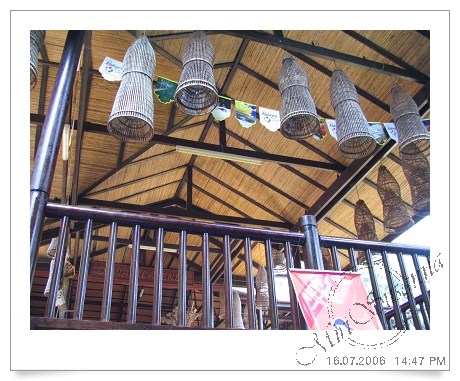 上方掛著的裝飾品是土著用來捕魚的竹籠。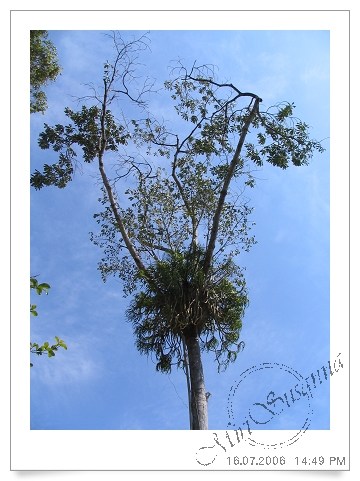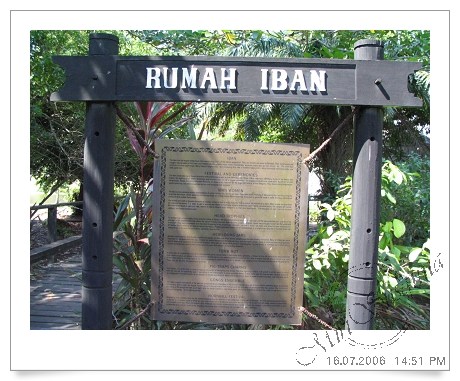 伊班族的長屋。( 官方網頁介紹,Infomation of SCV )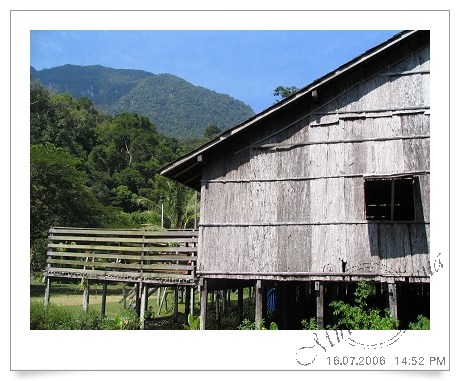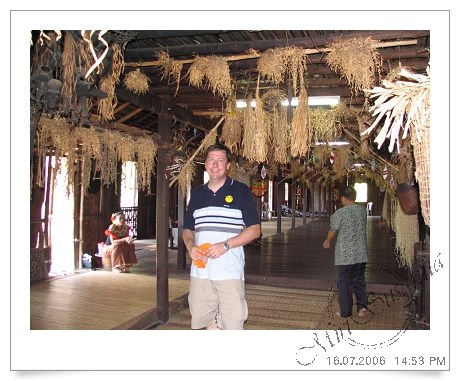 長長的走廊和廳堂。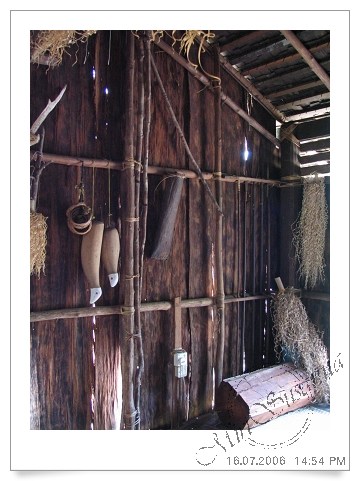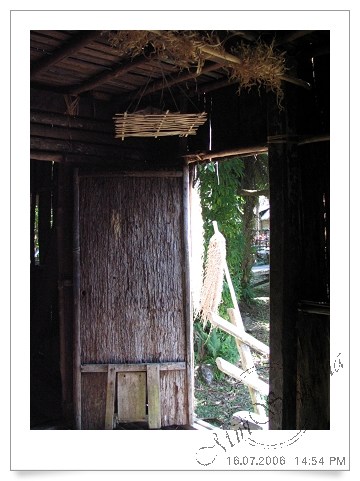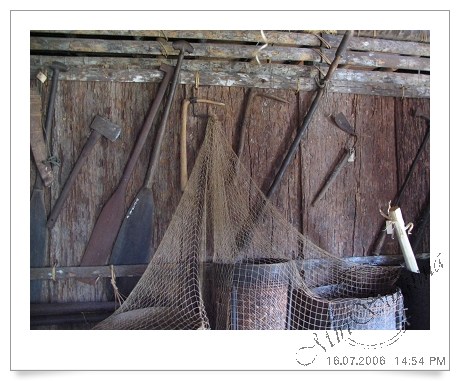 生活工具。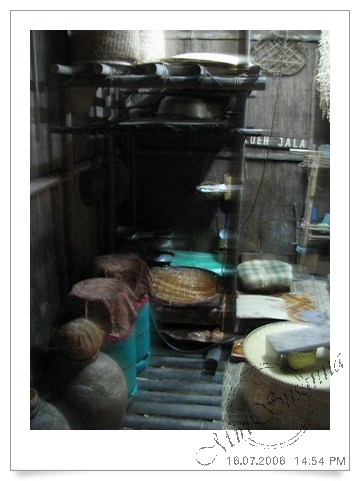 釀酒的角落。伊班人擅長製作白米酒Tuak。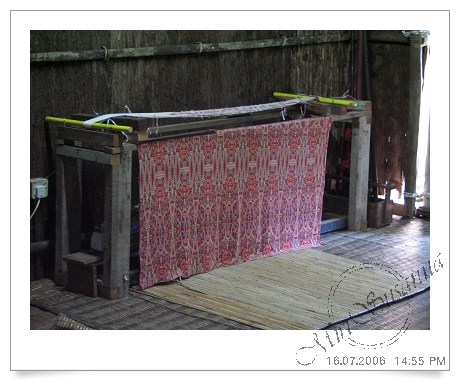 手工製的布匹。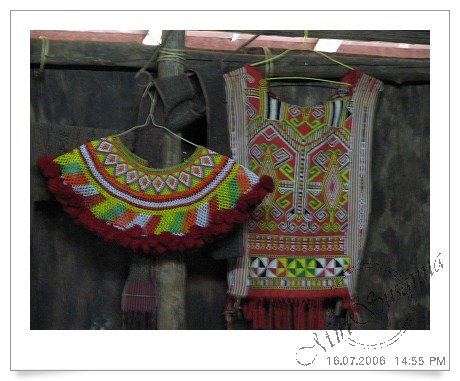 手工藝品。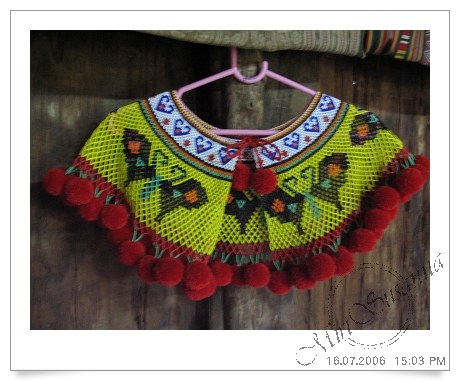 漂亮的串珠披肩。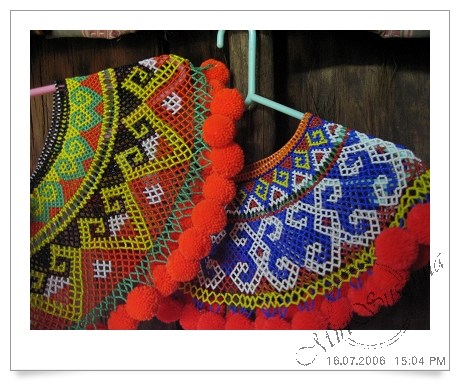 這些圖騰是土著婦女在腦海中直接構圖就能串出來的唷﹗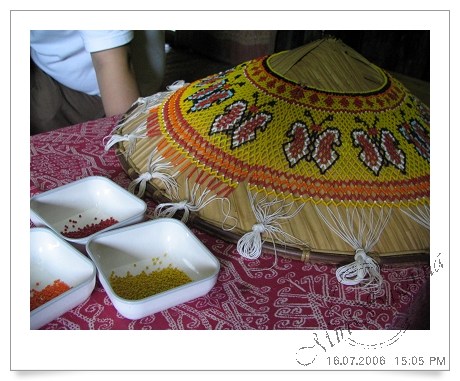 斗笠上的蝴蝶圖騰,漂亮吧?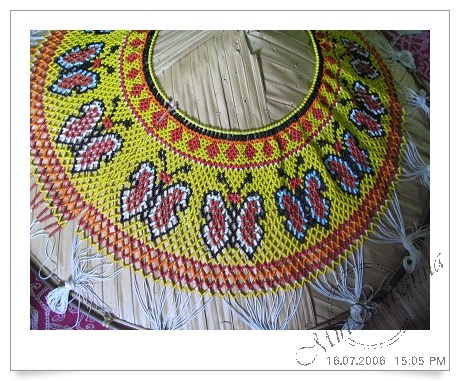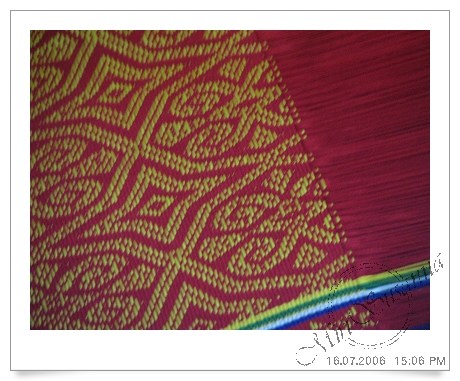 手工織布。

這位阿姨每天就坐在這兒表演織布,織成的布還有出售哦﹗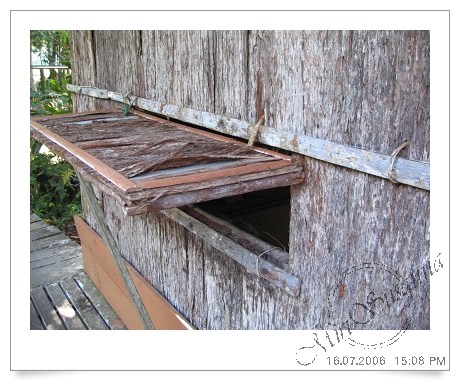 樹皮做牆。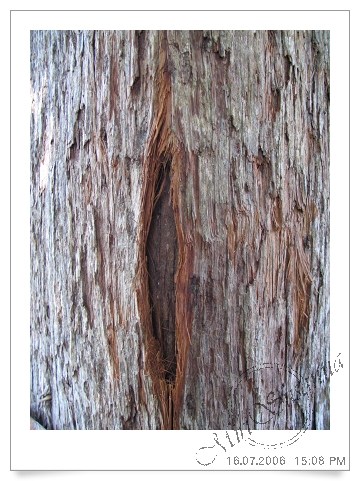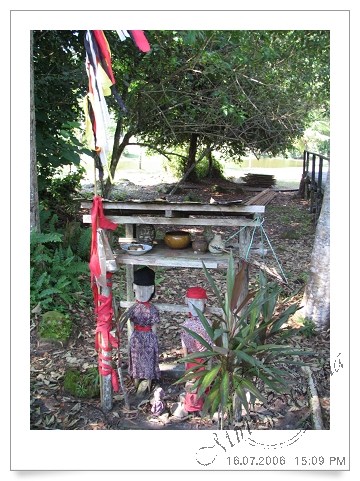 土著傳統拜拜的習俗。