收到兩位朋友轉寄來的What The World Eats。
01 Japan:


The Ukita family of Kodaira City
*37,699 Yen or $317.25
*sashimi, fruit, cake, potato chips

02 Italy: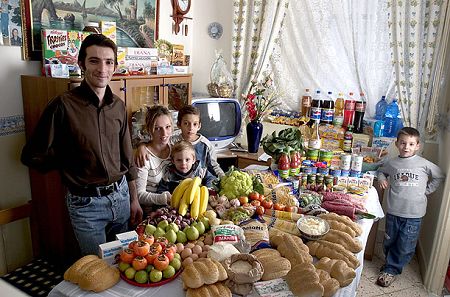 The Manzo family of Sicily
*214.36 Euros or $260.11
*fish, pasta with ragu, hot dogs, frozen fish sticks

03 Chad: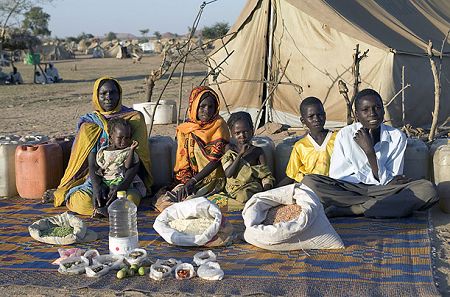 The Aboubakar family of Breidjing Camp
*685 CFA Francs or $1.23
*soup with fresh sheep meat

04 Kuwait: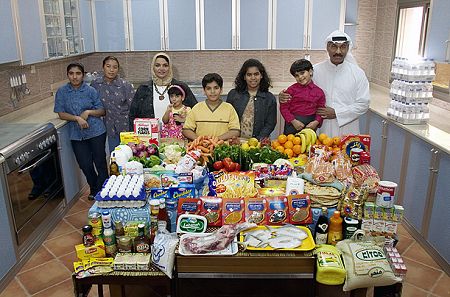 The Al Haggan family of Kuwait City
*63.63 dinar or $221.45
*Chicken biryani with basmati rice

05 United States: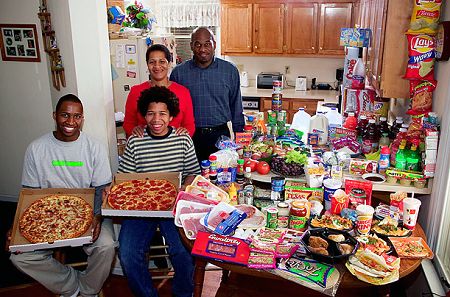 The Revis family of North Carolina
*$341.98
*spaghetti, potatoes, sesame chicken

06 Mexico:


The Casales family of Cuernavaca
*1,862.78 Mexican Pesos or $189.09
*pizza, crab, pasta, chicken

07 China: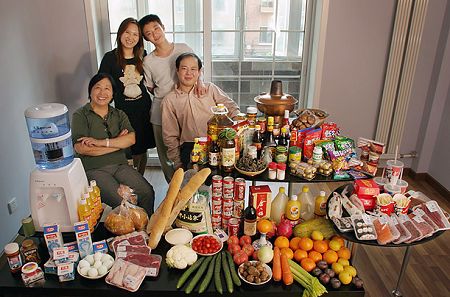 The Dong family of Beijing
*1,233.76 Yuan or $155.06
*fried shredded pork with sweet and sour sauce

08 Poland: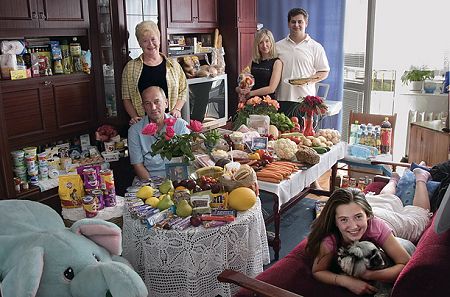 The Sobczynscy family of Konstancin-Jeziorna
*582.48 Zlotys or $151.27
*Pig's knuckles with carrots, celery and parsnips

09 Egypt: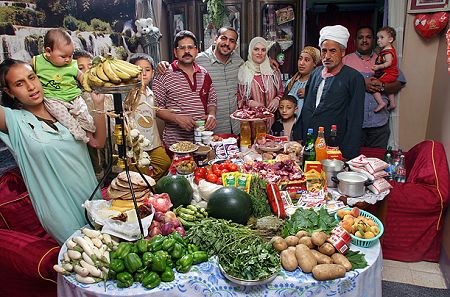 The Ahmed family of Cairo
*387.85 Egyptian Pounds or $68.53
*Okra and mutton

10 Ecuador:


The Ayme family of Tingo
*$31.55
*Potato soup with cabbage

11 United States: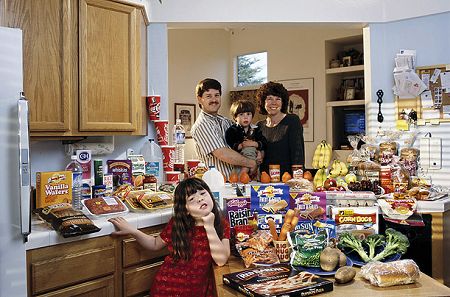 The Caven family of California
*$159.18
*beef stew, berry yogurt sundae, clam chowder, ice cream

12 Mongolia: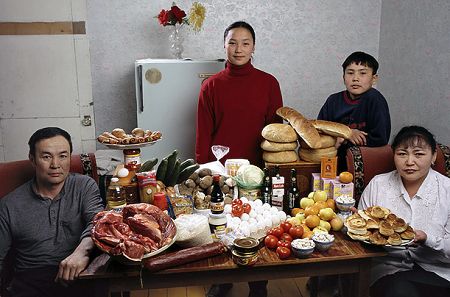 The Batsuuri family of Ulaanbaatar
*41,985.85 togrogs or $40.02
*Mutton dumplings

13 Great Britain: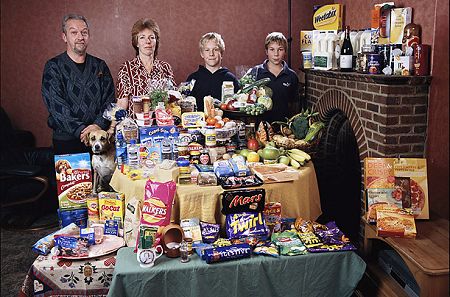 The Bainton family of Cllingbourne Ducis
*155.54 British Pounds or $253.15
*avocado, mayonnaise sandwich, prawn cocktail, chocolate fudge cake with cream

14 Bhutan: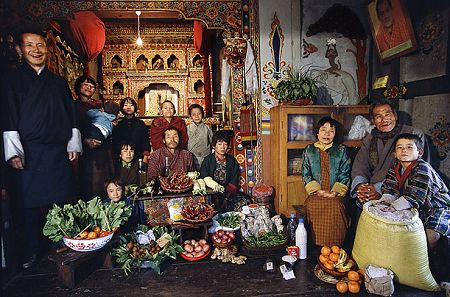 The Namgay family of Shingkhey Village
*224.93 ngultrum or $5.03
*Mushroom, cheese and pork

15 Germany: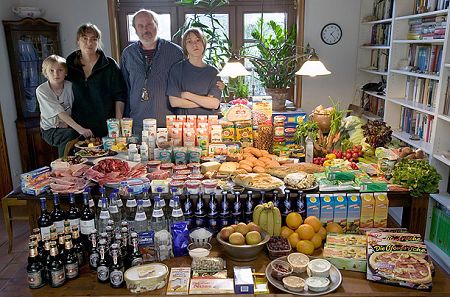 The Melander family of Bargteheide
*375.39 Euros or $500.07
*fried potatoes with onions, bacon and herring, fried noodles with eggs and cheese, pizza, vanilla pudding

16 Australia: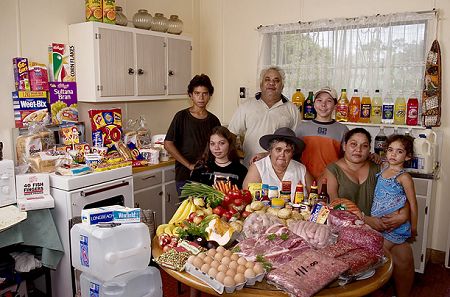 The Browns of River View
*481.14 Australian dollars or US$376.45
*Marge Brown's Quandong (an Australian peach) Pie, Yogurt

17 Guatemala: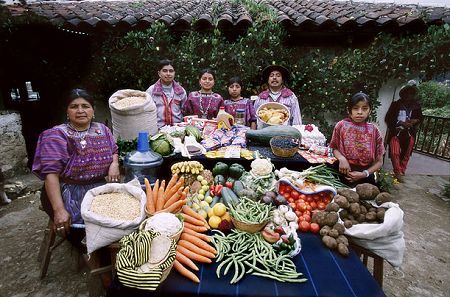 The Mendozas of Todos Santos
*573 Quetzales or $75.70
*Turkey Stew and Susana Perez Matias's Sheep Soup

18 Luxembourg: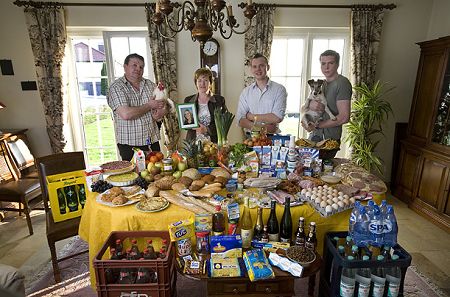 The Kuttan-Kasses of Erpeldange
*347.64 Euros or $465.84
*Shrimp pizza, Chicken in wine sauce, Turkish kebabs

19 India:


The Patkars of Ujjain
*1,636.25 rupees or $39.27
*Sangeeta Patkar's Poha (Rice Flakes)

20 United States: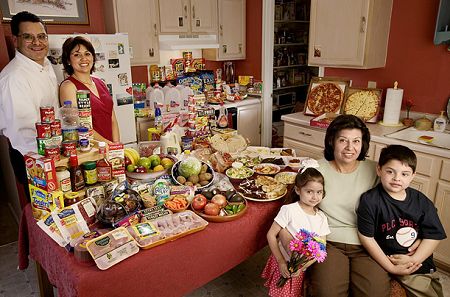 The Fernandezes of Texas
*$242.48
*Shrimp with Alfredo sauce, chicken mole, barbecue ribs, pizza

21 Mali: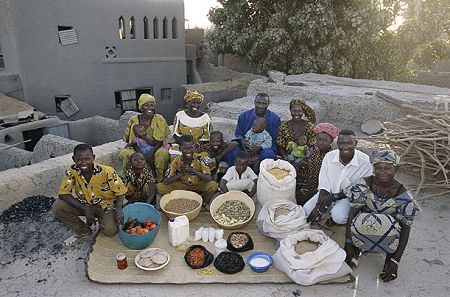 The Natomos of Kouakourou
*17,670 francs or $26.39
*Natomo Family Rice Dish

22 Canada: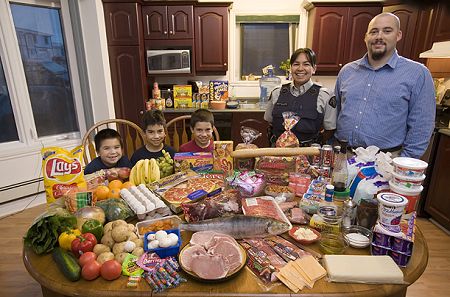 The Melansons of Iqaluit, Nunavut Territory
*US$345
*narwhal, polar bear, extra cheese stuffed crust pizza, watermelon

23 France: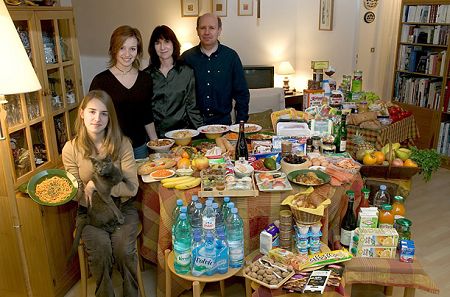 The Le Moines of Montreuil
*315.17 euros or $419.95
*Delphine Le Moine's Apricot Tarts, pasta carbonara, Thai food

24 Greenland: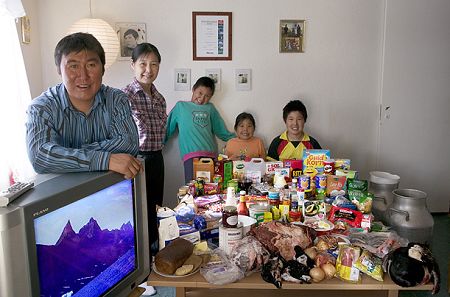 The Madsens of Cap Hope
*1,928.80 Danish krone or $277.12
*polar bear, narwhal skin, seal stew

25 Turkey: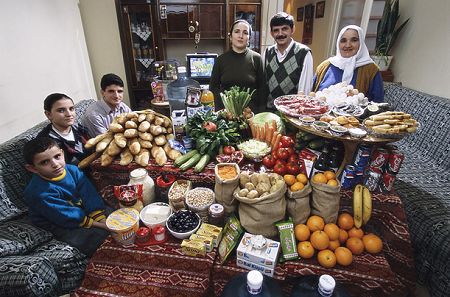 The Celiks of Istanbul
*198.48 New Turkish liras or $145.88
*Melahat's Puffed Pastries
26 Okinawa, Japan: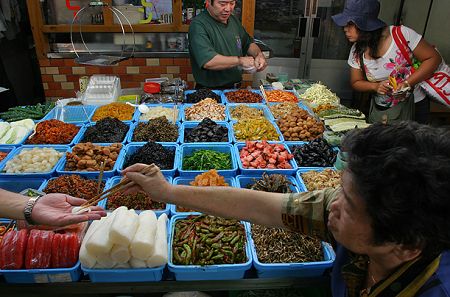 Marketplace
*A vendor at the Makishi public market in the town of Naha offers a sample of daikon to a potential customer. His other offerings include bitter melon, prunes, pickled baby cucumber, cabbage, and much more.

27 Sarajevo, Bosnia: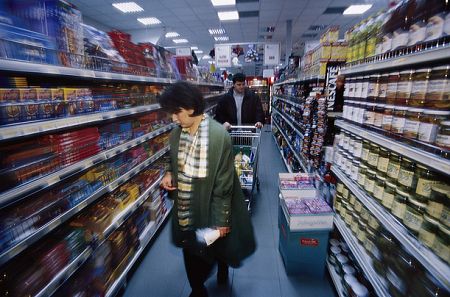 Supermarket
*Ensada Dudo and her husband Rasim shop in one of the city's new gleaming stores. Although they continue to patronize the city's traditional butchers and outdoor green markets, the Dudos have come to rely more and more on the low prices and ample choices provided by big grocery stores.

28 Hargesia, Somalia: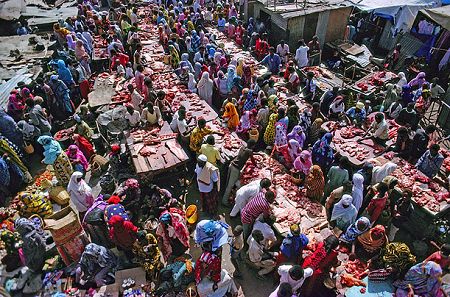 Butchers' Market
*Residents shop for beef, mutton and camel meat.

29 Breidjing Refugee Camp, Chad: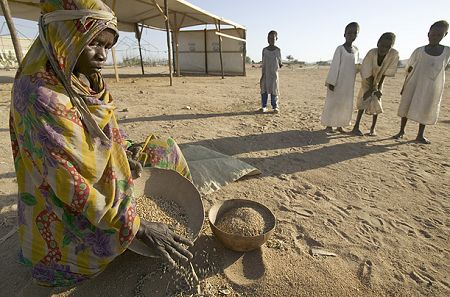 United Nations Food Distribution Center
A refugee woman sifts through sand in order to pluck out any bits of grain which might have dropped to the ground during the previous day's ration disbursement.
30 Sarajevo, Bosnia: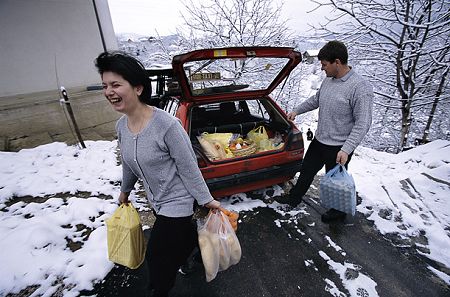 Unloading the Car
*The Dudos vividly remember the starvation their city endured during the many years of war. They are grateful that they can now buy enough food to fill up Rasim's taxi.
31 Weitaiwu Village, China: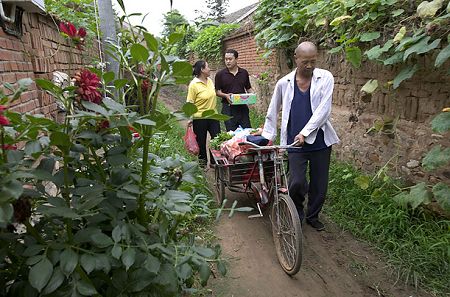 Bicycle Delivery
*The Cui family carries goods home from the market on a sanlun che, a type of three-wheeled cart.
32 Cap Hope, Greenland: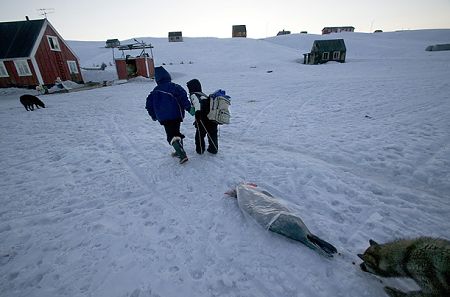 The Big Haul
*Cousins Abraham and Julian Madsen drag a freshly killed seal toward their house. Seal meat, cooked with rice and onion, is a family favorite.
33 Breidjing Refugee Camp, Chad: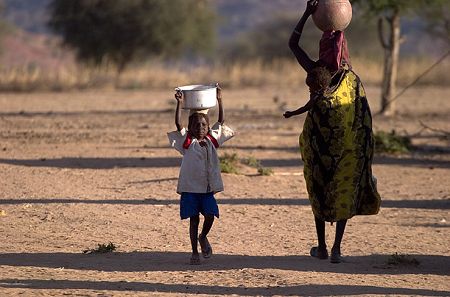 Water Bearers
*A woman and child carry drinking and cooking water from a distribution point back to their tent.

34 Todos Santos, Guatemala: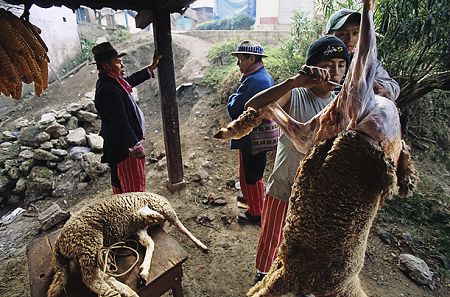 Butchering the Meat
Festival days are occasions for lavish feasts, for which Guatemalan families raise turkeys and sheep.
35 Kunming, China: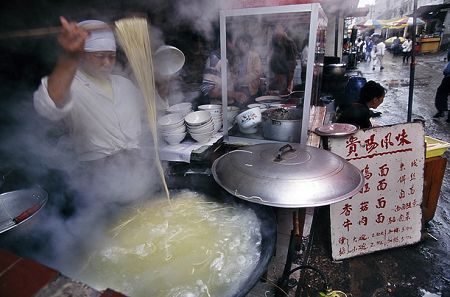 Noodle Shop
*Cooked in the celebrated style of the city of Guiyang (which is located 300 miles away), these egg noodles are served in a spicy broth and topped with chicken, beef, shiitake mushrooms or – most famously – pig intestines and blood.
36 Breidjing Refugee Camp, Chad:


Stirring the Pot
*Sudanese refugee D'jimia Souleymane prepares a pot of aiysh, a thick porridge which she and her family eat three times a day.
37 Dubai, United Arab Emirates: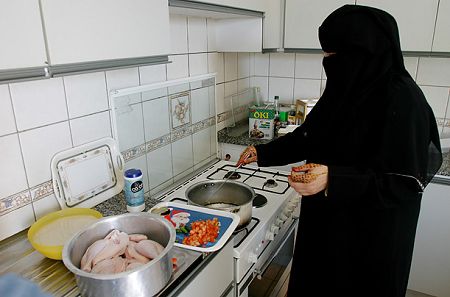 Stovetop Recipe
*A mother prepares lunch in a kitchen building separate from her family's home. She is covered from head to toe, as she would be in public, because she is entertaining guests from outside her family.
38 Bargteheide, Germany: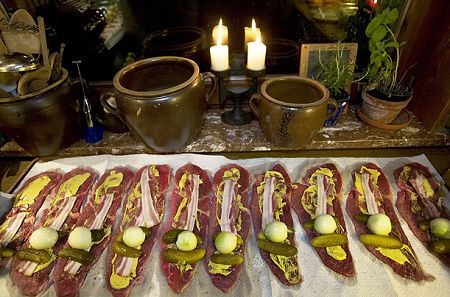 Local Specialty
*A row of roulades wait for the next step on a kitchen counter in the home of the Melander family. The recipe calls for beef, Dijon mustard, bacon, pickles and onions to be rolled, then browned in butter.
39 Beijing, China: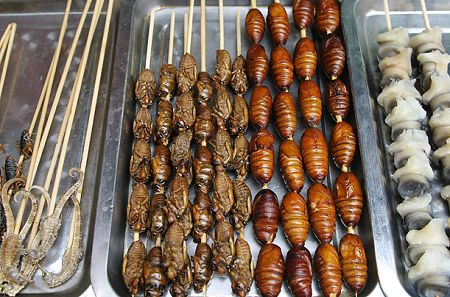 Snack Tray
*From left: skewered sea horses, cicadas and silkworm pupae are sold at a street market in Beijing.
40 Istanbul, Turkey: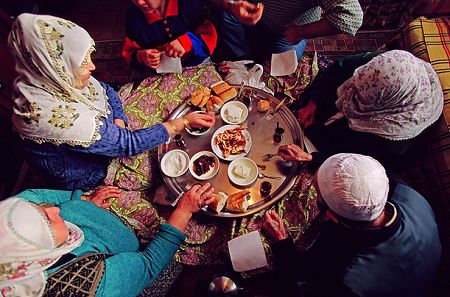 Dinner Time
*The Cinar family gathers on the floor of their living room to share the morning meal: feta cheese, olives, leftover chicken, bread, rose jam and sweet, strong tea.
41 Riverview, Australia: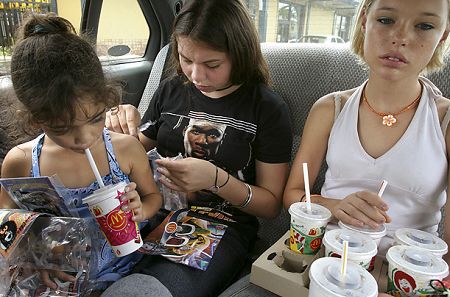 Take-Out Time
*Three teenage girls enjoy the drinks and free gifts that came with their McDonald's Happy Meals. Although all three have roots in the Aboriginal community, they have little interest in outback cuisine. Mackas (Aussie slang for McDonald's) is presently their culinary mecca.
42 Konstancin-Jeziorna, Poland: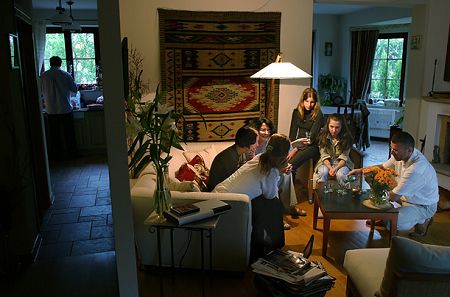 Cocktail Hour
*The Sobczynscy family watches a neighbor pour a round of absinthe, a strong green liqueur flavored with wormwood and anise.