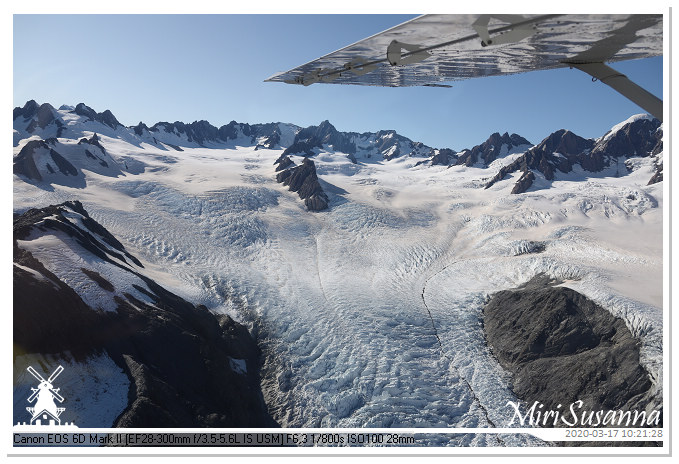 去年的3月16日預定了Skydive Franz Josef的兩萬呎高空雙人跳傘無法如願,今年的3月17日改為Air Safaris的The Grand Traverse(官網)、乘小飛機欣賞兩大國家公園(Mount Cook and Westland NP)冰河景色。在晴朗的天氣加持下,這五十分鐘、兩百公里航程的冰河景觀之旅成了此行完全無憾的絕美回憶,
[NL] Vorig jaar op 16 maart had ik 20.000ft skydive bij Franz Josef Glacier geboekt maar het feestje was afgelast. Dit jaar op 17 maart heb ik The Grand Traverse (Official Website) van Air Safaris gehad om de bijzondere gletsjerslandschap van Mount Cook en Westland National Park te bewonderen. Het weer van deze ochtend was ontzettend mooi. Ik kan daarom volledig genieten van de spectaculaire uitzichten voor 50 minuten (voor 200km afstand) en ontzettend veel mooie beelden vastleggen als herinnering van NZ tour.
[EN] Last year, I had booked the 20.000ft skydive on 16 March at Franz Josef Glacier but had to cancell it at last minute. This year, I'm able to take the Grand Traverse (Official Website) of Air Safaris, a spectacular scenic flight of 200km in 50 minutes that explores the Mount Cook and Westland National Parks. The weather was perfect in the morning and all of the glaciers and mountains were in sight for pictures. This journey was wonderful and unforgottable. Next time, I would try the skydive for sure.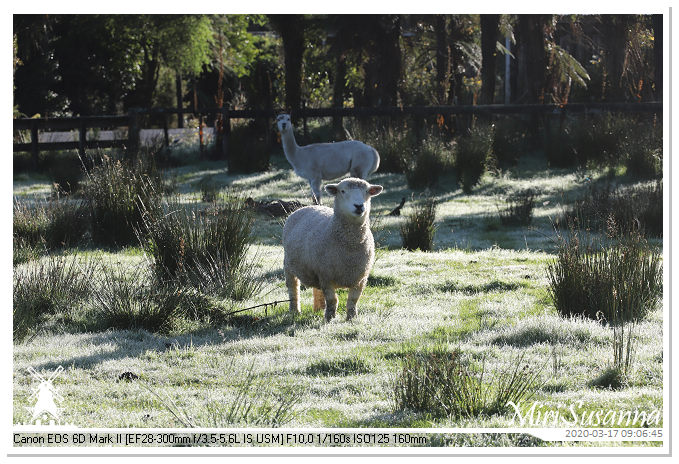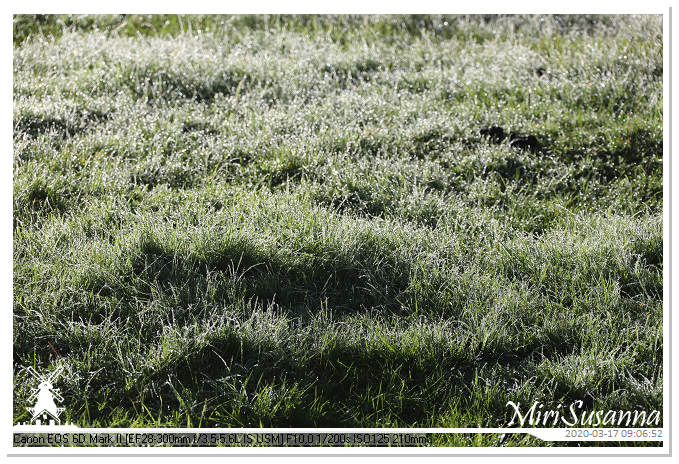 早晨滿地的露珠。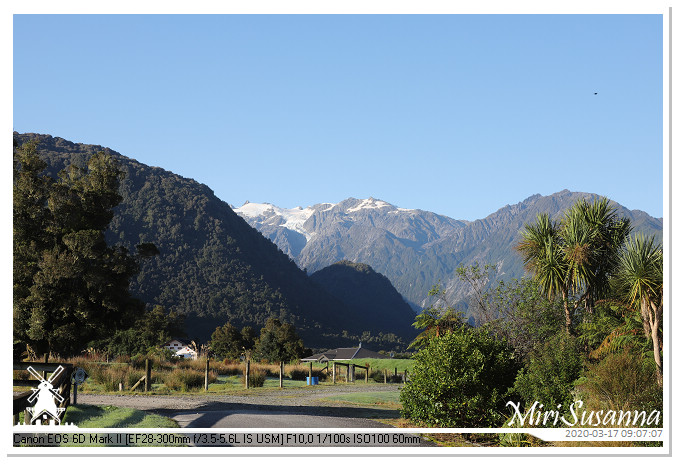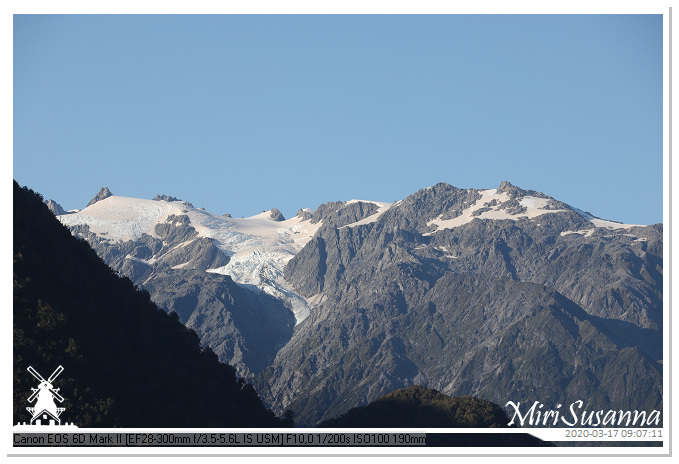 天氣奇好,完全無雲。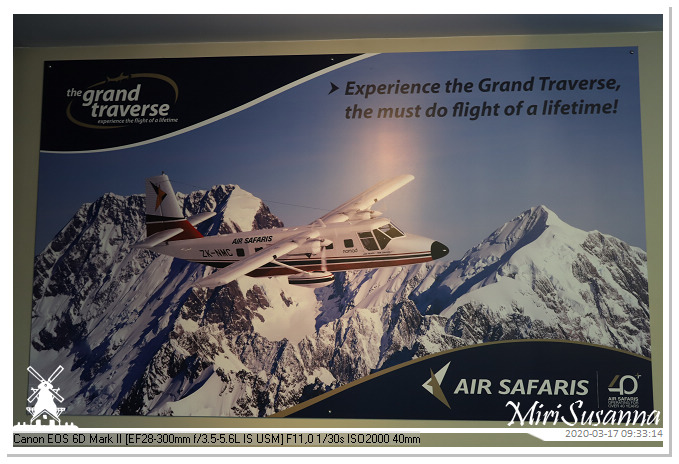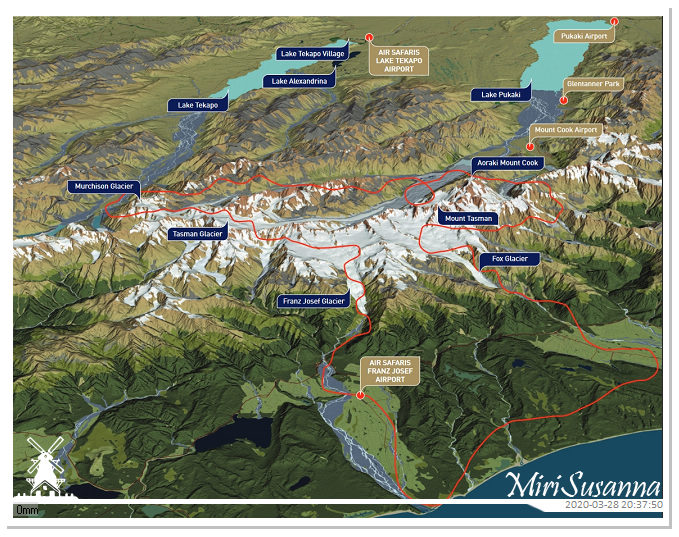 Source: https://airsafaris.co.nz/wp-content/uploads/Franz-Route-Map.pdf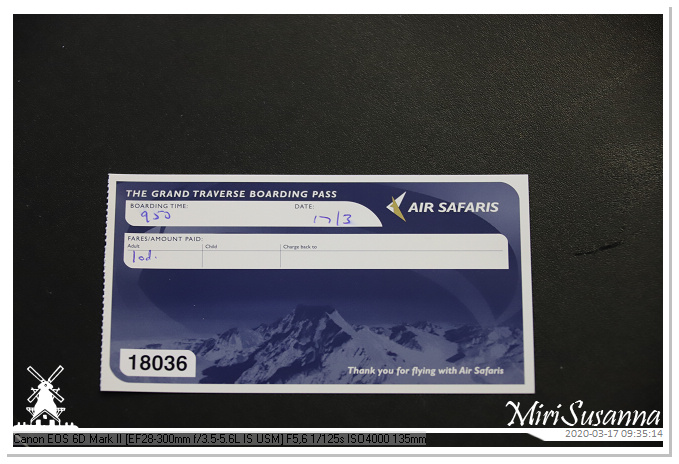 現場付款,得一手寫的登機證。
[NL] Direct ter plaatsen betalen en ontvang je een handgeschreven boardingpas.
[EN] Make the payment and receive a handwriting boarding pass.


來到機場了。
[NL] Aangekomen bij Air Safaris Franz Josef Airport.
[EN] Arrived at Air Safaris Franz Josef Airport.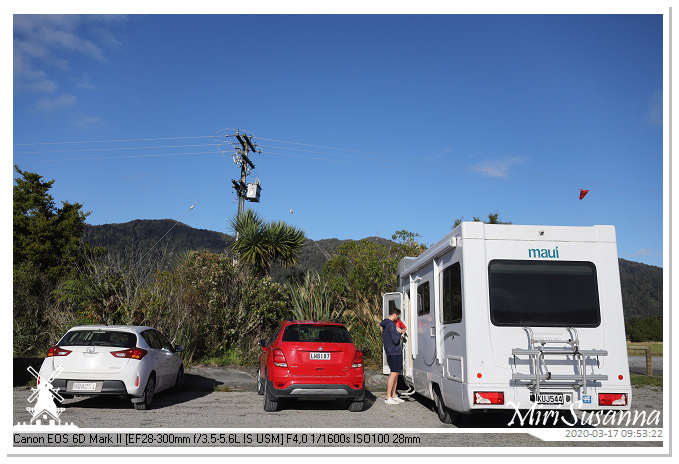 我是坐順風車過來的,第一次體驗坐Camper、在路上高高在上的感覺。
[NL] Ik ben meegereden met een Nederlandse gezin met hun camper.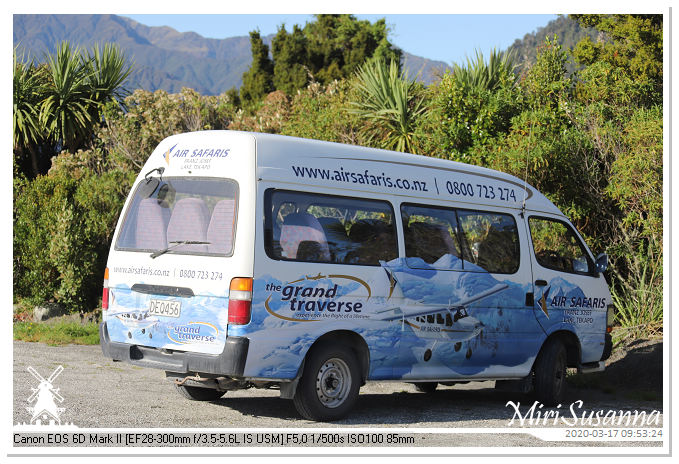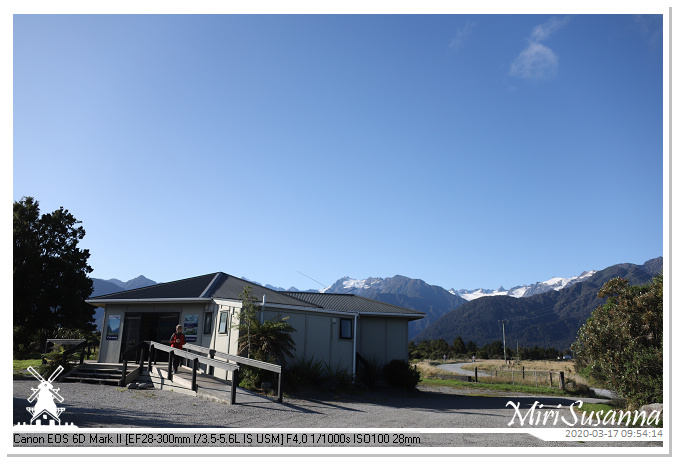 機場的候機室。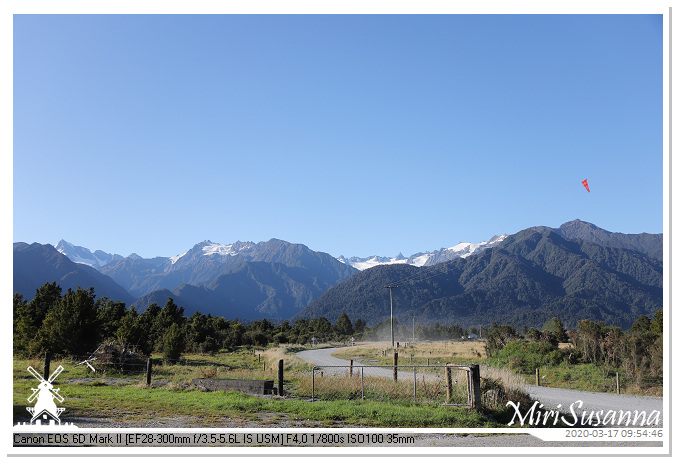 天氣超讚!
[NL] Super mooi weer!
[EN] Perfect weather for a scenic flight!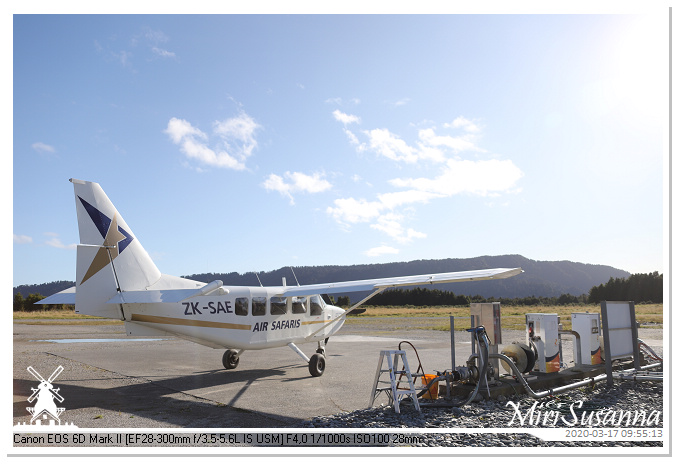 待會就坐這小飛機去看冰川景色。
[NL] Het vliegtuigje voor de scenic tour.
[EN] This's scenic plane.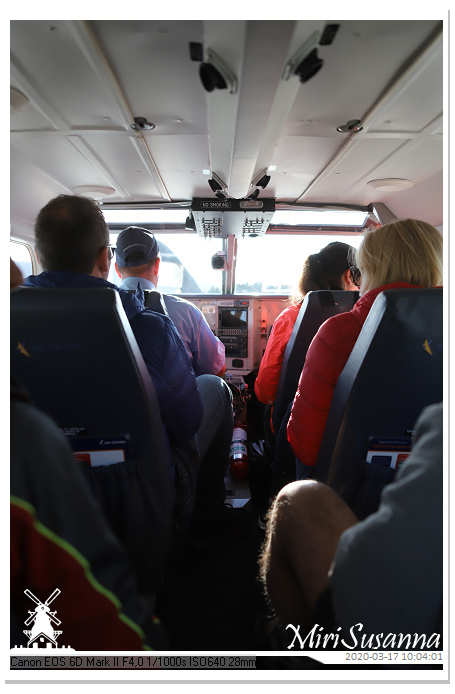 我們只有六個人,飛機師讓我坐最後一排、中間的位置,讓我左右逢源、盡興地拍。
[NL] We zijn met zes passagiers, dus mag ik alleen bij de middel van de laatste rij zitten. Perfect voor foto's maken.
[EN] There're six passengers for this trip. I got the middle seat of last row, perfect for photography.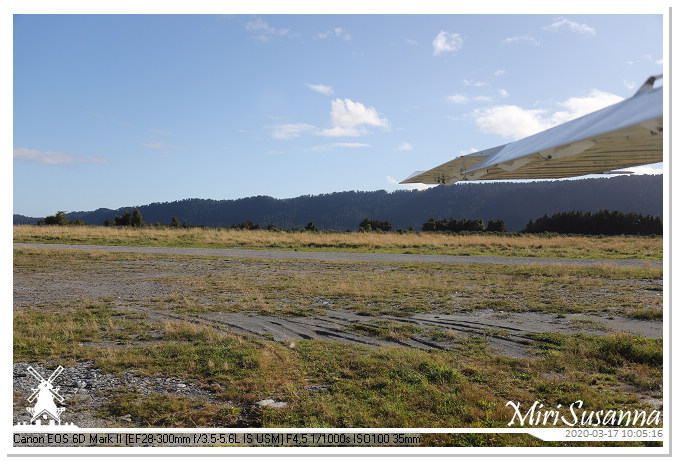 出發了。
[NL] Vertrekken.
[EN] Let's start the journey!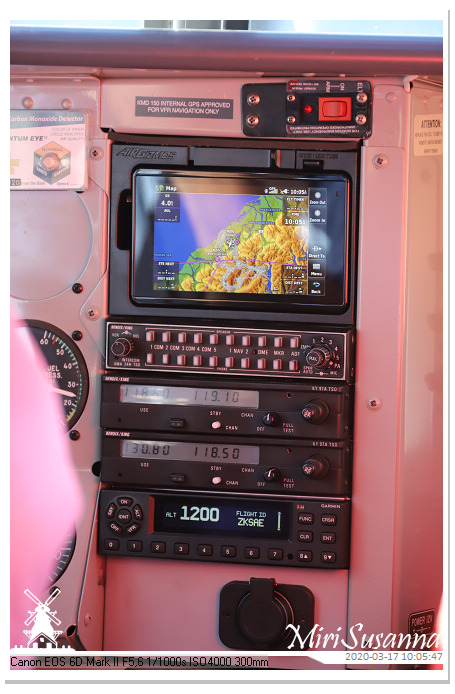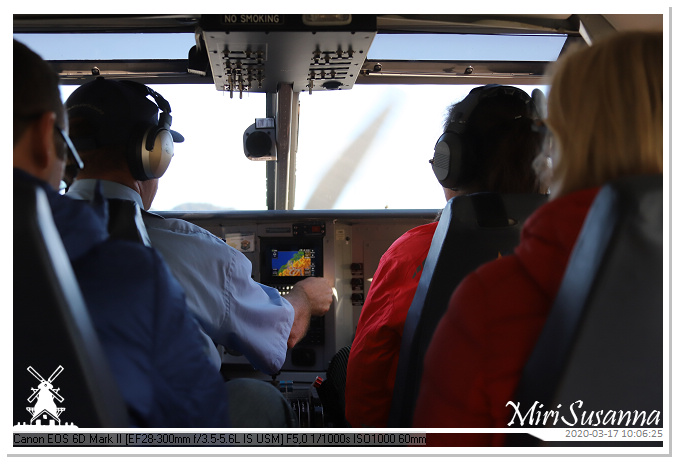 這對爸媽帶著八個月大的女兒旅行,這次輪到媽媽坐飛機、爸爸顧小孩。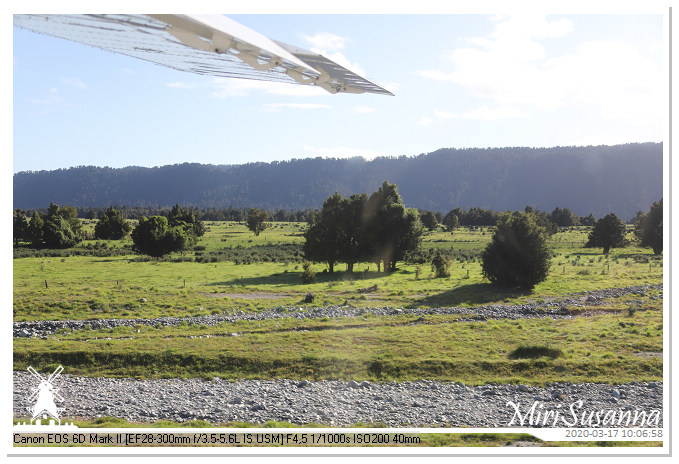 起飛囉!
[EN] Take off!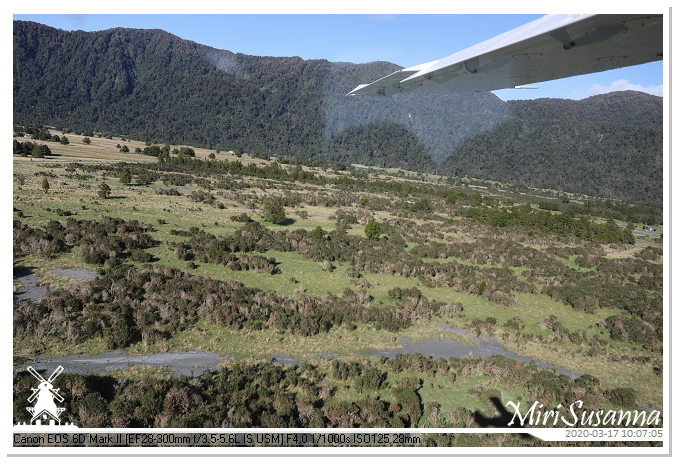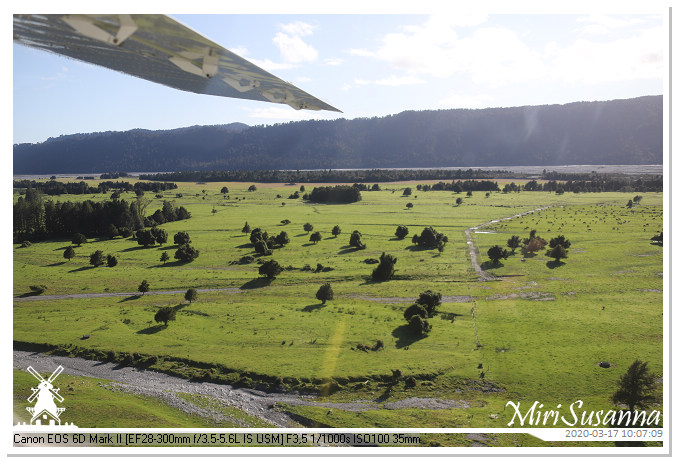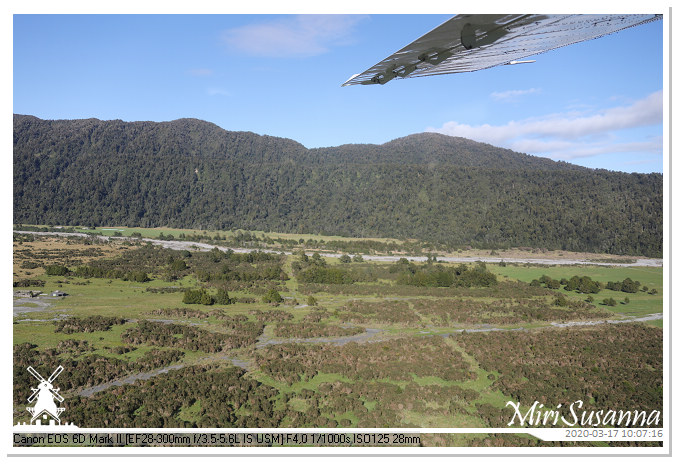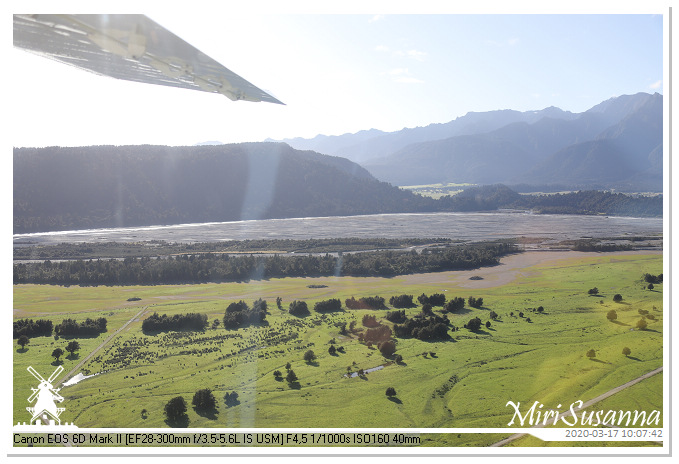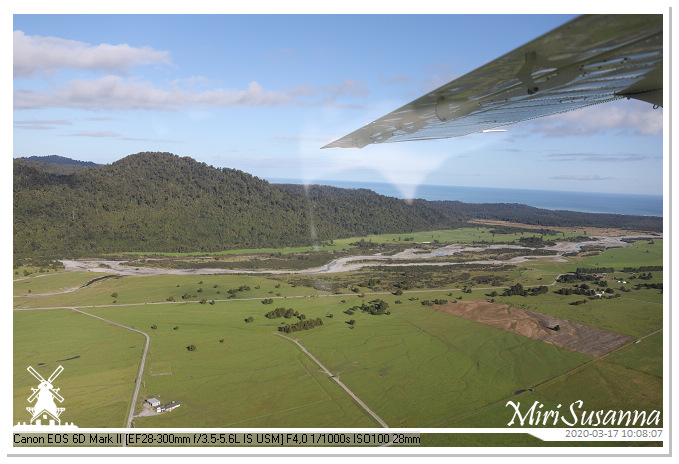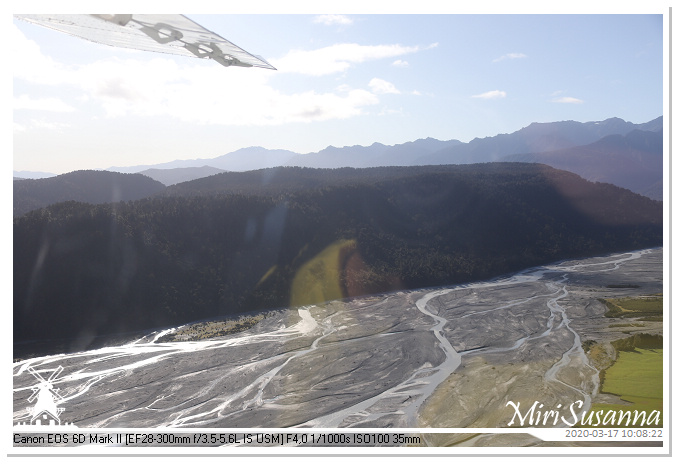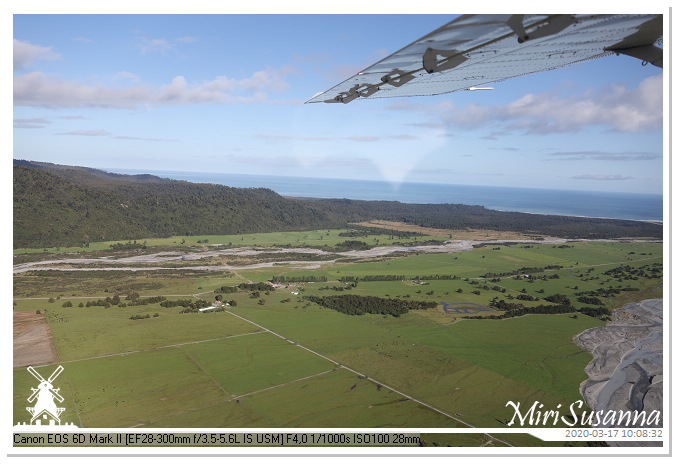 我都左右左右地拍,大家不要頭暈!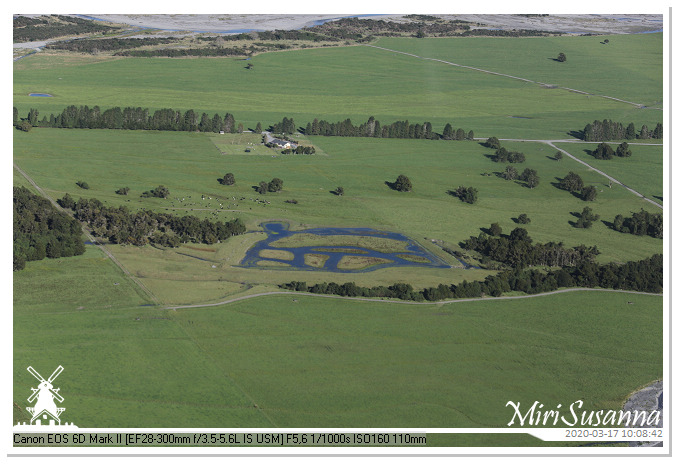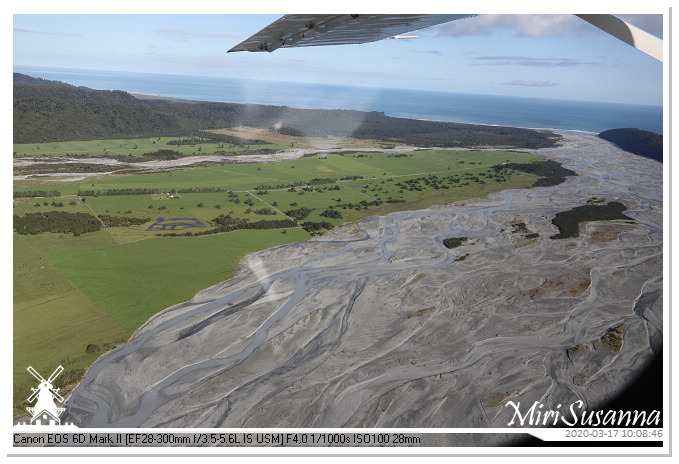 以弗朗茲約瑟夫冰河為源頭的懷霍河。
[NL] Waiho River, het water van deze rivier komt van Franz Josef Glacier.
[EN] The meltwater of Franz Josef Glacier come into Waiho River.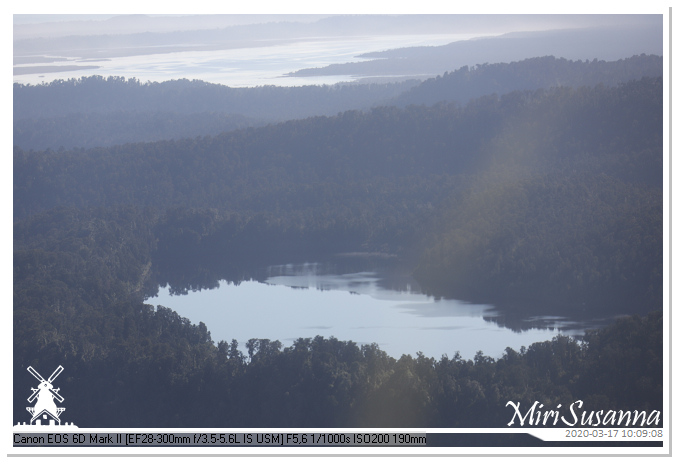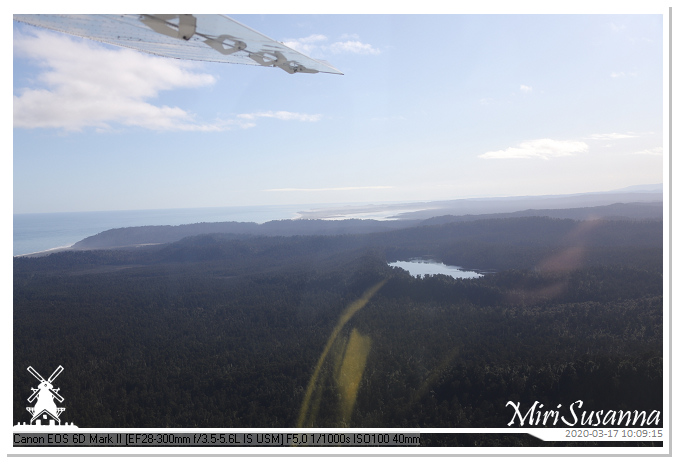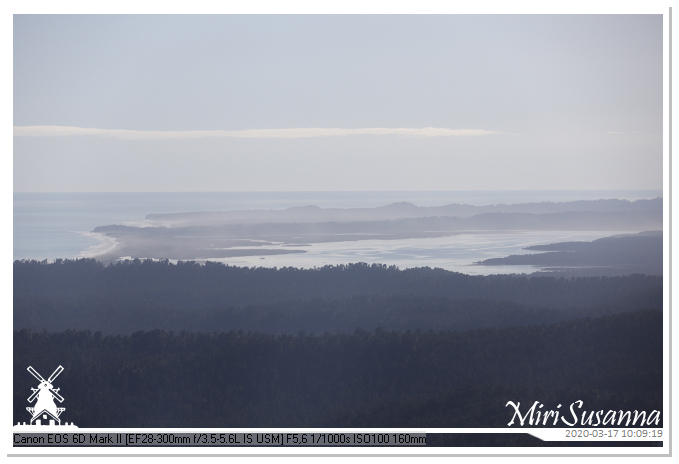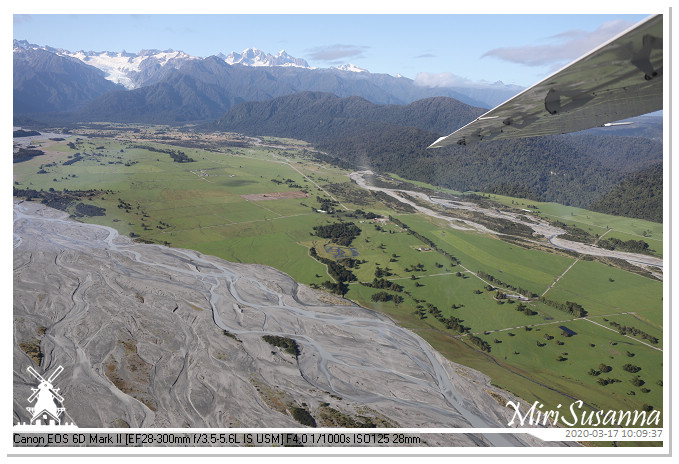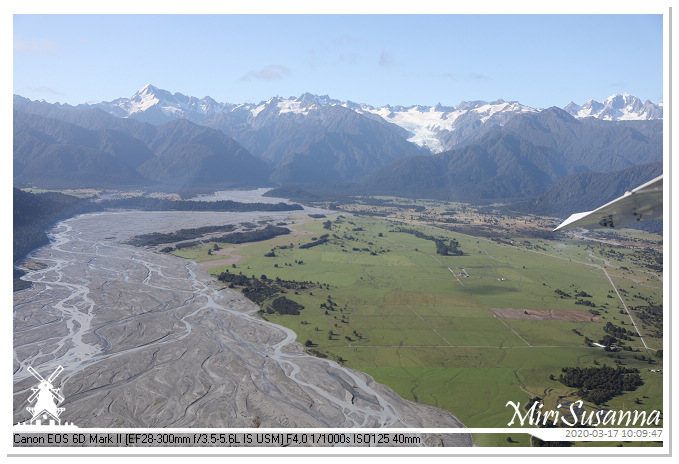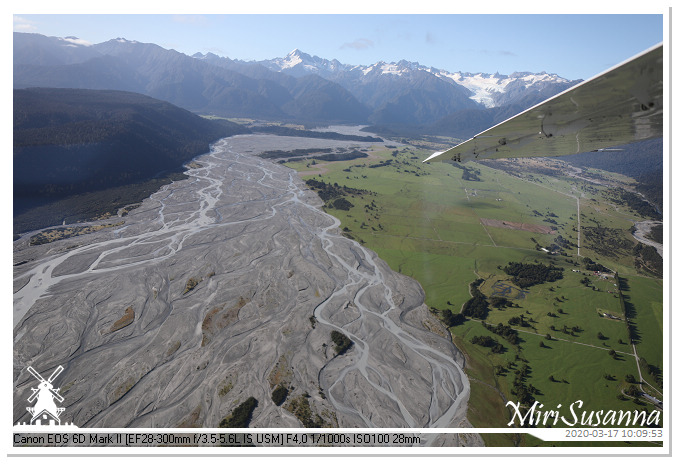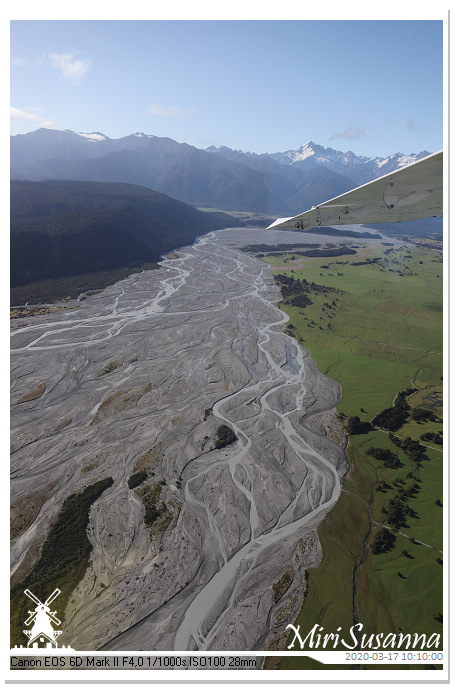 典型的紐西蘭河川景色。
[NL] Typische rivier view van Nieuw-Zeeland.
[EN] Typical river scenery of New Zealand.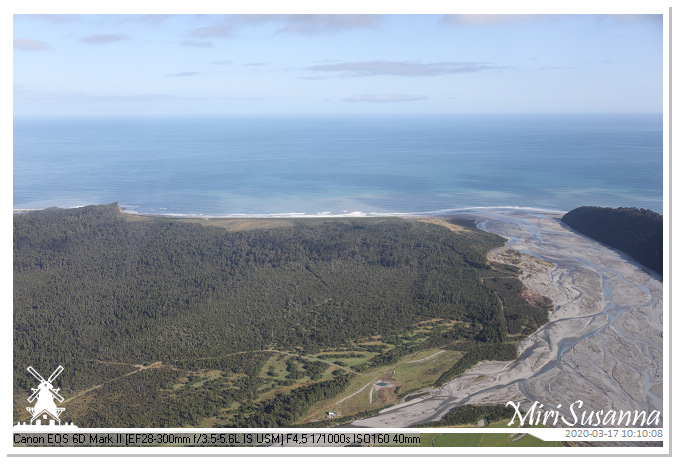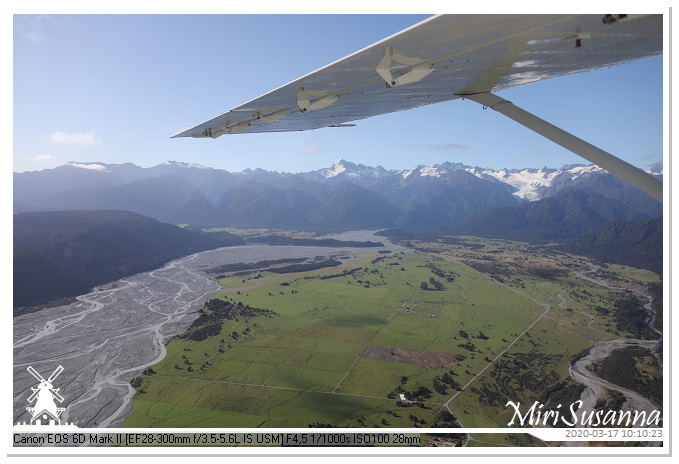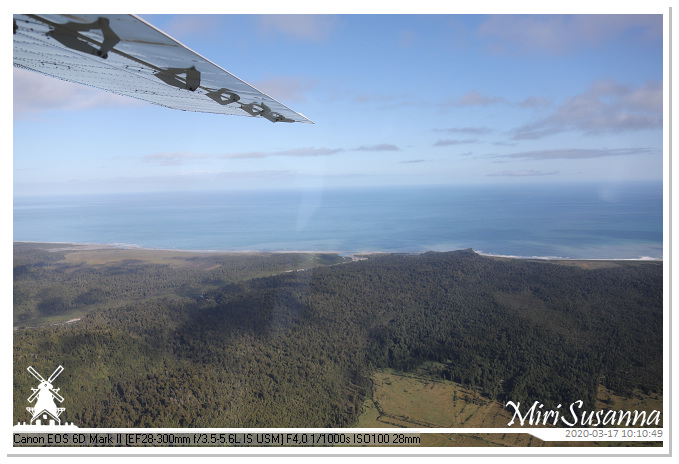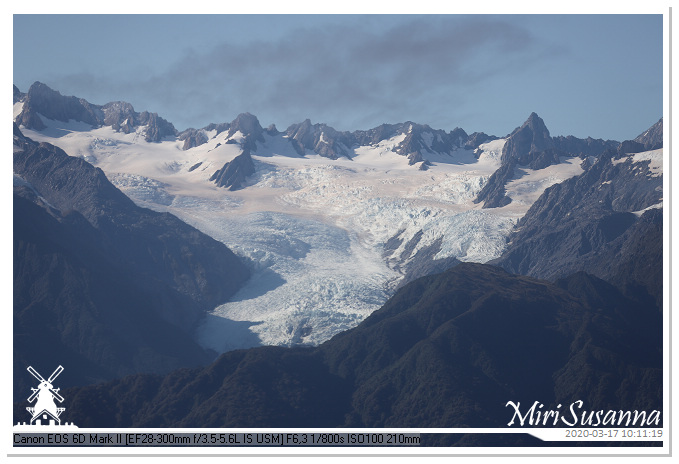 Franz Josef Glacier.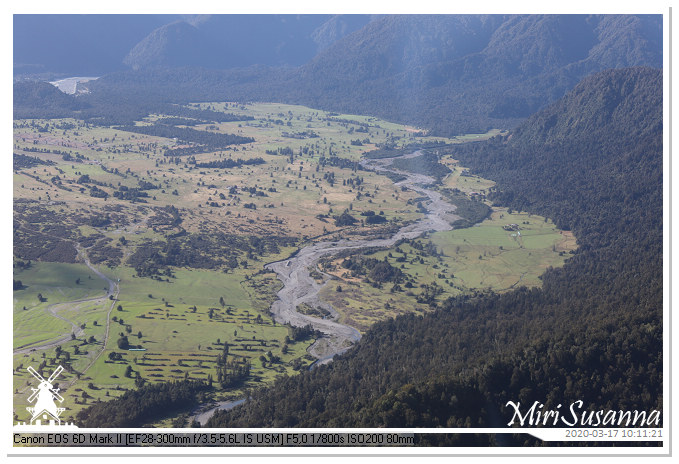 Docherty Creek.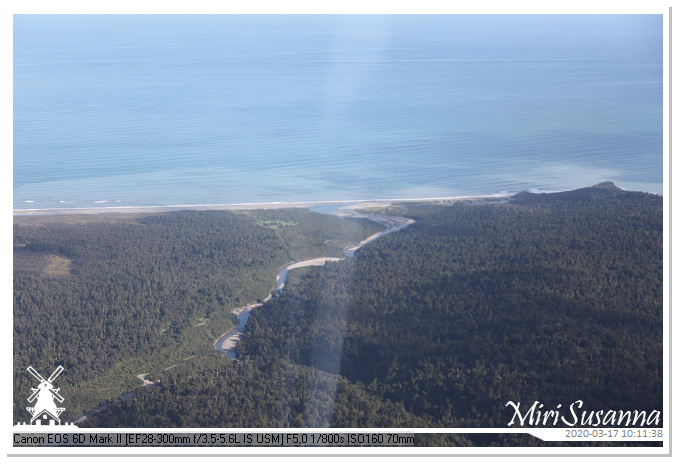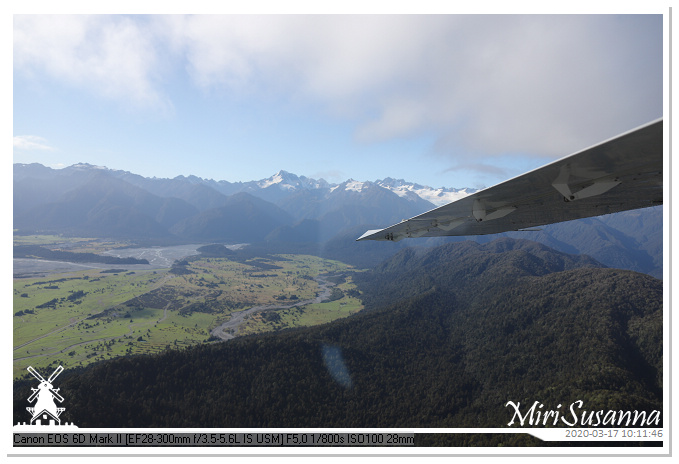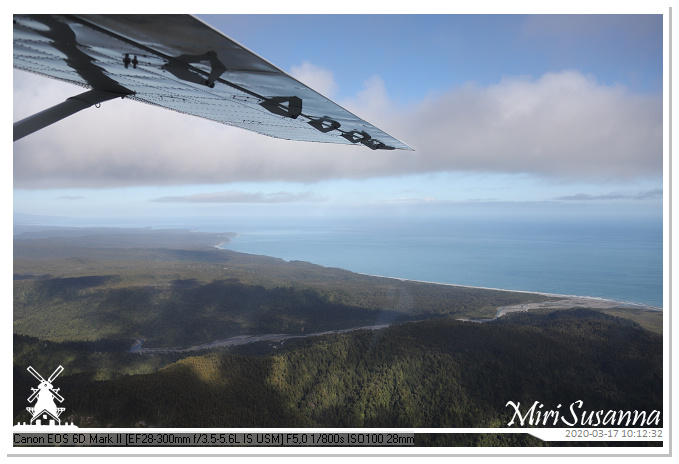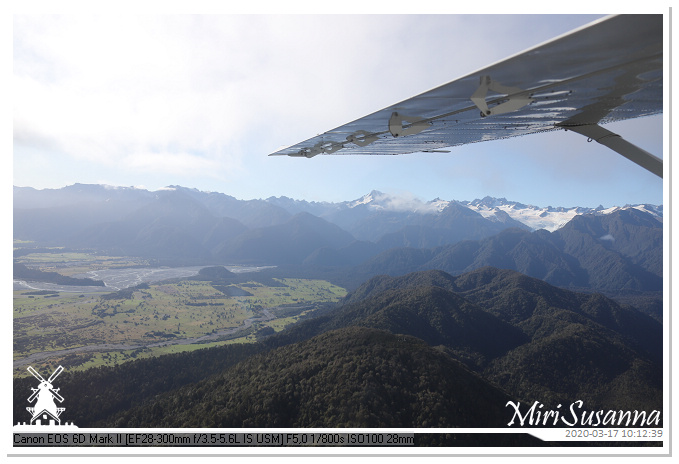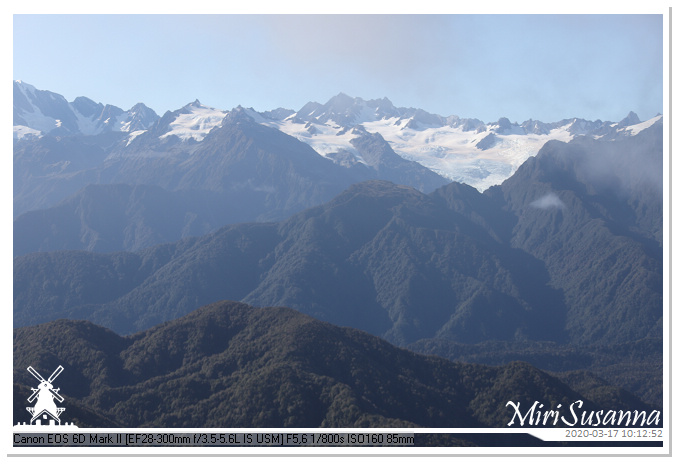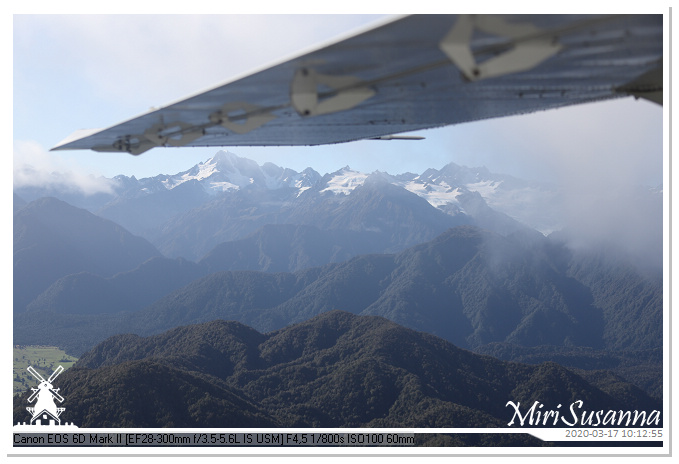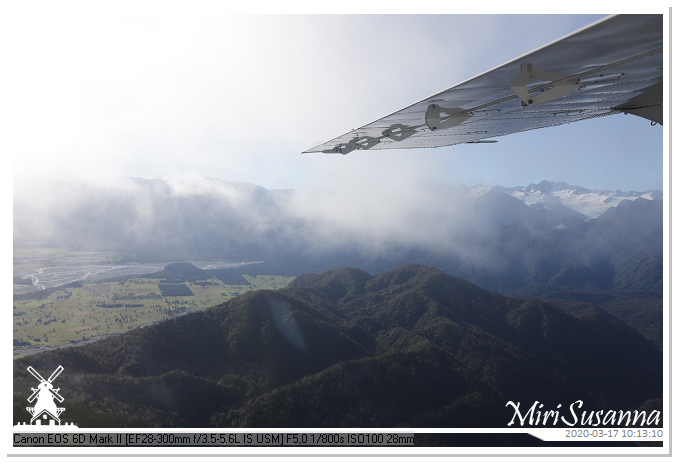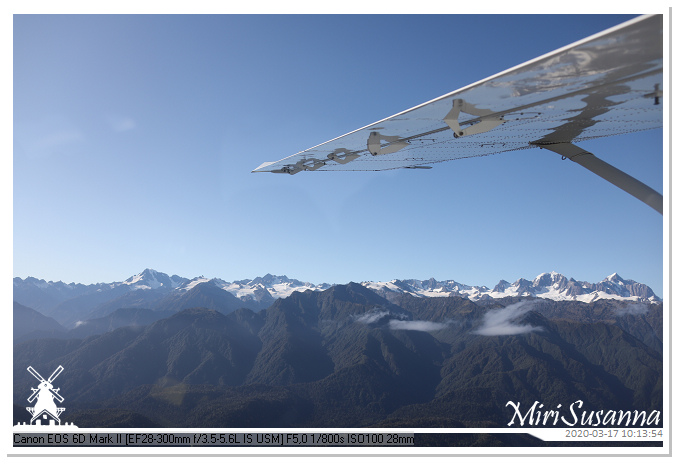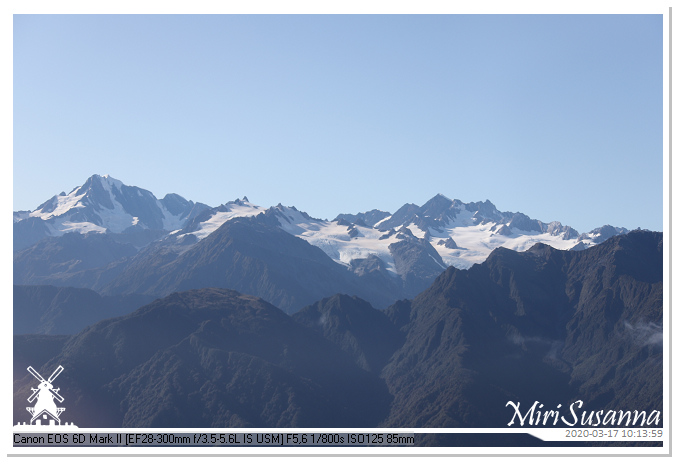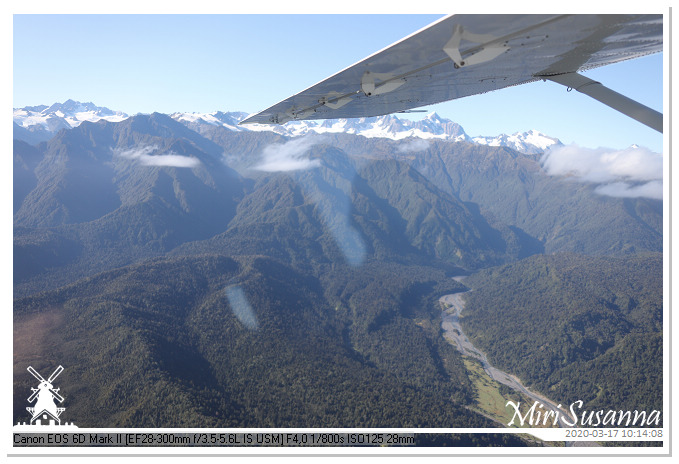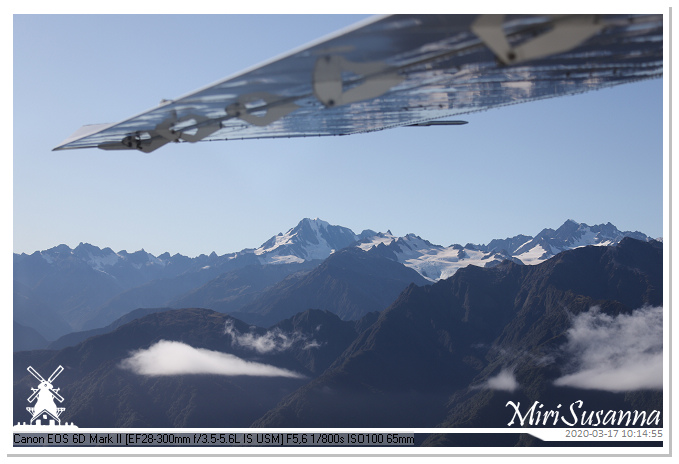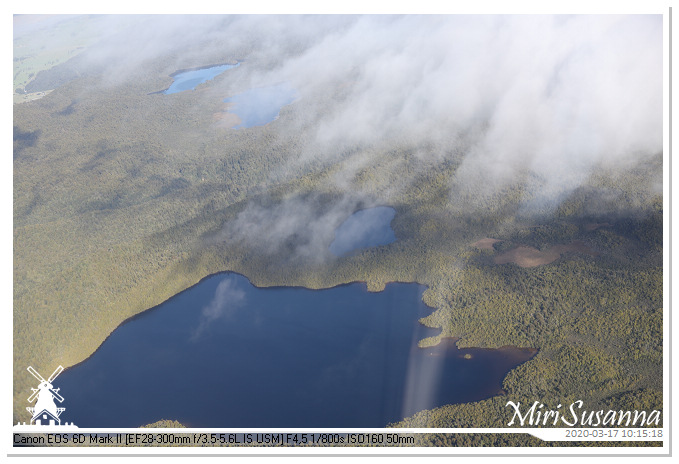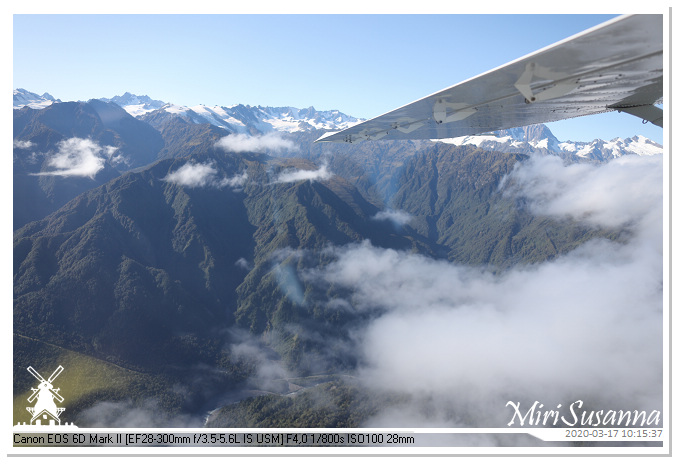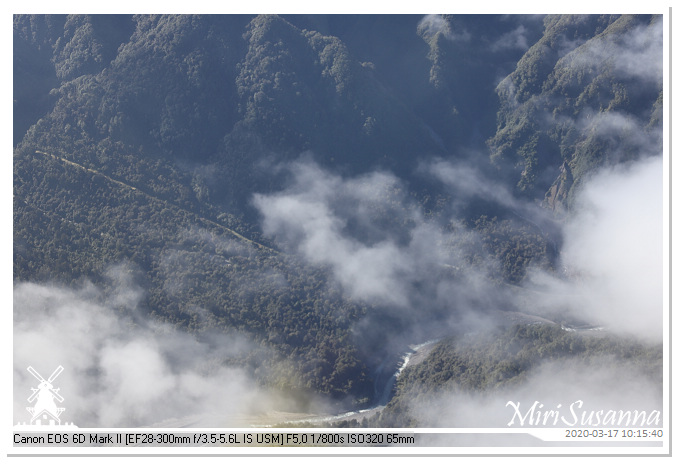 SH6 in zicht.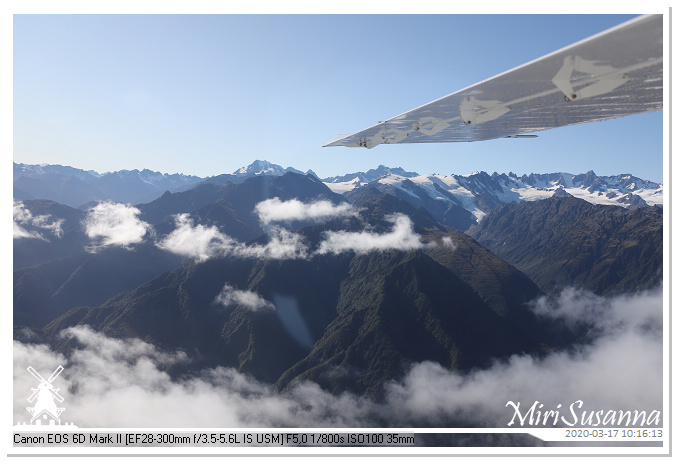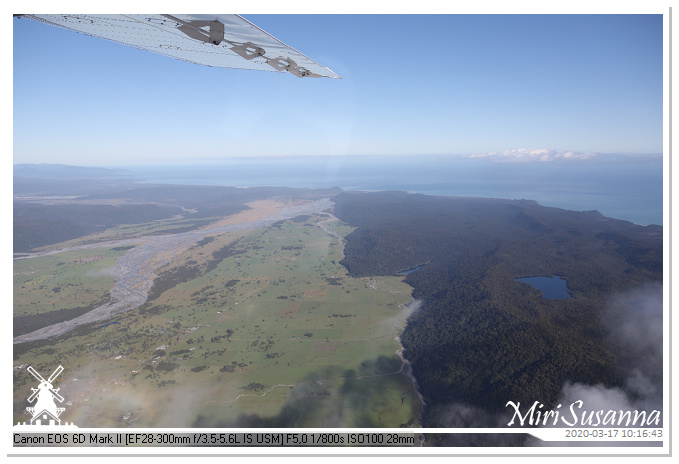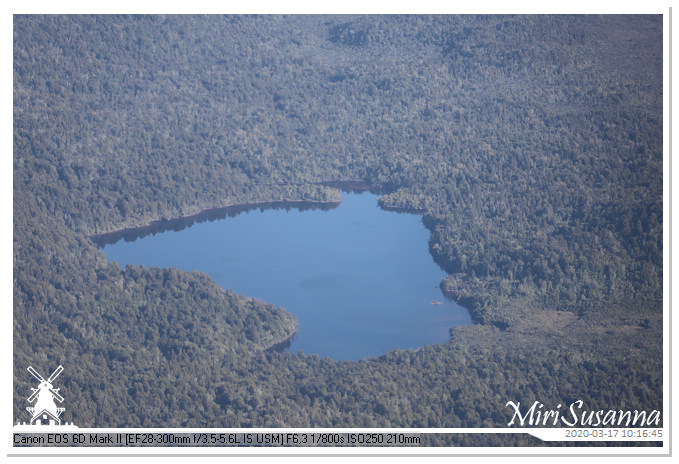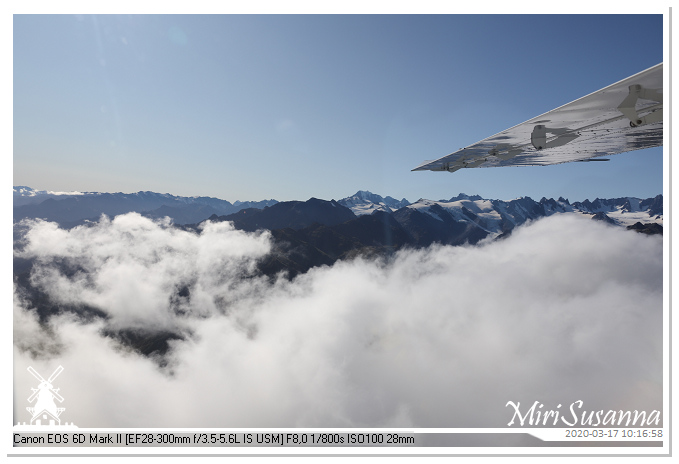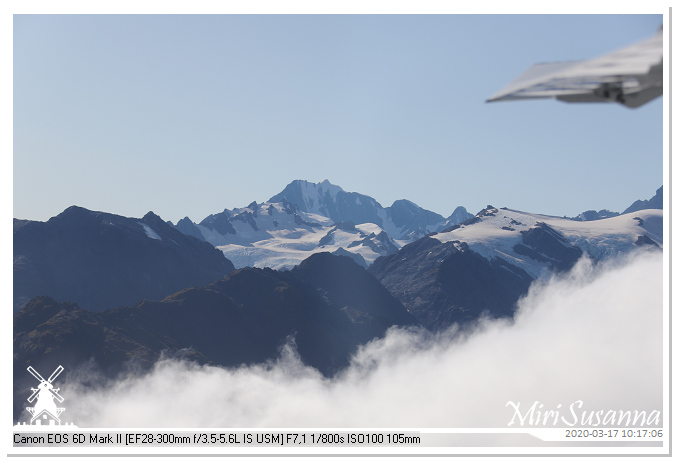 庫克河。
Cook River.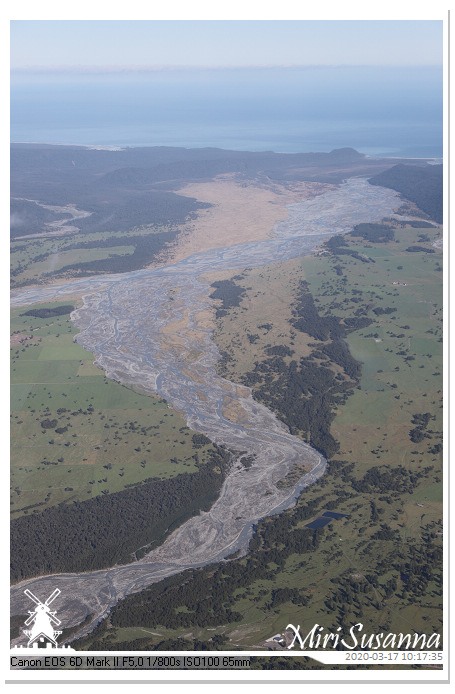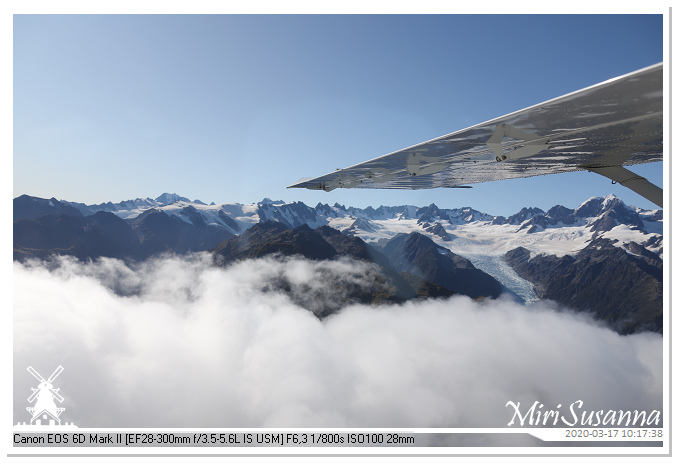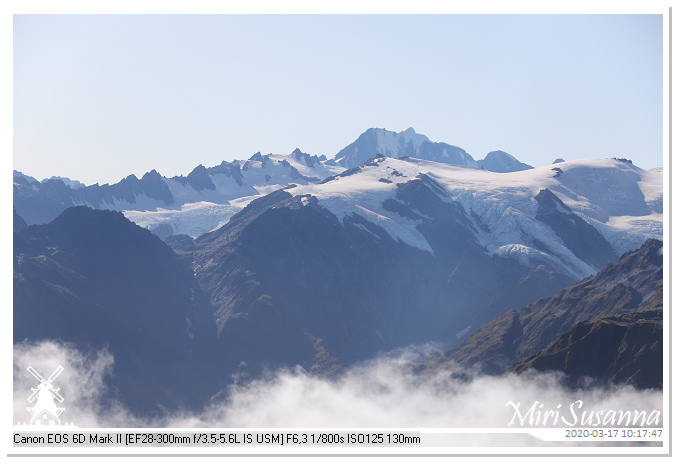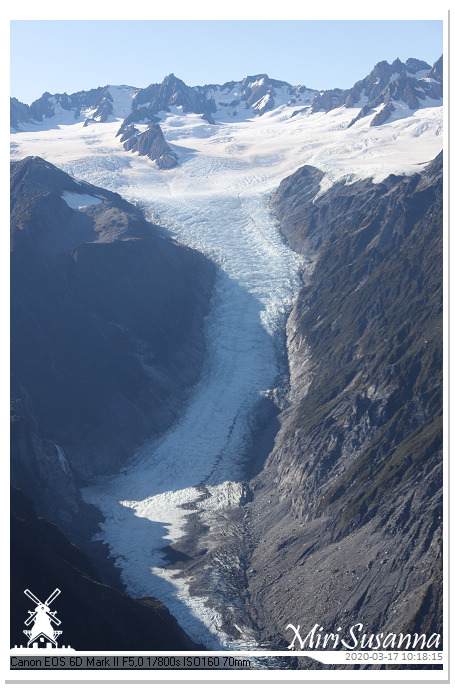 福克斯冰河。
Fox Glacier.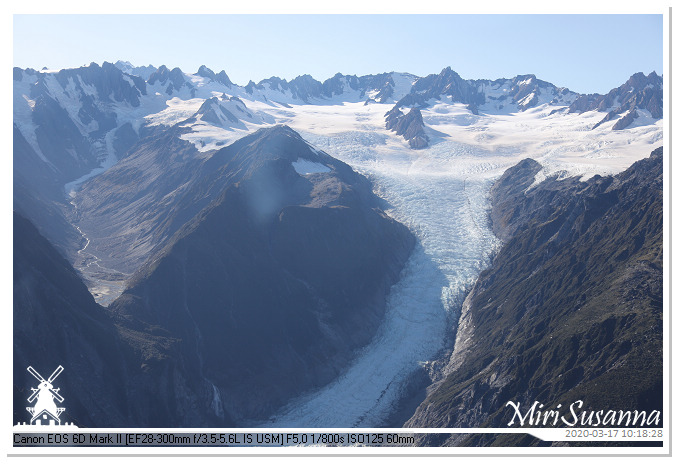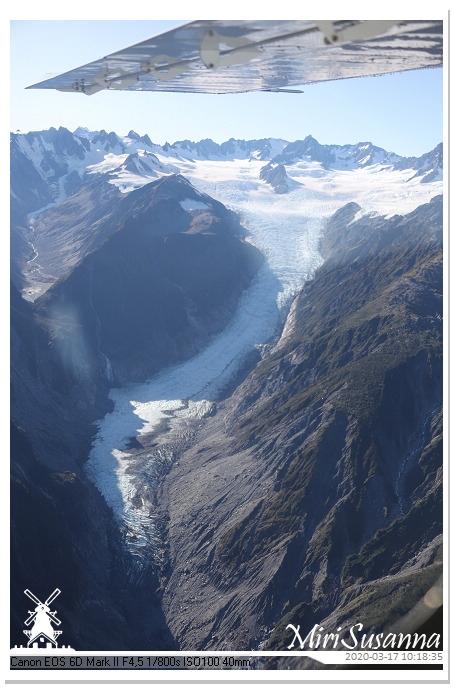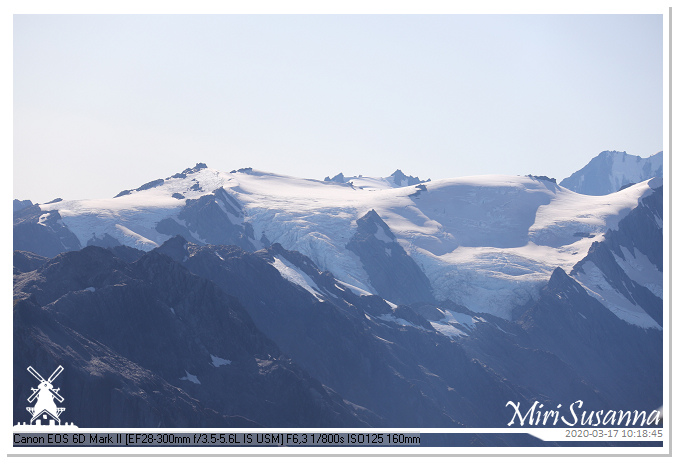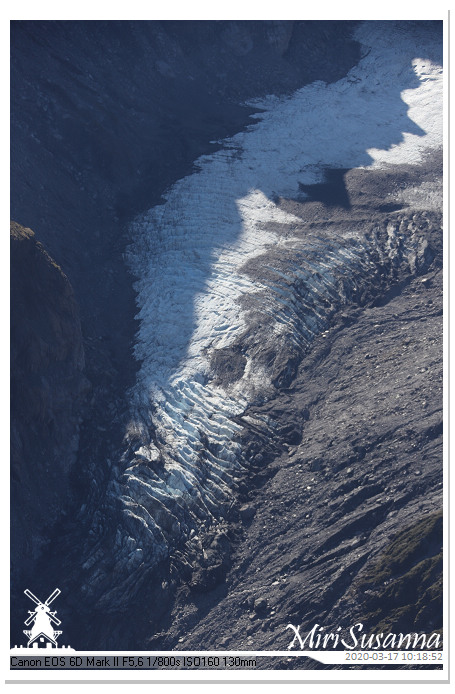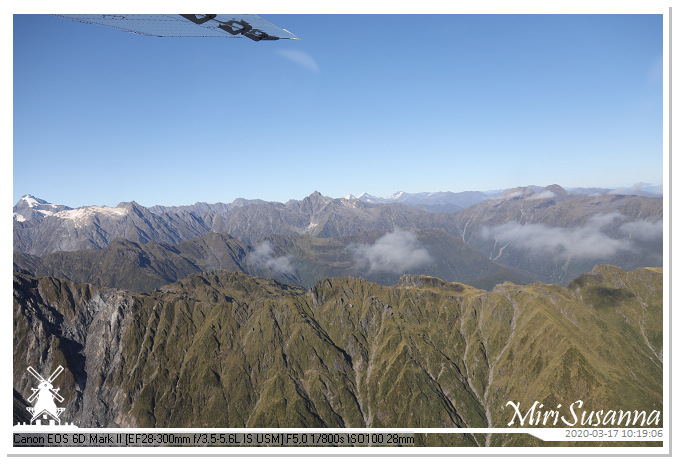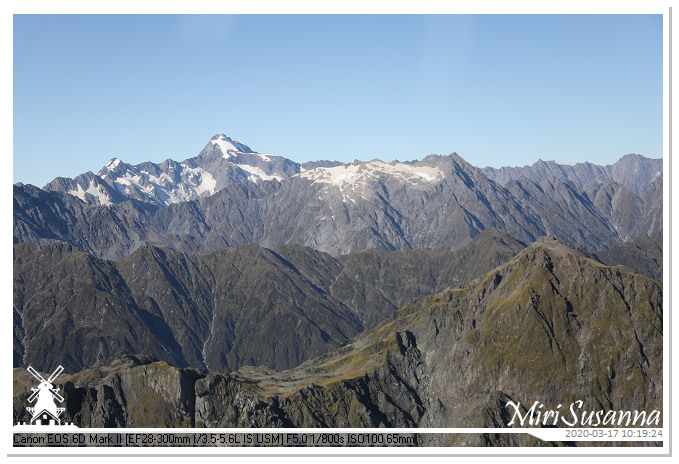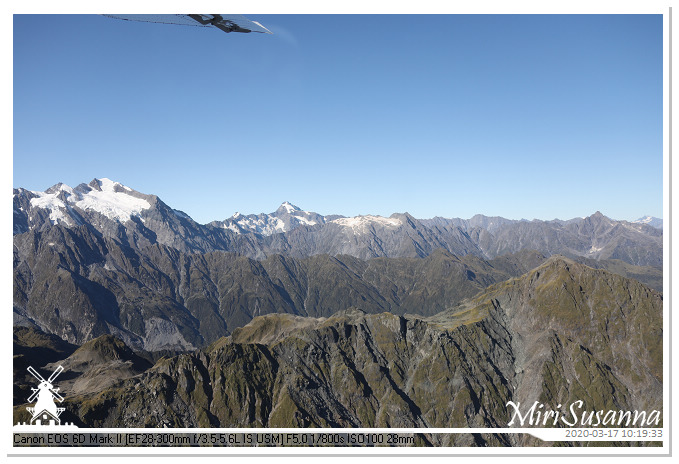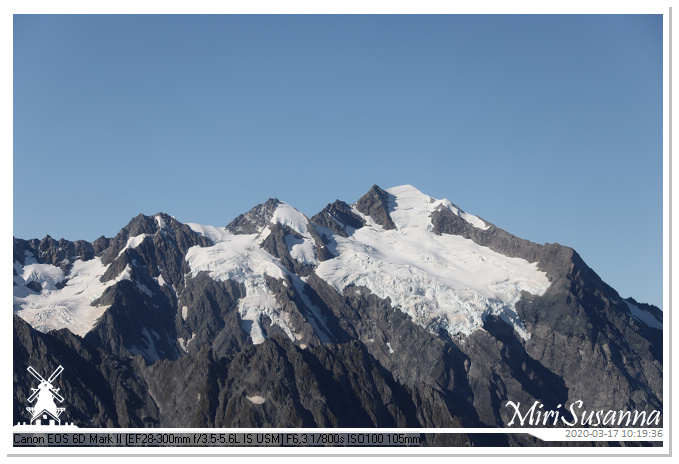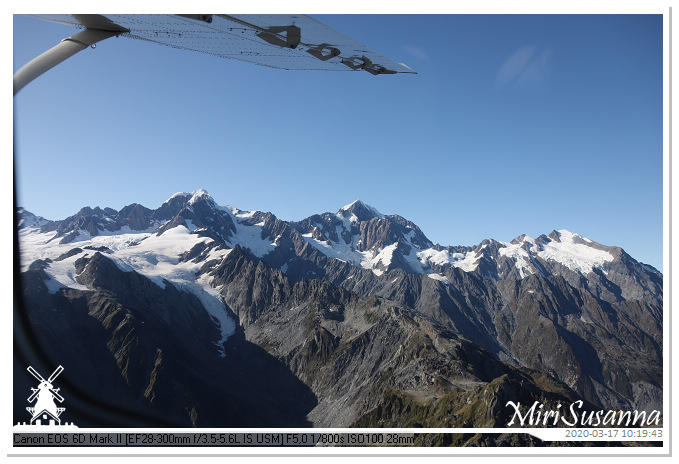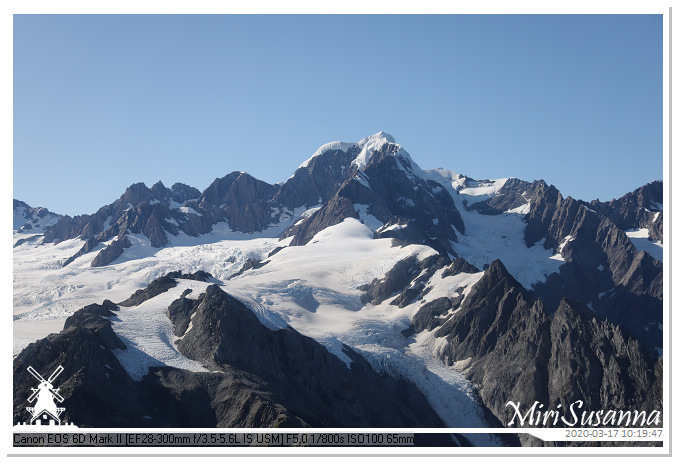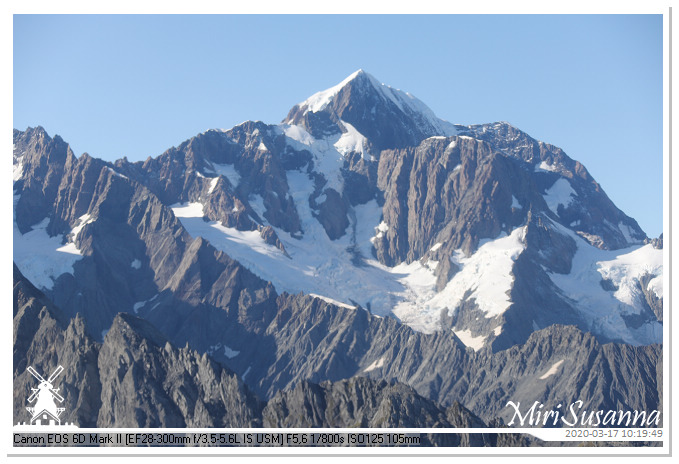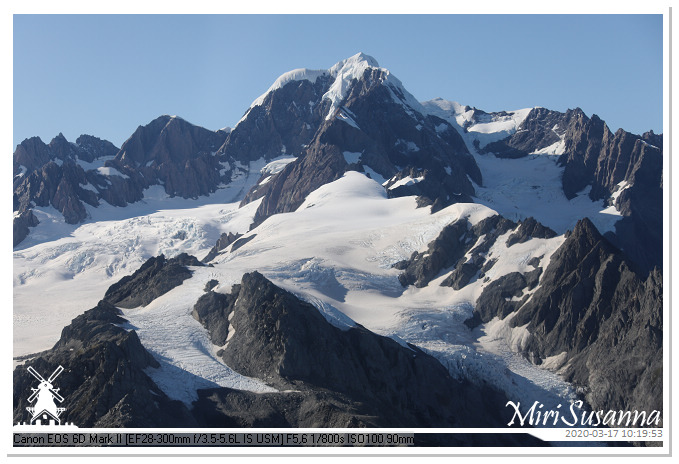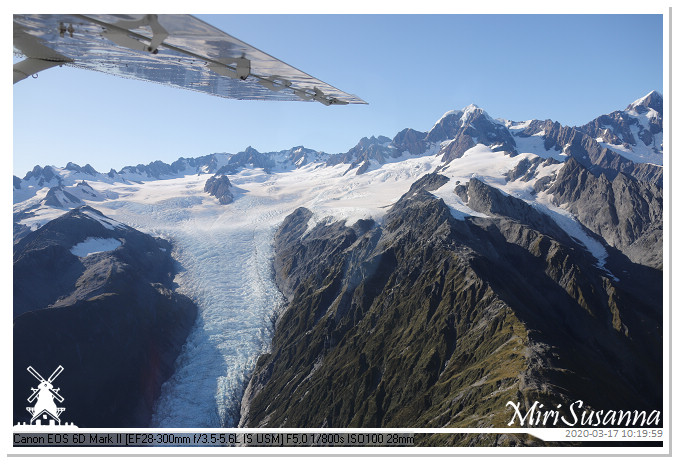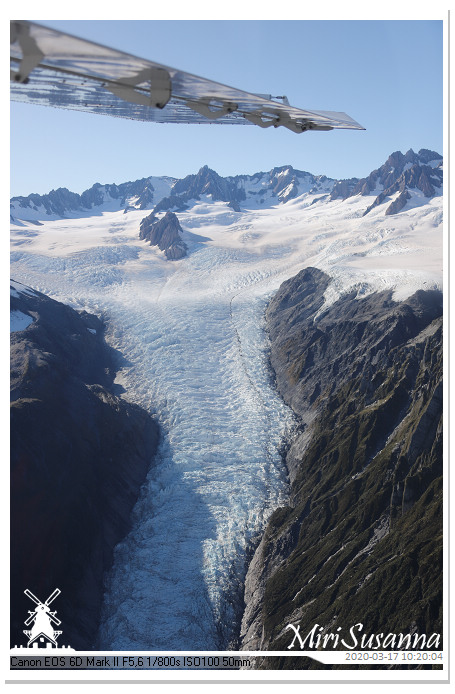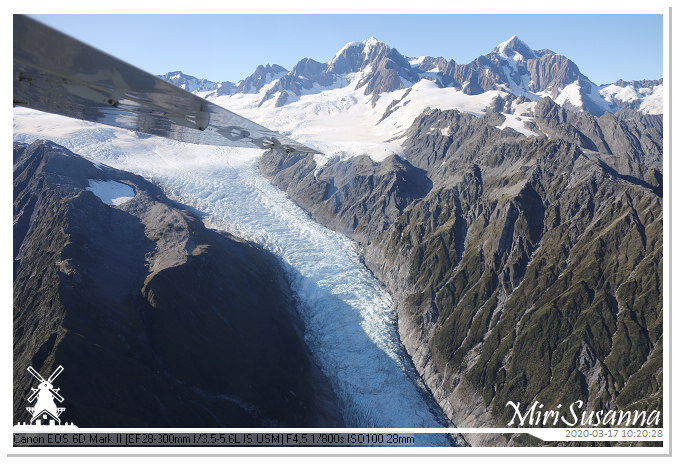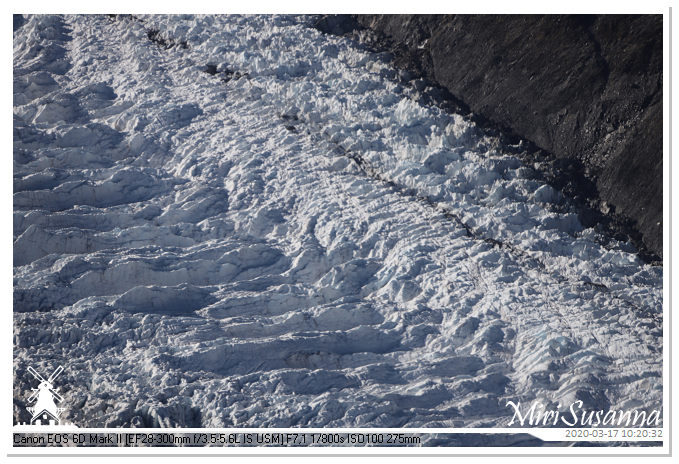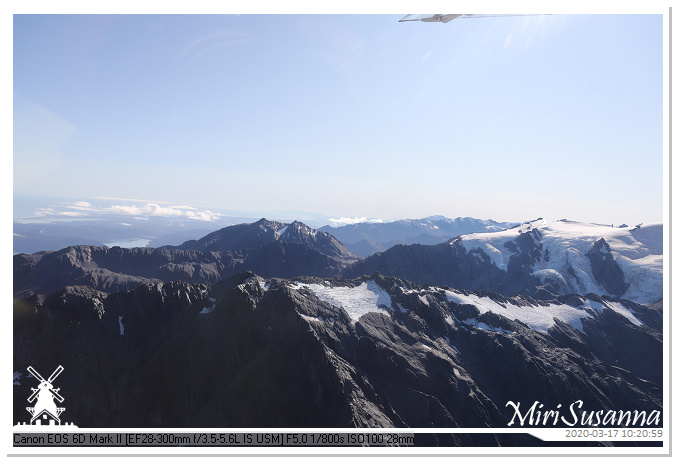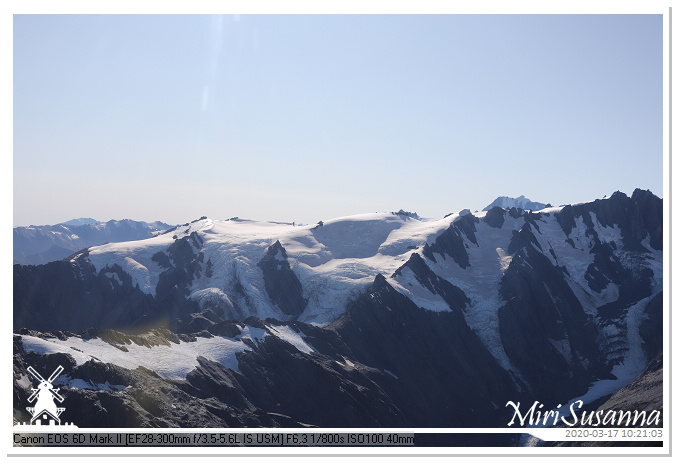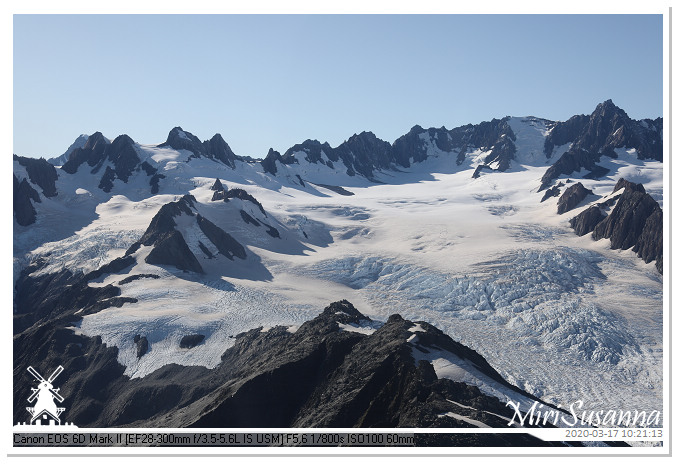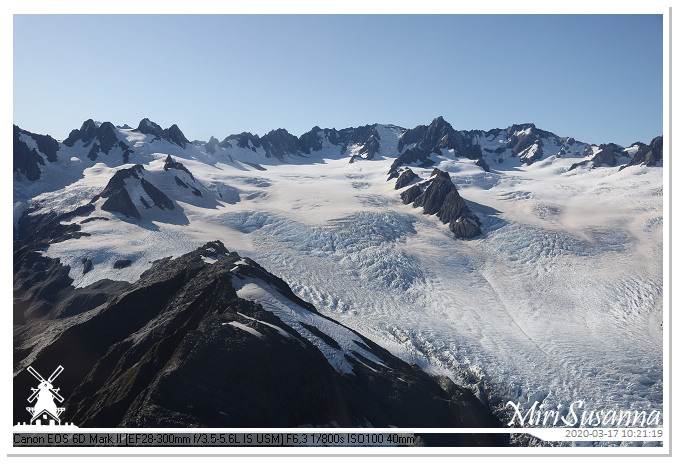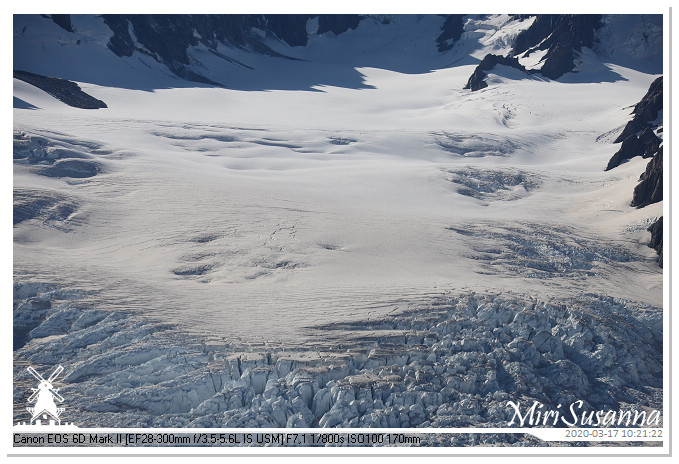 冰河上蓋著一層從澳洲進口的煙灰。
[NL] Op de gletsjers is er een laagje as geïmporteerd vanuit Australië.
[EN] Imported ash from Australia covering the glacier.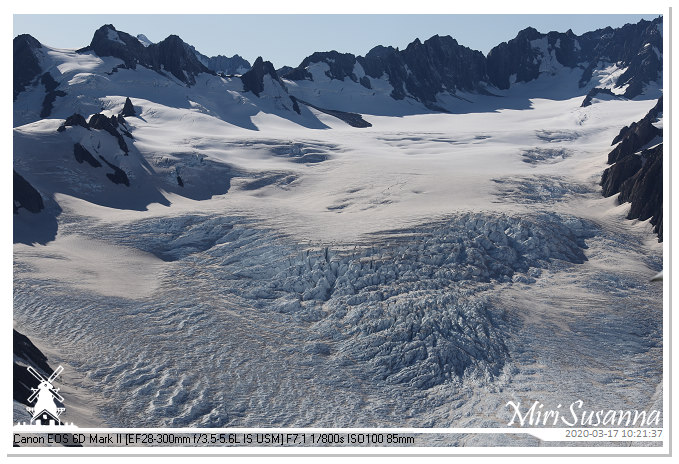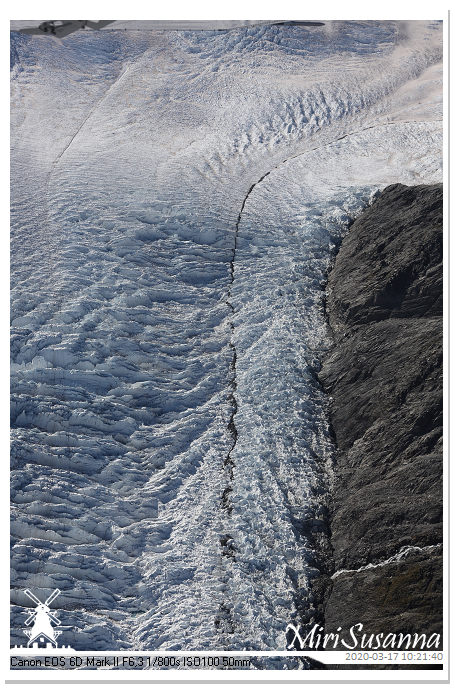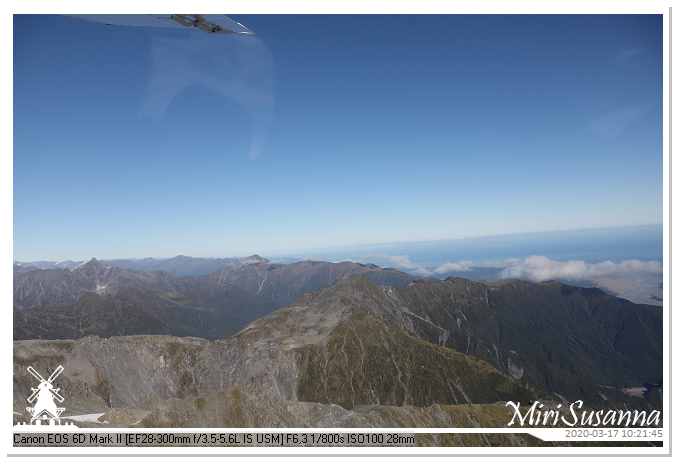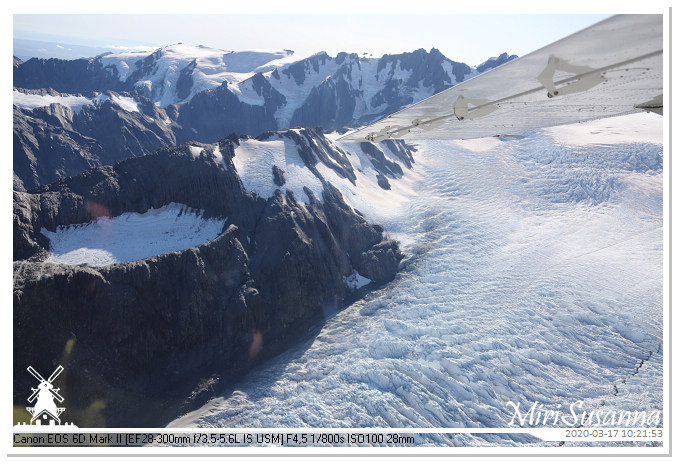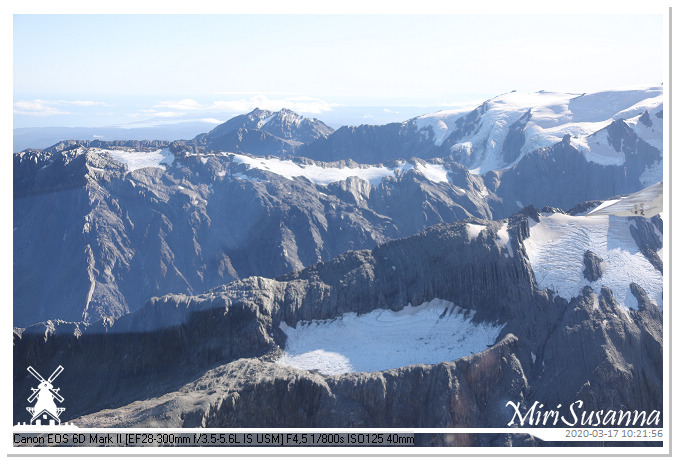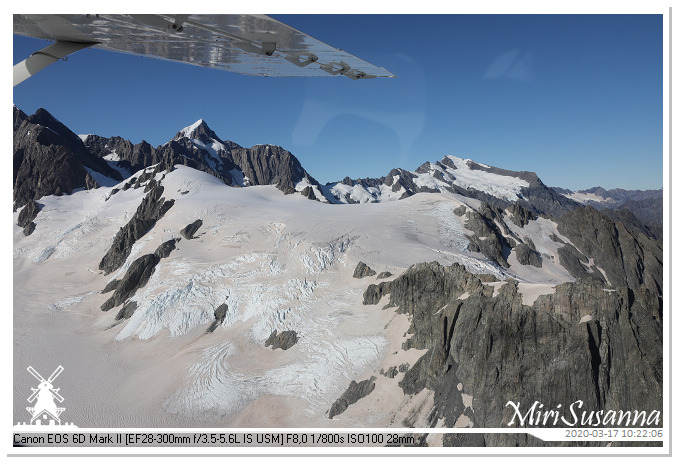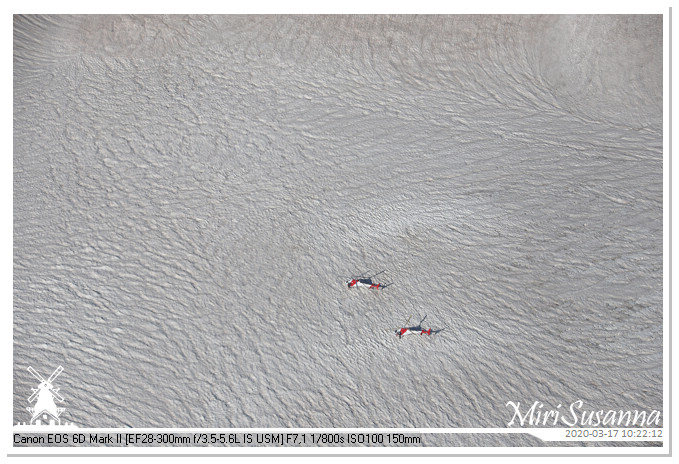 俯視冰河上的直升機。
[NL] Twee helikopters op de gletsjer.
[EN] Two holicopters on glacier.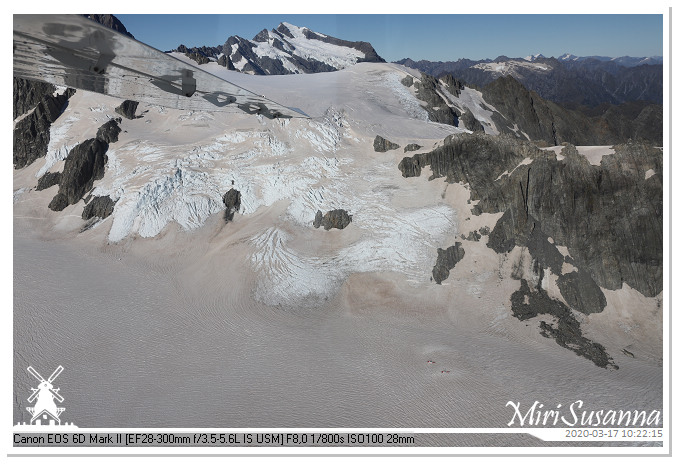 找得到那兩台直升機嗎?就在右下方。
[NL] Kan je de helikopters vinden? Ze zijn bij de rechtsonder kant.
[EN] Could you find them? They are at the bottom right.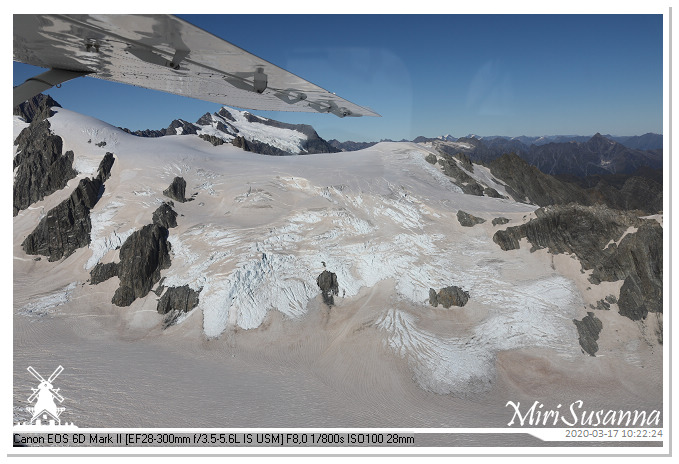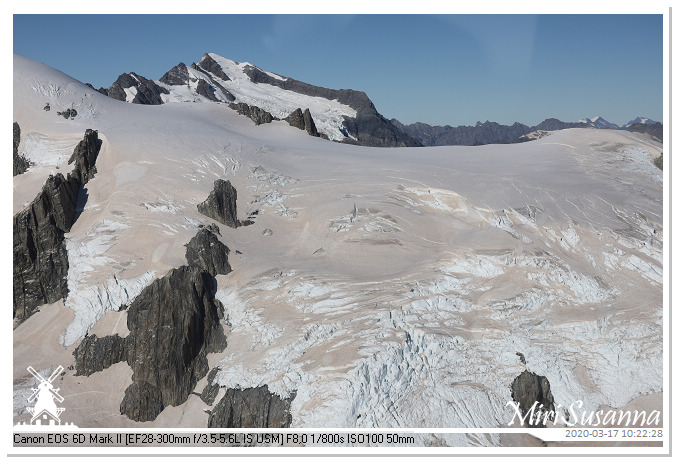 據說這些灰燼若無法在新雪降臨前被融化的雪帶走的話就會一直留在這裡。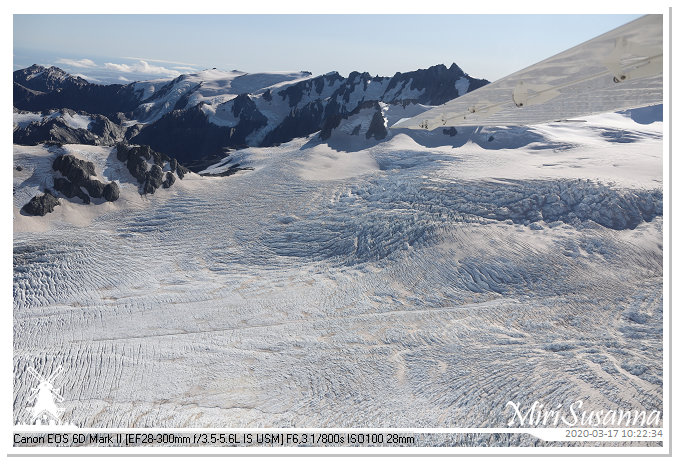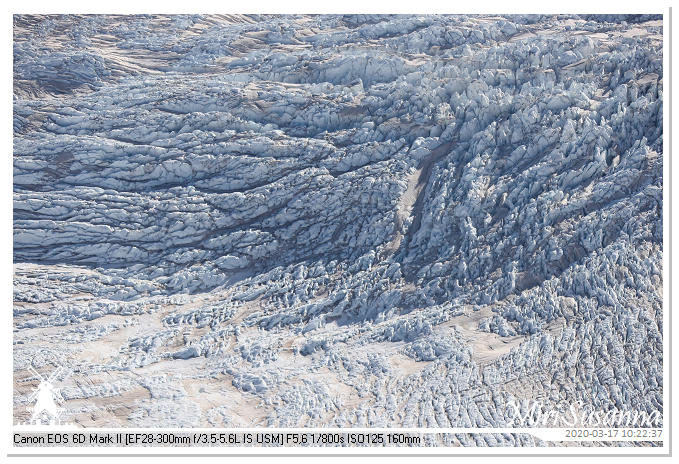 ~。Next Post。~
紐西蘭之旅彙整:
All about New Zealand Tour 2020: