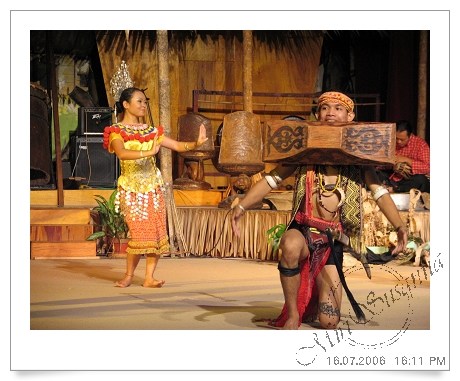 精彩的民族舞蹈表演。



畢達友族的長屋。 ( 官方網頁說明,Infomation of SCV )
 BIDAYUH
The Bidayuh, formerly known as Land Dayaks account for 8.3% of Sarawak's population. They live in South-West Sarawak, in the Kuching and Samarahan Divisions. Their traditional religion is animism, but today many Bidayuh are Christians. There are five main Bidayuh language groups: Puruh, Jagoi, Siburan, Bukar/Sadong, Selakau Lara. There is considerable variance among these dialects, though scholars detect some linguistic common ground. Many Bidayuh are farmers, cultivating padi (dry rice) and cash crops like pepper, rubber or cocoa.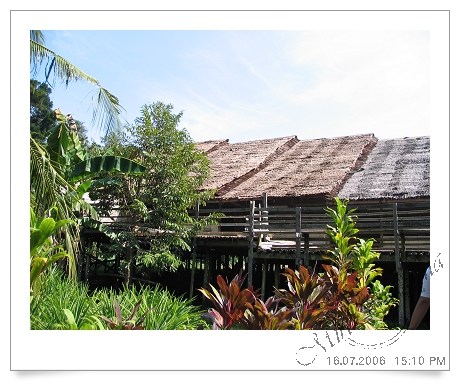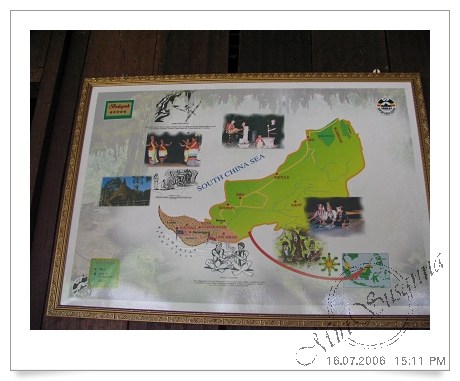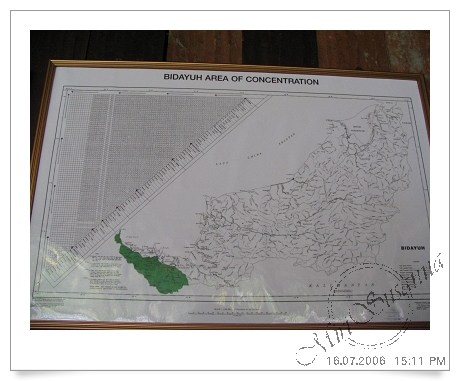 畢達友族分佈區。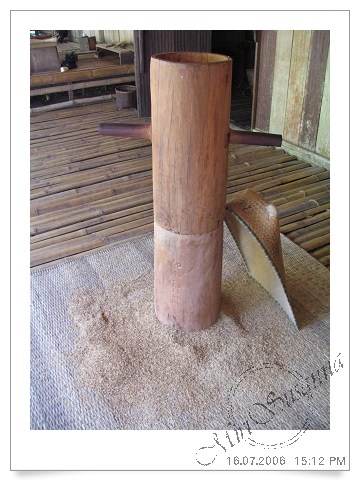 草蓆上的是稻穀。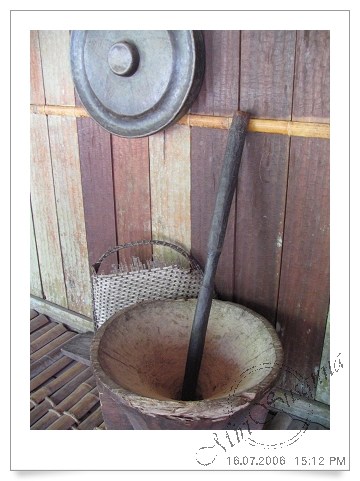 搥開稻殼用的器具。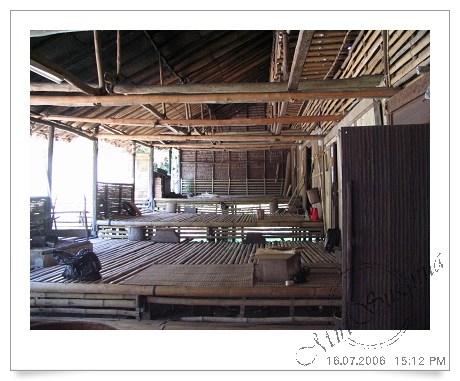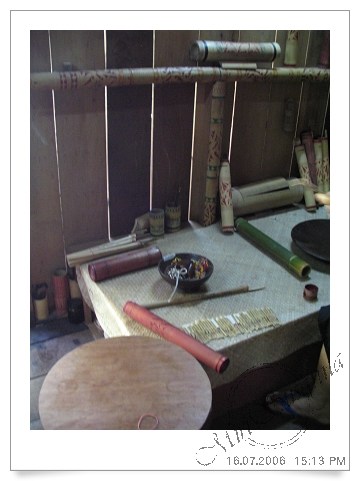 竹雕製品。
 BAMBOO CARVING
The Bidayuh are bamboo for anything and everything. Bamboo articles for daily use are decorated with surface incision or whitting, the patterns are cut into the smooth bamboo skin, which is then peeled away. Red and black natural dyes are rubbed over the article, staining only the exposed portions; polishing will bring out the design in dainty relief. The distinctive Bidayuh water pipes, passed from hand to hand for a frugal puff of smoke, are usually decorated by this method.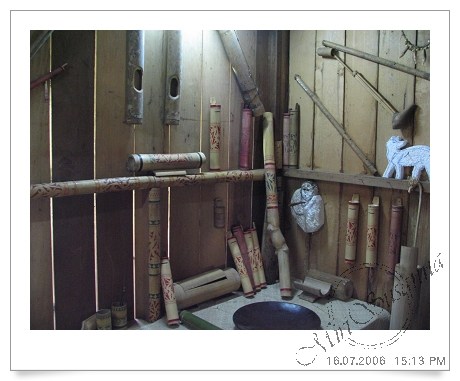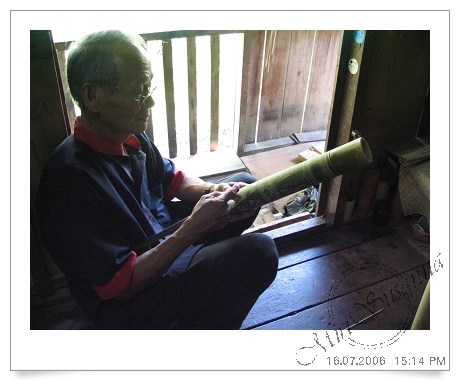 阿伯表演竹雕。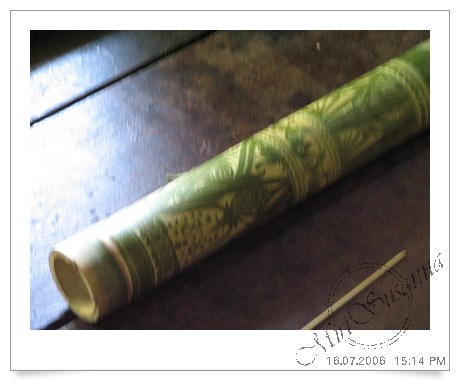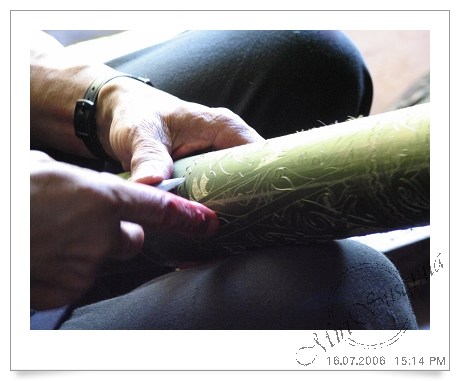 不需要打草稿就可以直接在竹筒上雕花紋,老練呀﹗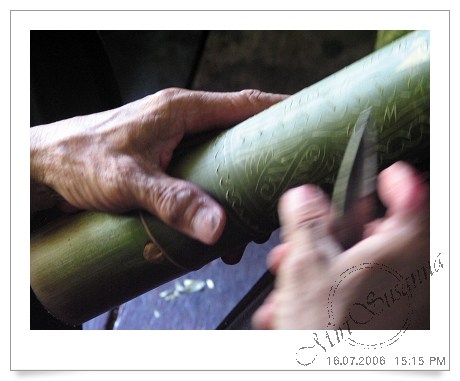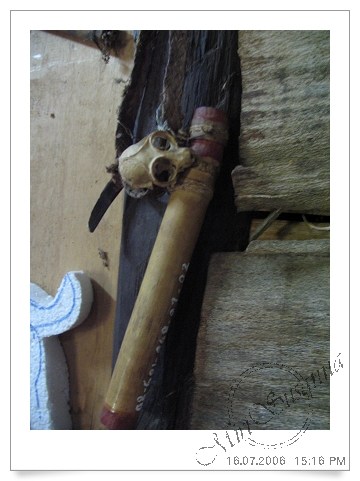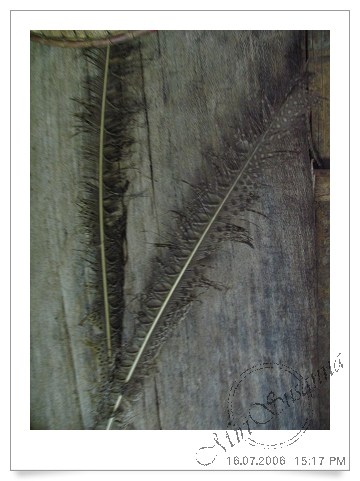 忘了這是什麼鳥的羽毛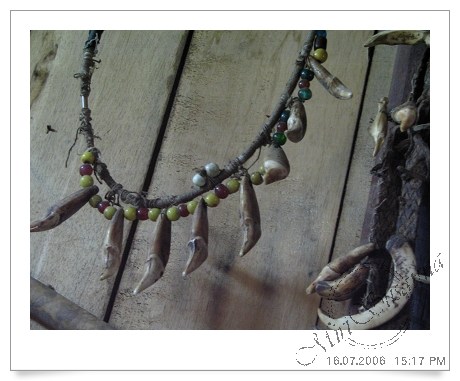 獸瓜飾物。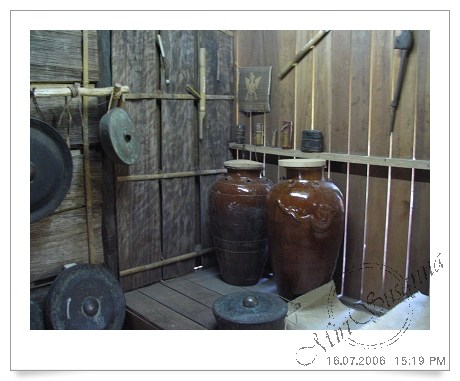 大甕上還有龍的圖騰唷﹗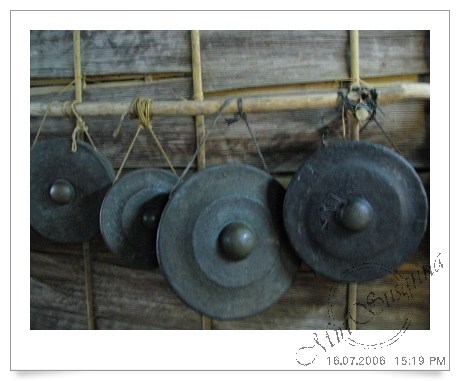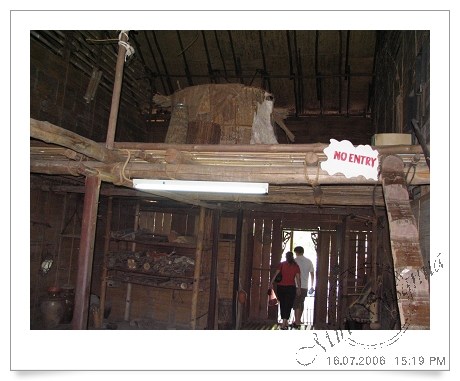 上層用來儲藏糧食等。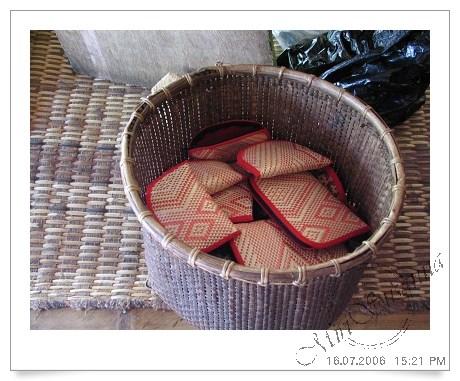 竹織小包包。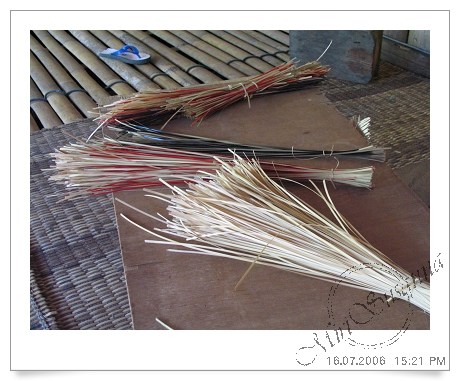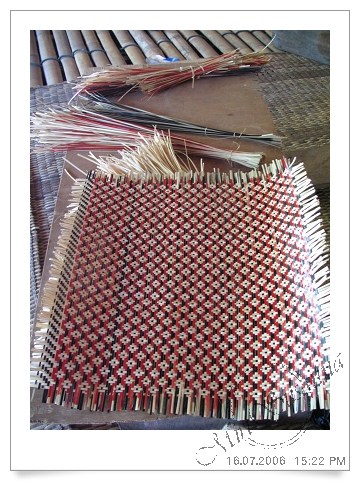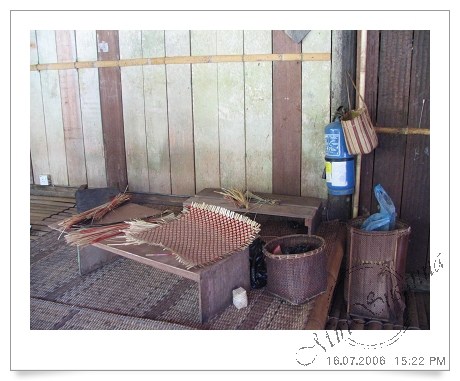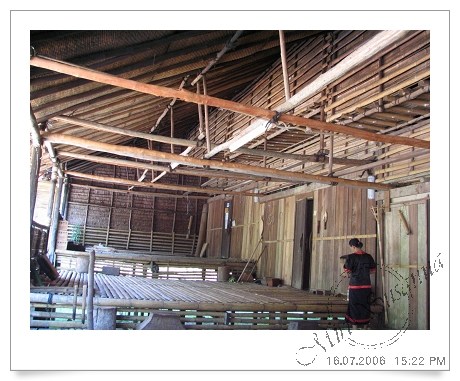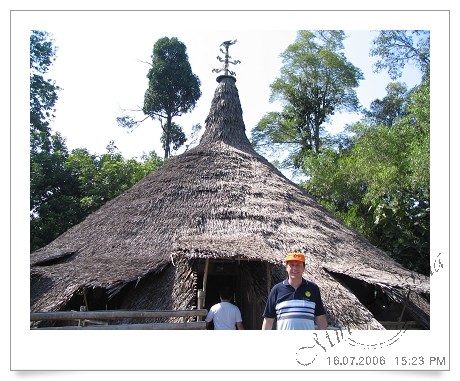 巴特在Headhouse外。
 HEADHOUSE
The ceremonial meeting-house of the Bidayuh was used to store the skulls of enemies killed in battle. Hence the name "headhouse". The Bidayuh call it panggah or baruk according to the regional dialect. Unmarried men used to sleep in the headhouse ready to wake at the slightest noise and defend the adjoining longhouse from a surprise attack. Meetings were held here to discuss seasonal farm work or other affairs affecting the whole community. The headhouse was also the armoury – cannon, muskets, spears, swords, blowpipes and shields were hung around the walls. The long drums are always kept in the panggah. Together with the large hanging gongs they are still played for ceremonies and dancing. They were also used to sound the alarm in the event of enemy attack, fire or any other emergency.
SPIRIT FIGURE
Crudely carved male and female figurines, the tegundo are placed on both sides of the path leading to a village, longhouse or farm. These benevolent spirit figures are credited with the power to drive away evil.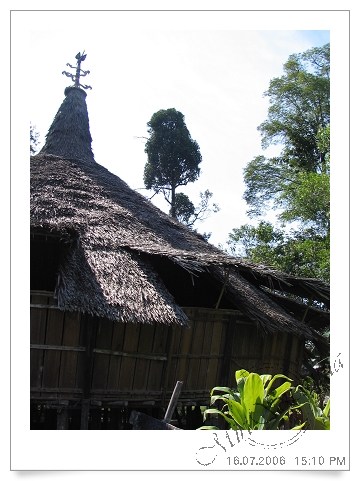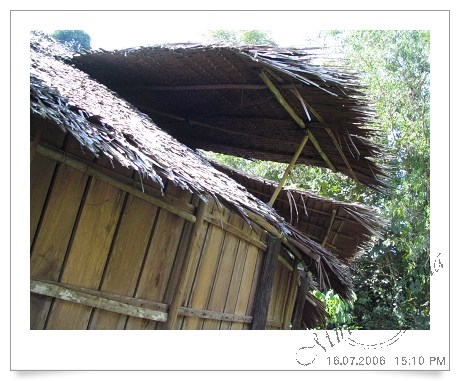 進去看看…………。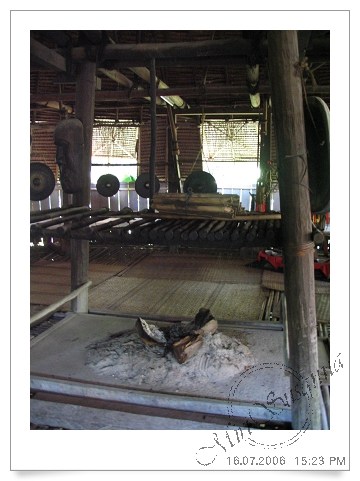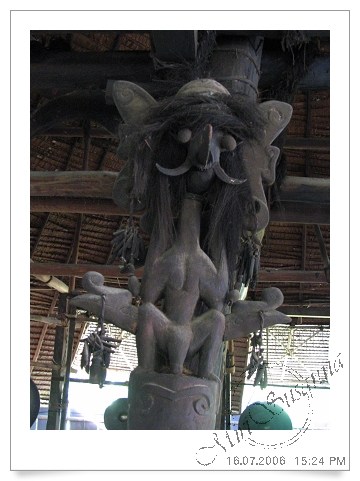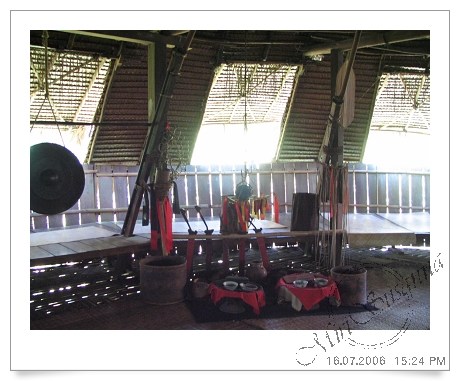 燻拜人頭的祭壇。

屋中央的橫樑上掛著燻乾的人頭。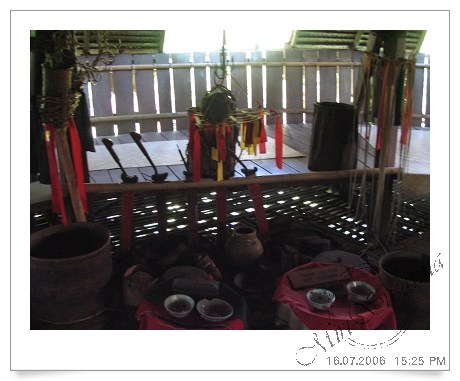 獵人頭的活動已經被政府禁止,此景大概只能在文化村才有機會看到了。

接下來,我們去走竹橋囉﹗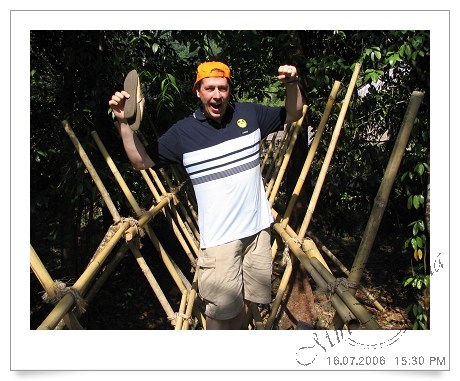 巴特手上的是我的拖鞋,呵呵﹗

讓遊客體驗走竹橋的樂趣。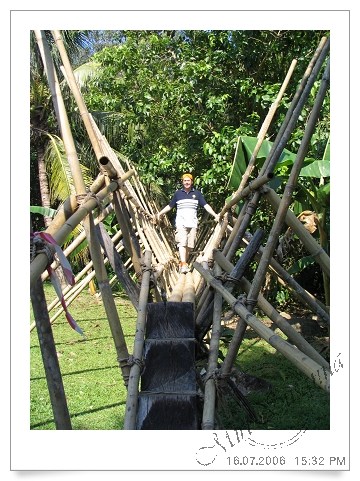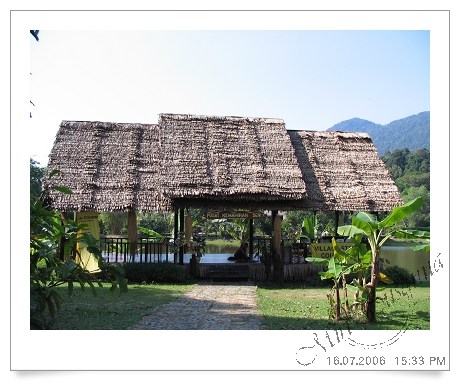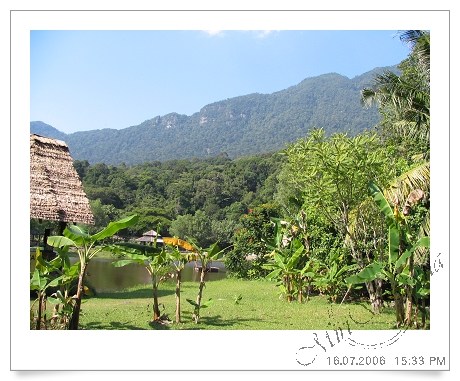 傳統圖騰的大木柱。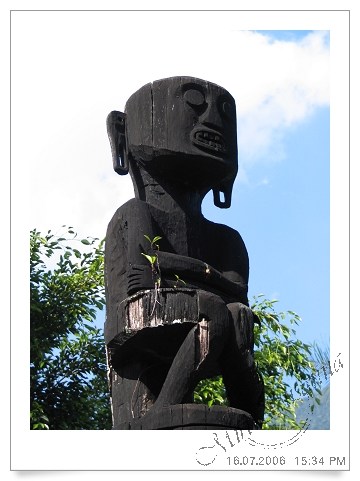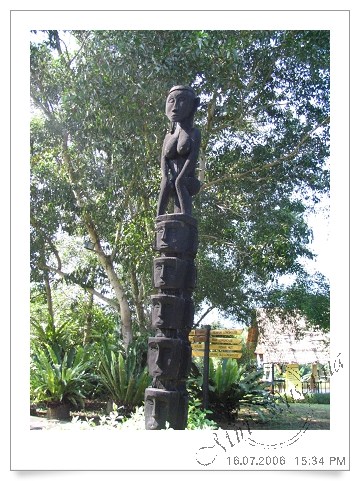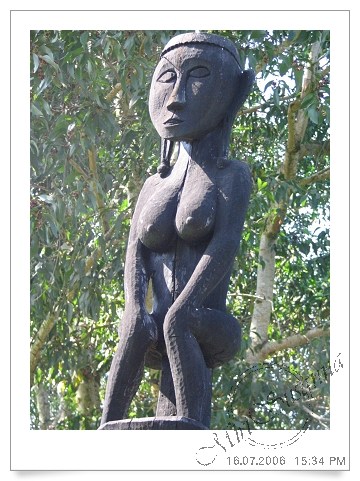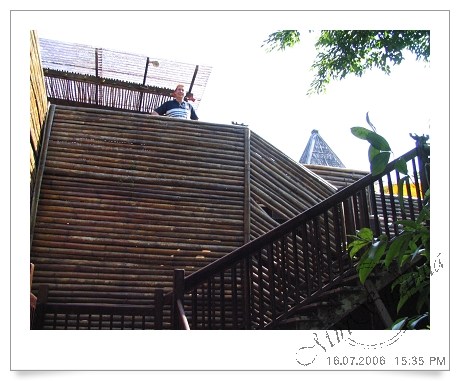 快上來看現場舞蹈表演吧﹗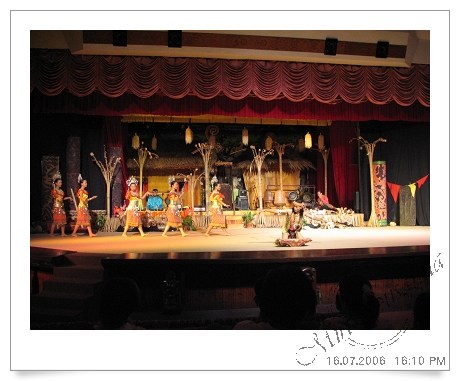 表演開始囉﹗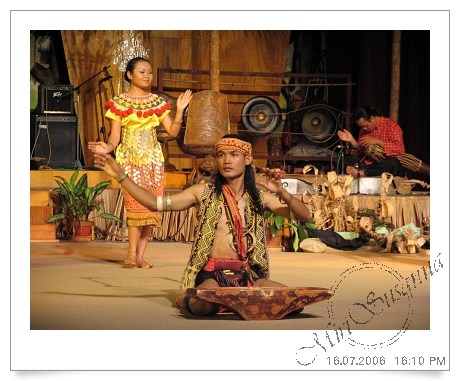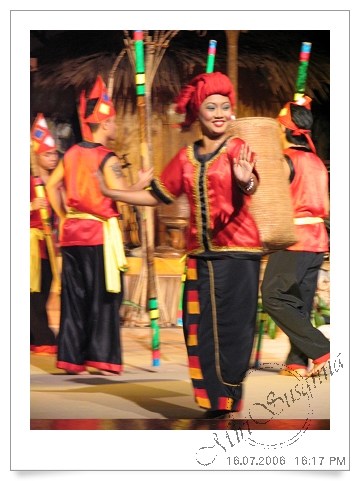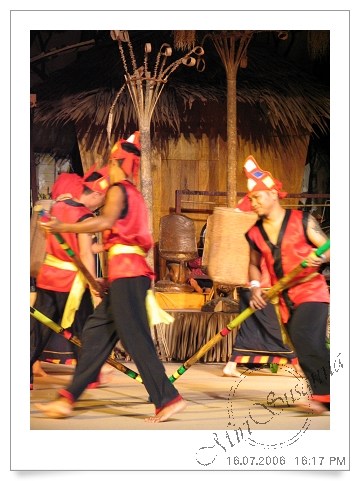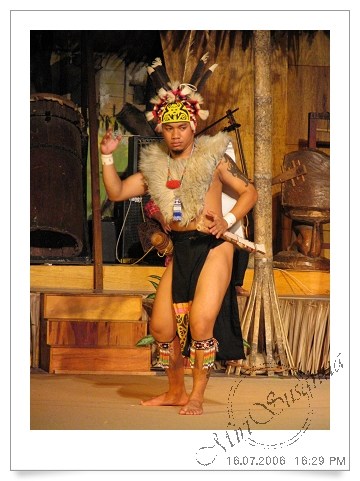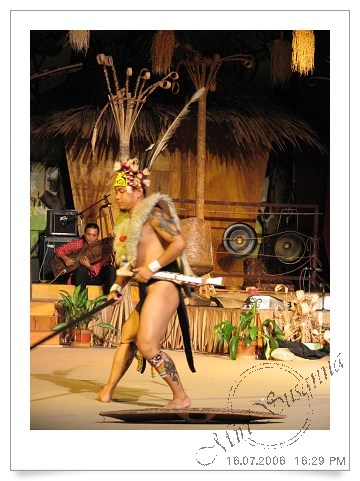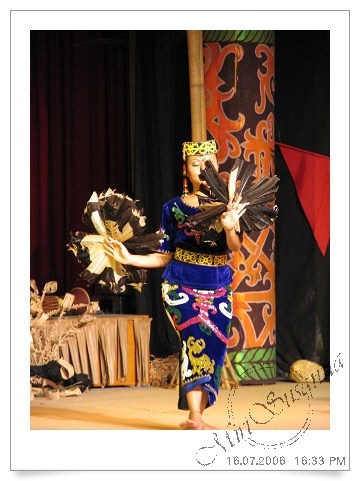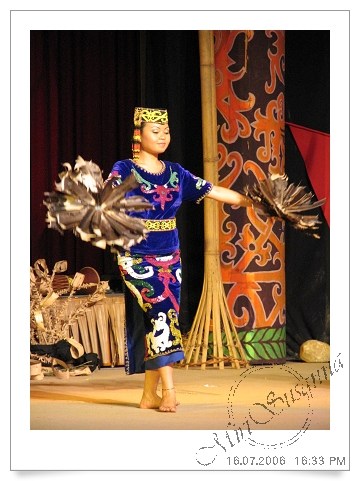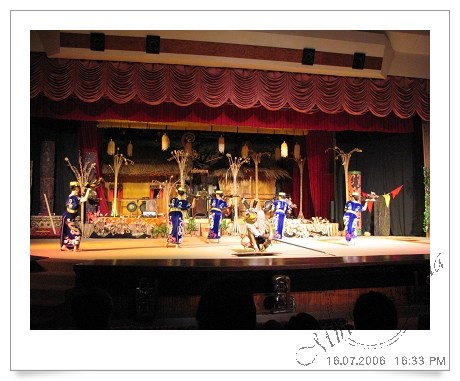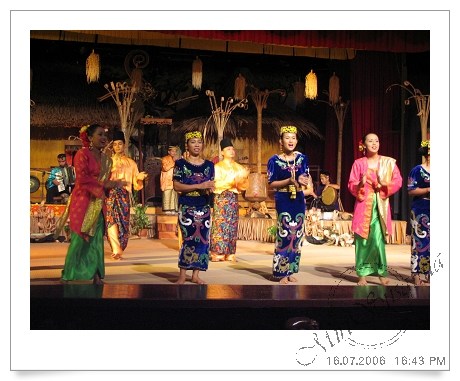 除了照片,我還拍了很多影片回來跟荷蘭的朋友分享。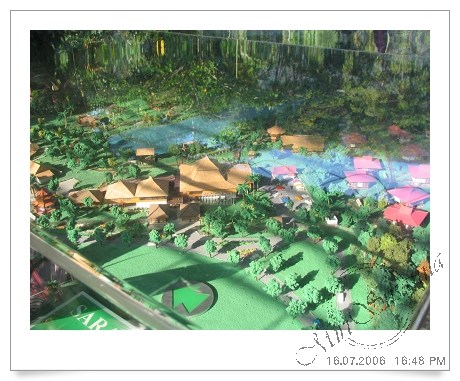 砂勞越文化村,有緣再會囉﹗