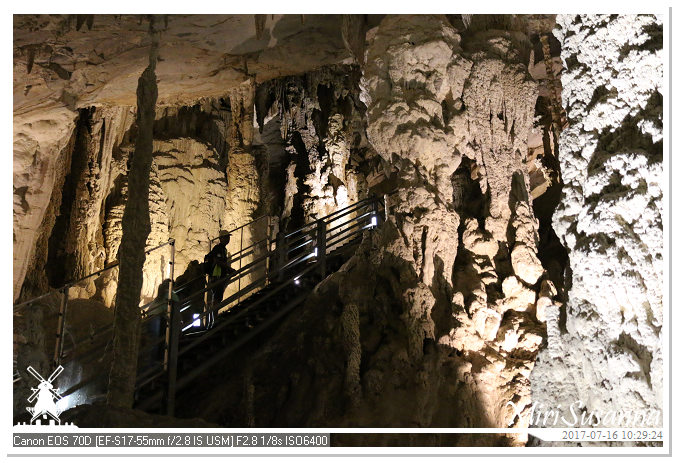 「風洞」之所以叫風洞,就是因為它的洞裡有風,呵呵!風洞裡的通道有寬有窄、起伏不平,尾端有一壯麗堂皇的「帝皇之室」。洞體因為中間有塊洞頂崩塌而開了天窗,在熱氣上升的作用下,加速從洞口往洞裡的空氣流動速度,形成了風,尤其是在天氣熱時,站在狹窄的瓶頸地帶就能感受到涼風習習。而「帝皇之室」內的鐘乳石、石筍、石柱等的形成也跟室內的空氣流動,或說風的方向有關聯。
A plankwalk leads from the riverbank to the entrance of Wind Cave, so named because of the cool breezes which can be felt at the narrow parts of the cave. Wind Cave, which is part of the Clearwater system, has many impressive stalactites, stalagmites, flowrocks, helitites and rock corals, some which are illuminated in the 'King's" Room. — from mulunationalpark.com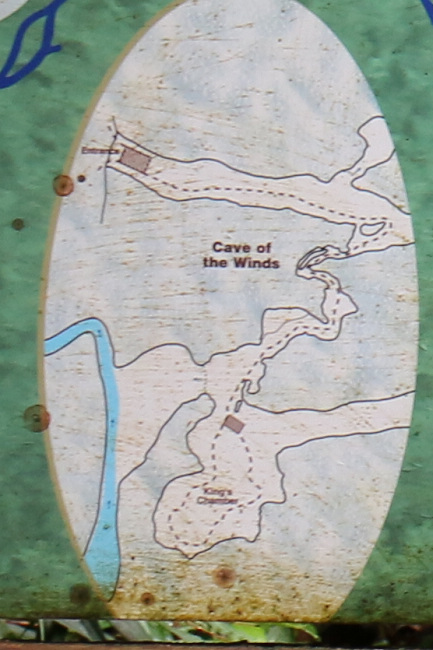 觀光從左上的洞口進入,經過狹窄的部分,到下方的「帝皇之室」饒一圈。
Visiting route is enter the cave from left above, then passing the narrow part, and enter the King's Chamber.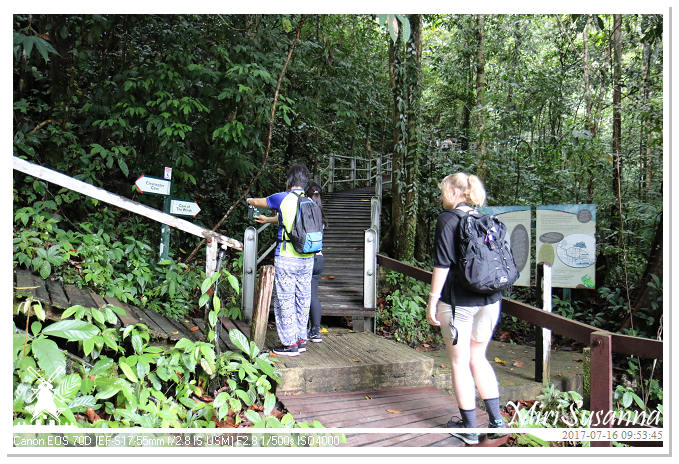 風洞的洞口只要從小碼頭那走段斜坡就到了。
The entrance of Wind Cave is quite closed to the jetty.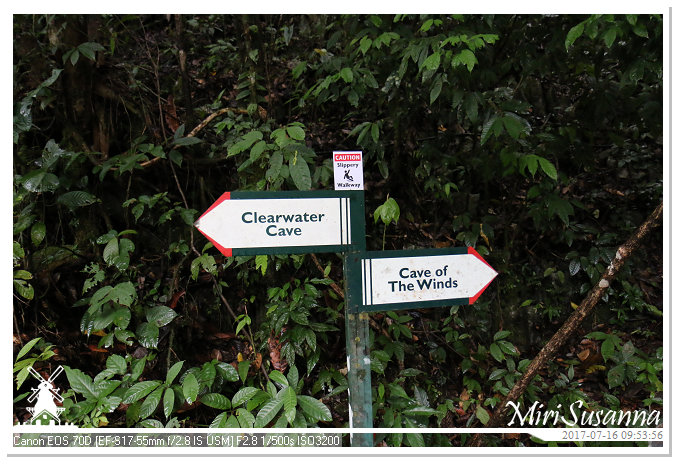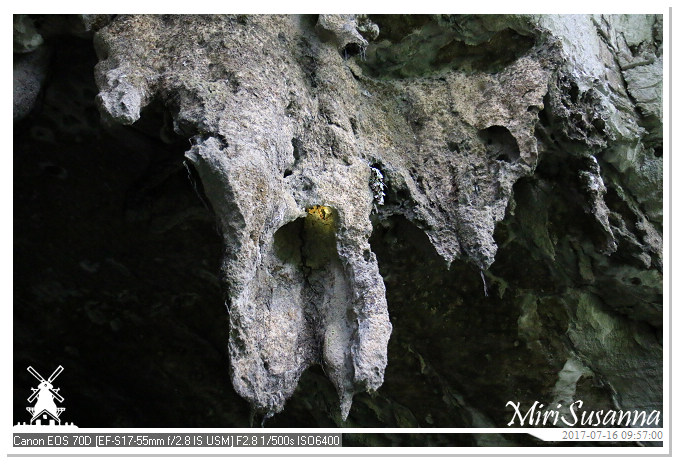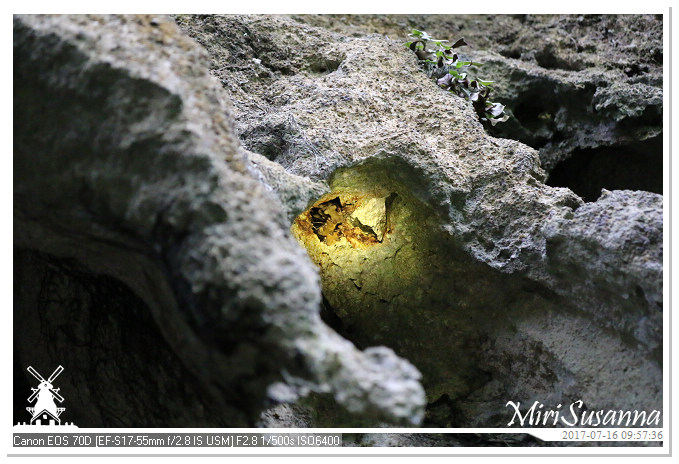 蝙蝠和燕子同居於此。
Bats and swiftlets are living together here.


Droppings of bats.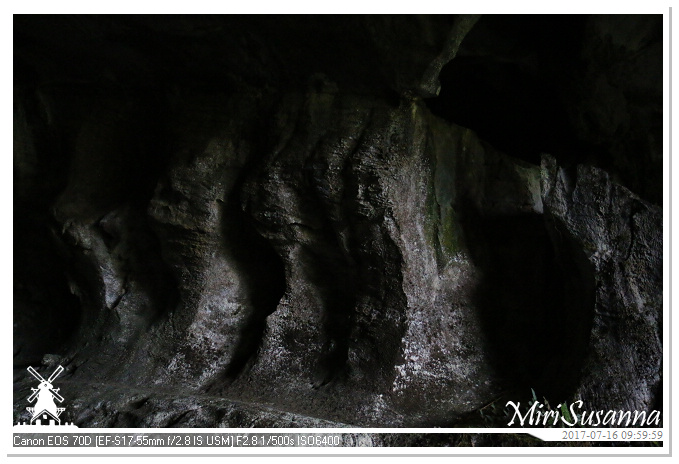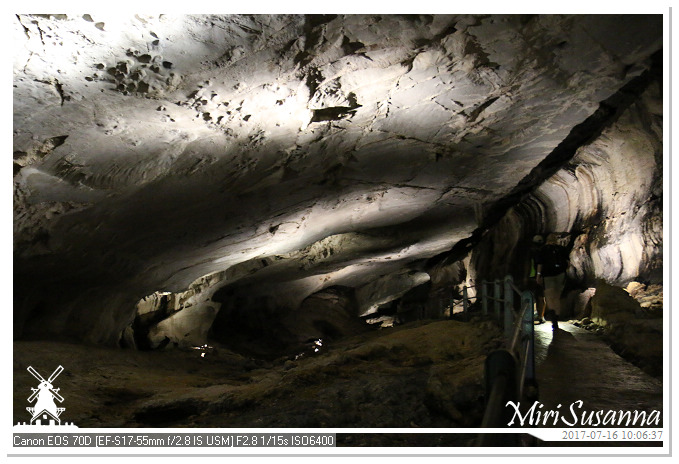 低寬的入口。
The entrance is low but wide.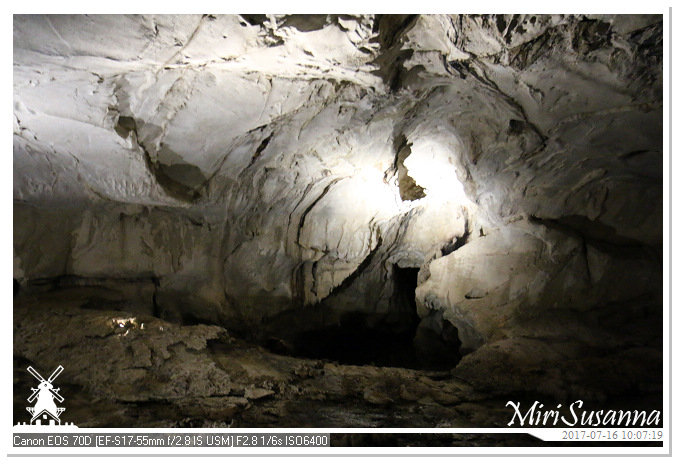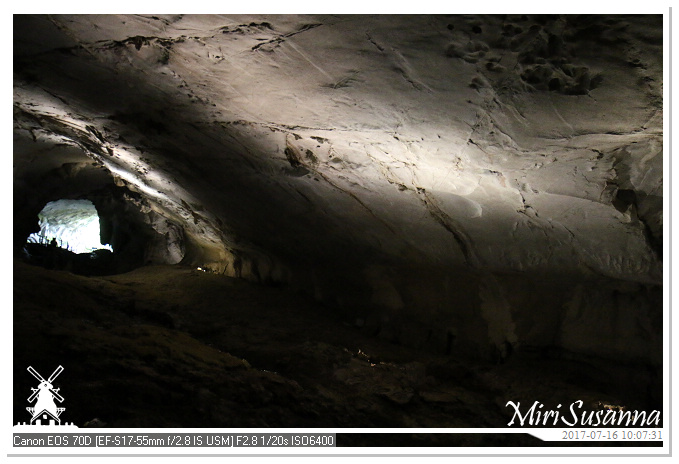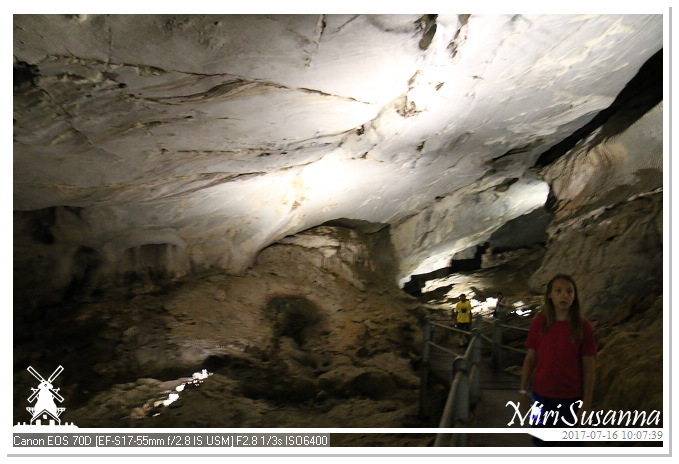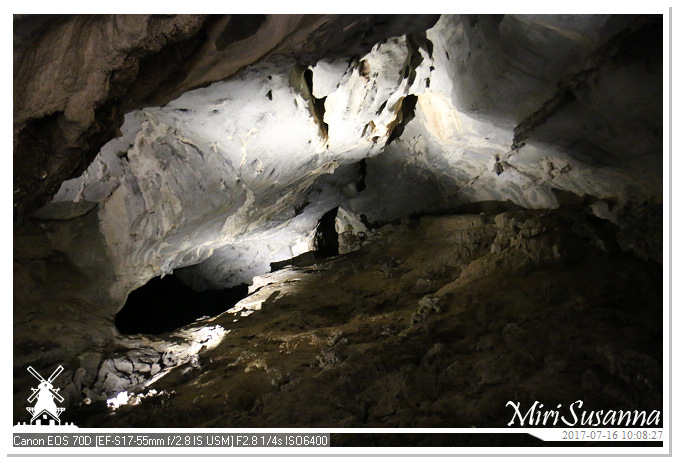 風洞有許多通道和小洞穴。
There are a lot of small caves or path ways in Wind Cave.


來到狹窄的那段。
The narrow part in sight.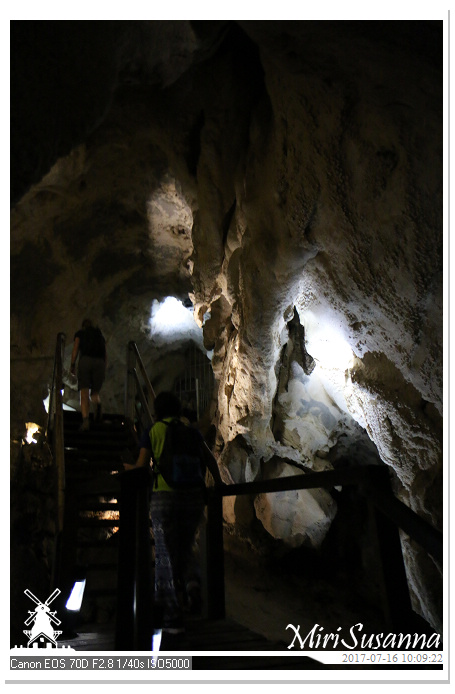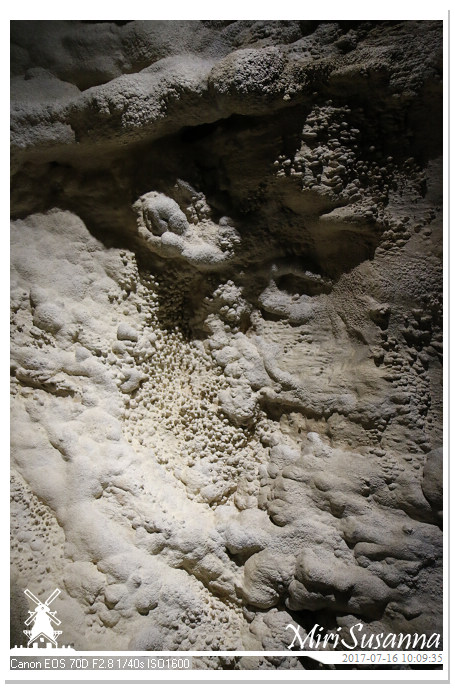 月奶石。
Moonmilk.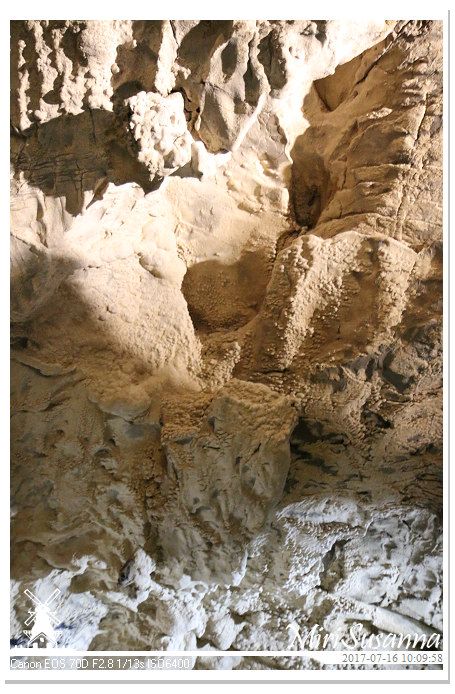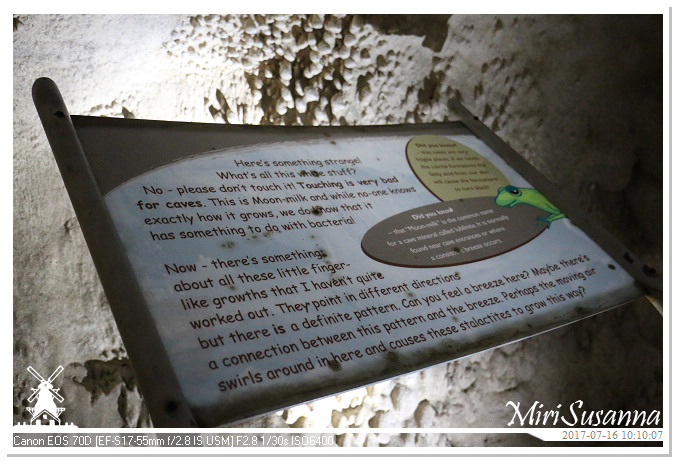 Here's something strange! What's all this white stuff? No – please don't touch it! Touching is very bad for caves. This is Moon-milk and while no-one knows exactly how it grows, we do know that it has something to do with bacteria! Now – there's something about all these little finger-like growths that I haven't quite worked out. They point in different directions but there is a definite pattern. Can you feel a breeze here? Maybe there's a connection between this pattern and the breeze. Perhaps the moving air swirls around in here and causes these stalactites to grow this way?


風洞有開放管制。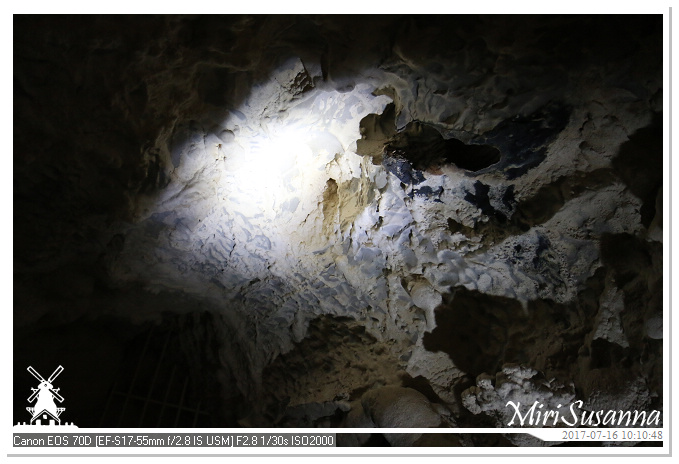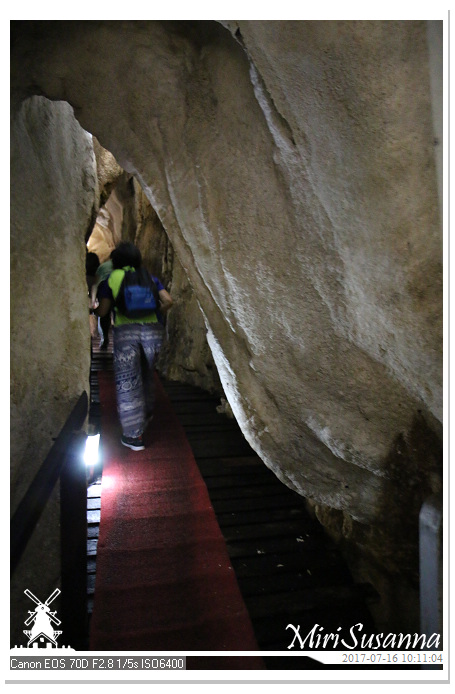 這段有水滴下,棧道鋪有紅毯防滑。
Water droppings and slippery here.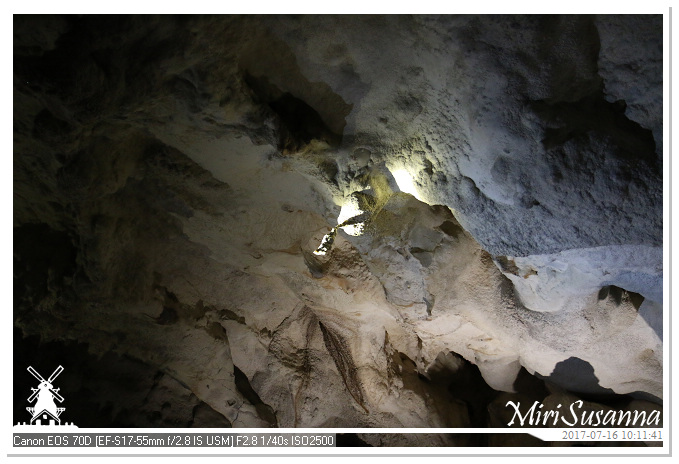 這些鐘乳石都指著洞口的方向,跟洞內的空氣循環方向有關。。
These stalactites are pointing to the entrance.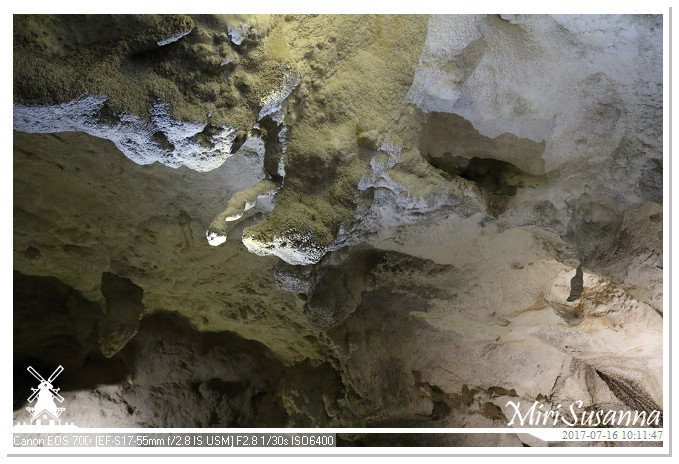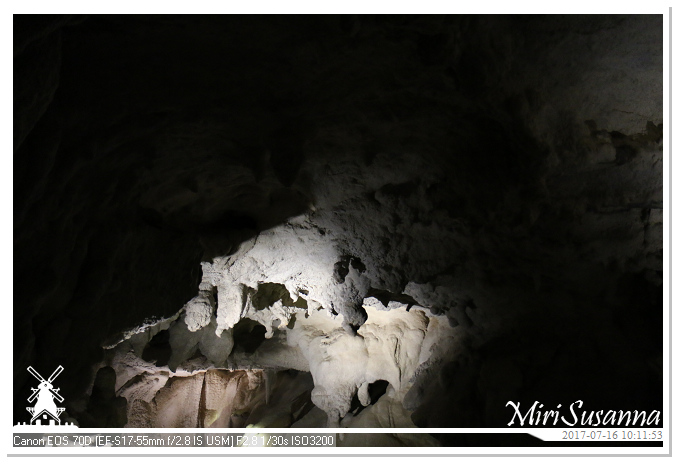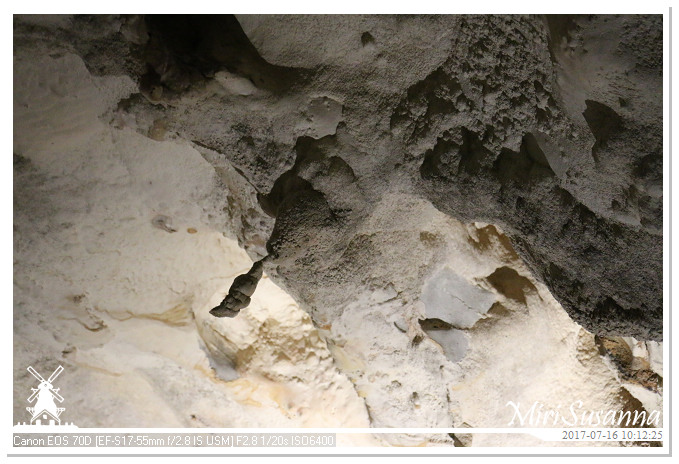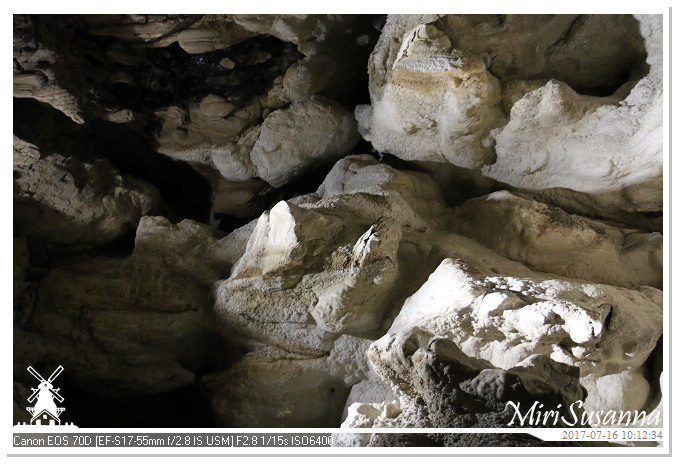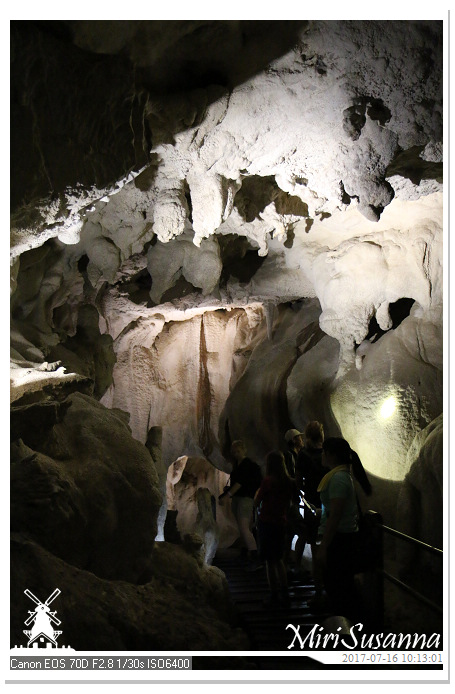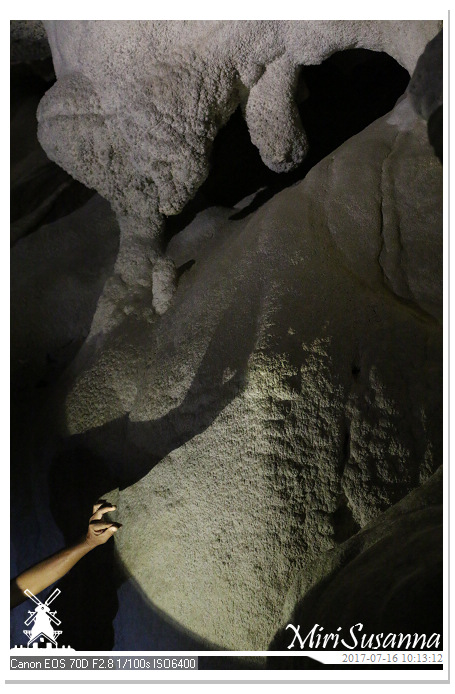 Ah Ting是個資深導遊,對石灰岩洞內的各種構造都能清楚地講解。因為落隊了,沒聽到他的這段說明。
Ah Ting is an experience guide and he can explain a lots about the formation of limestone caves. Unfortunately, I missed his introduction at this section.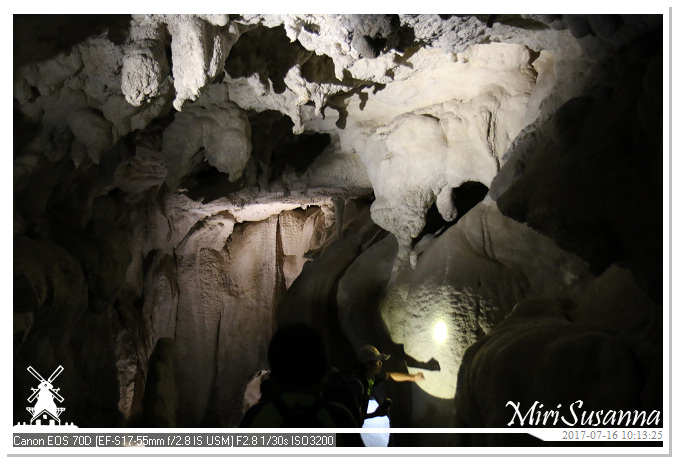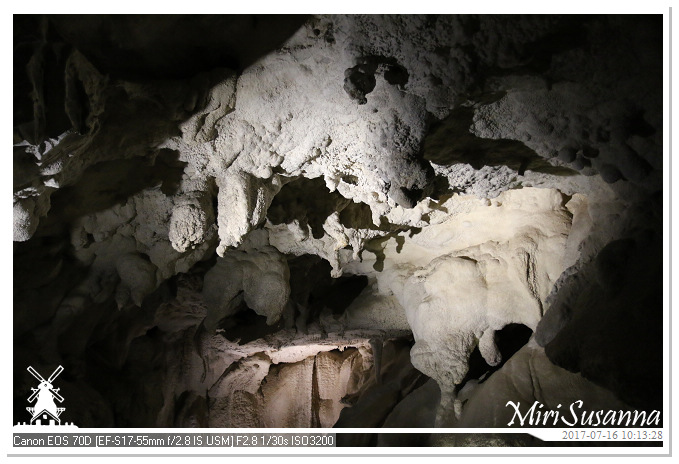 風洞內有很多"比較年輕"的鐘乳石。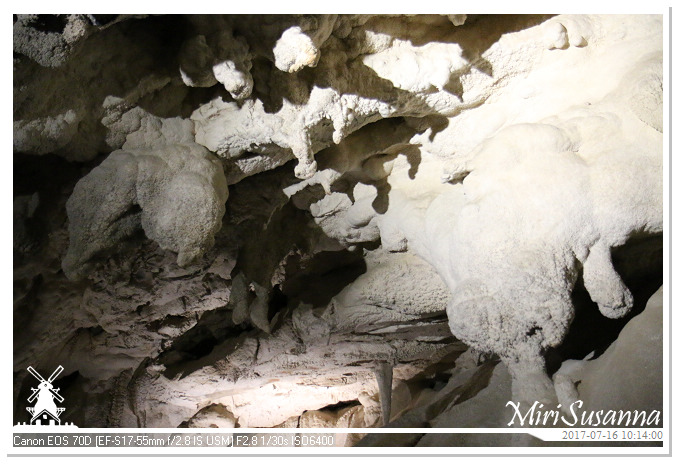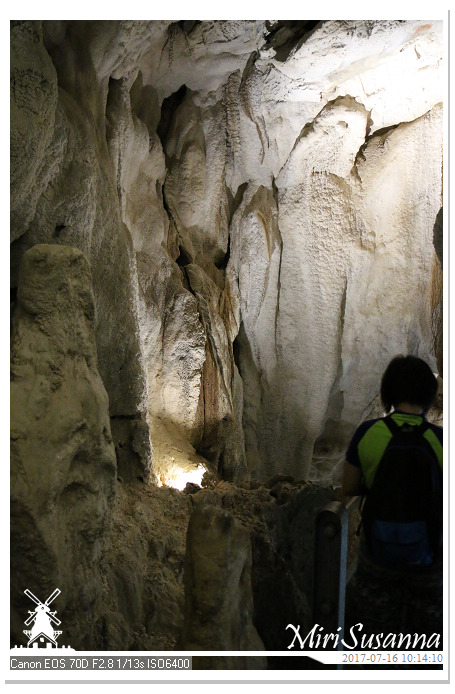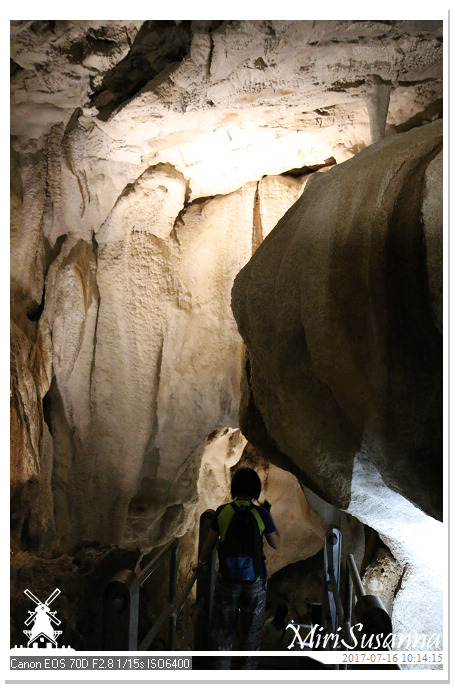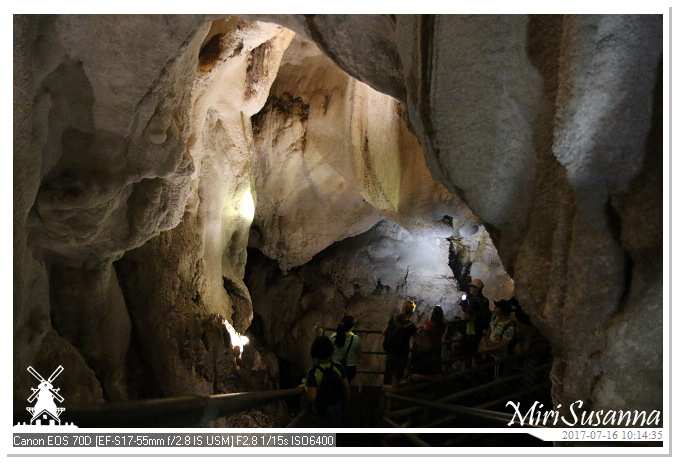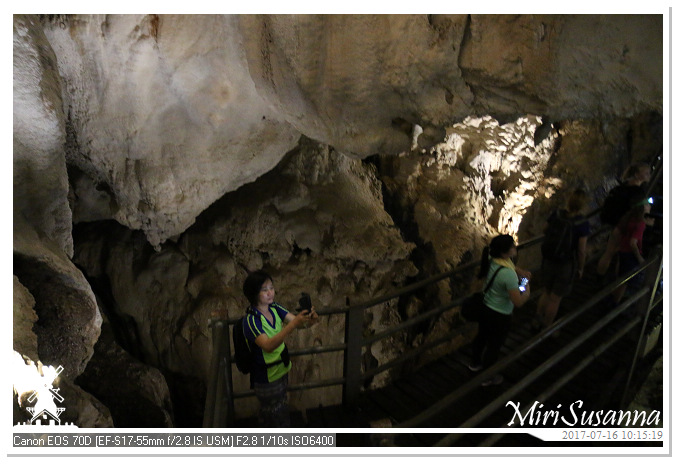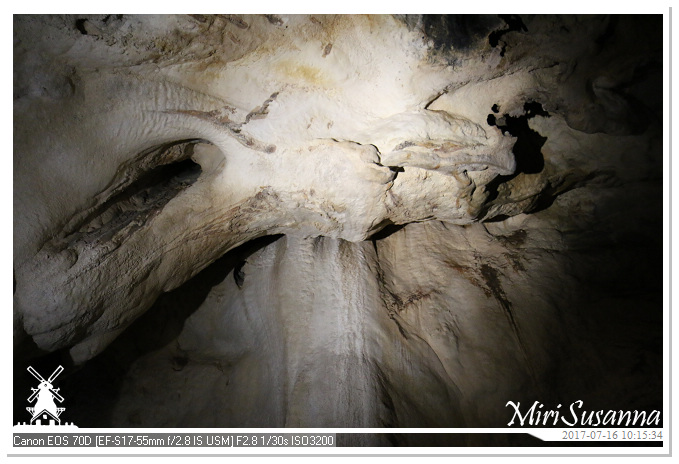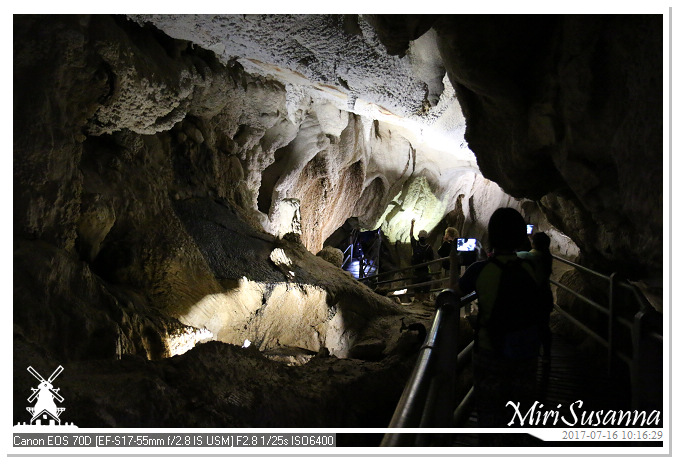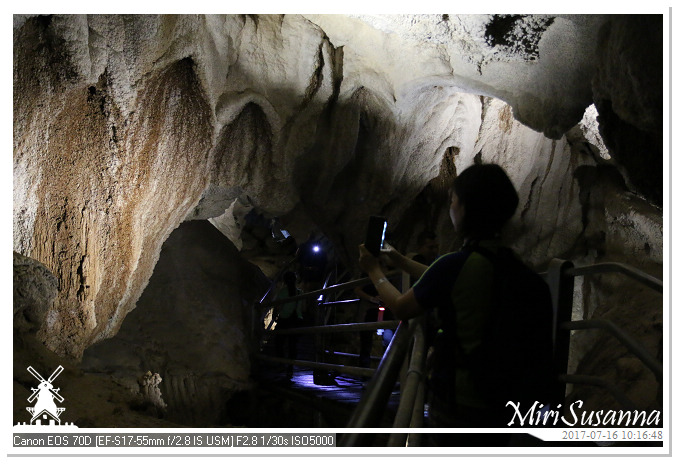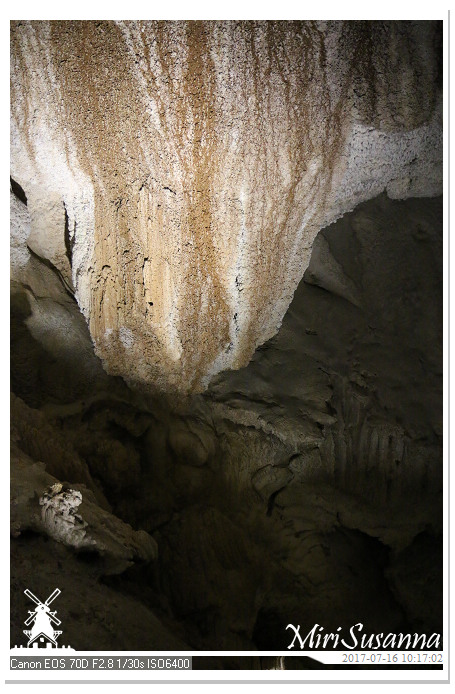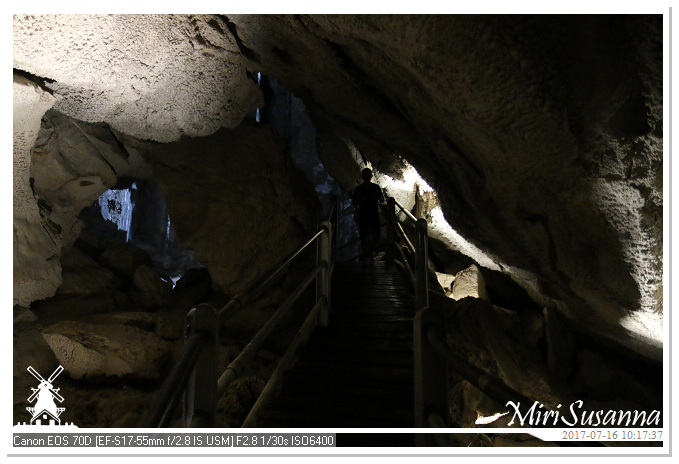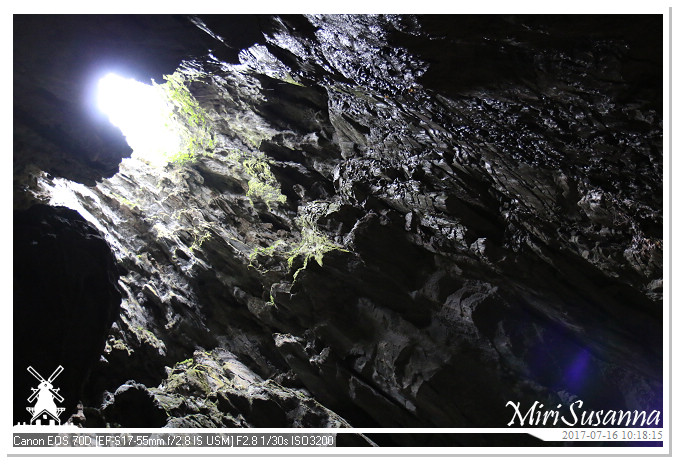 來到開天窗的地方,熱空氣就在這裡上升,牽引整個風洞的氣流。
Collapsed part where hot air rises and pull air to enter Wind Cave, play an important role in cave's air circulation.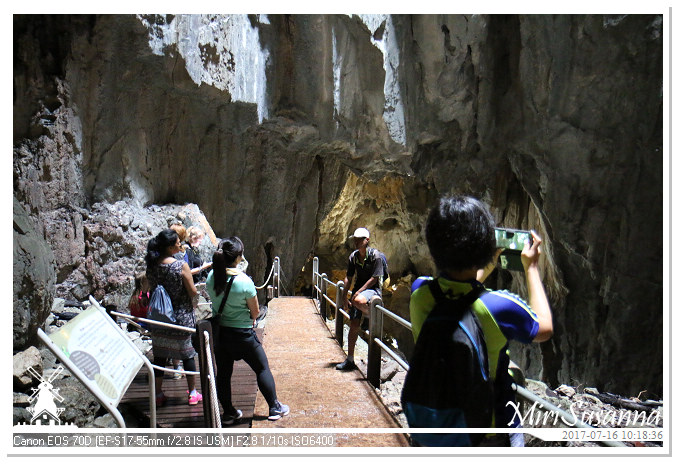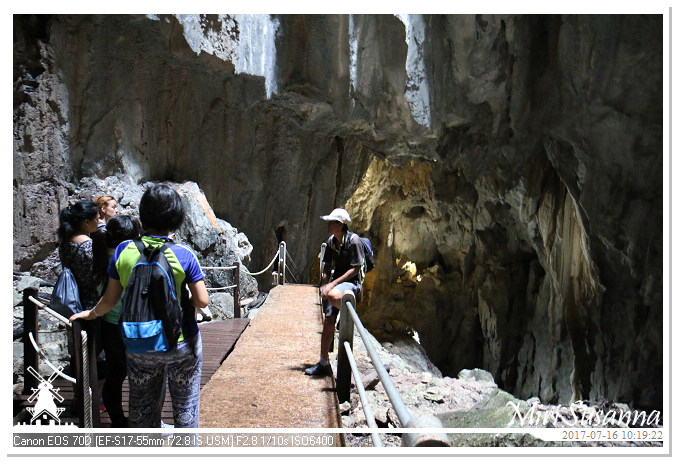 其實我們在洞內較高的部分,Ah Ting後面是個深谷。
Actually, we're at the higher part of the cave, behind Ah Ting is a deep valley.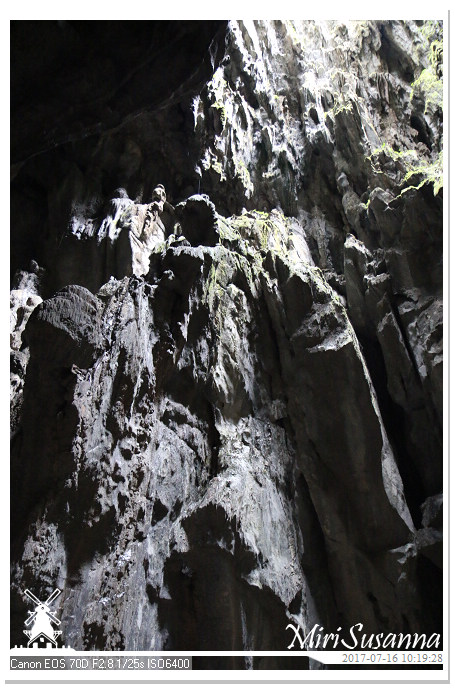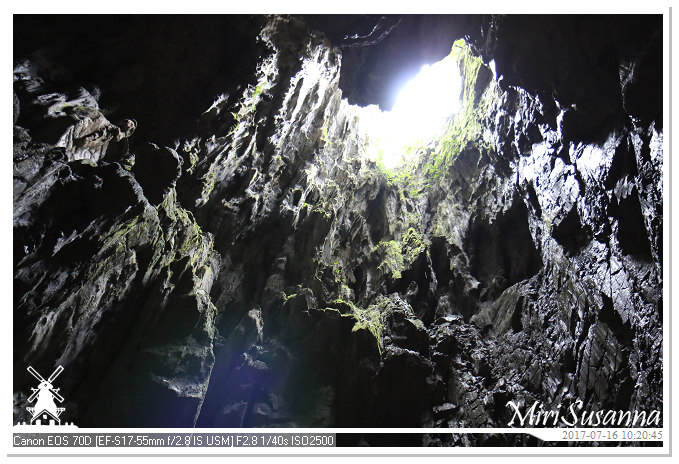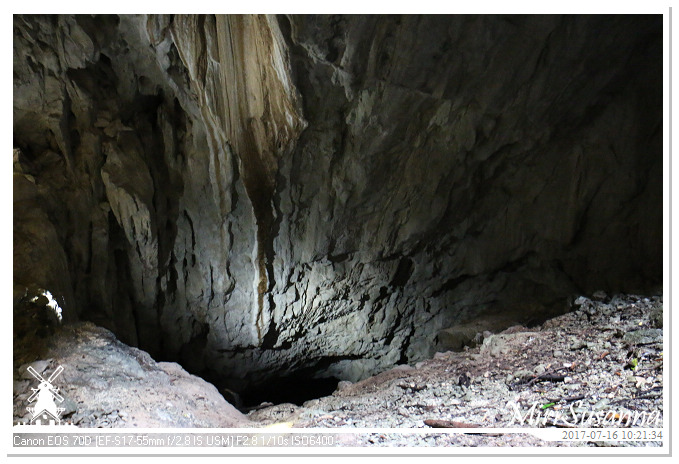 下有深淵。
Deep valley.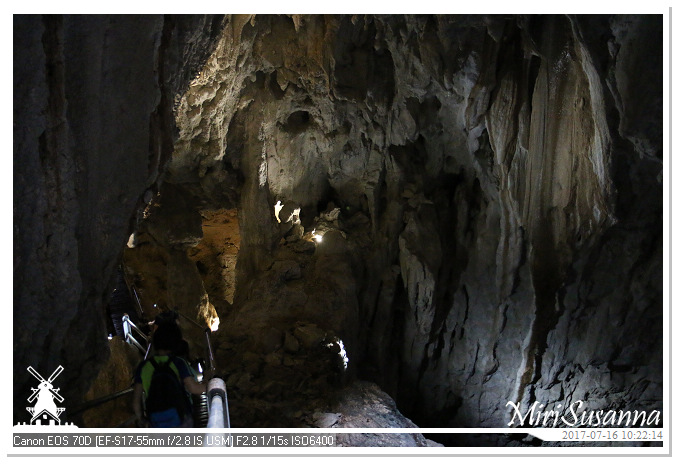 來到「帝皇之室」。
Enter King's Chamber.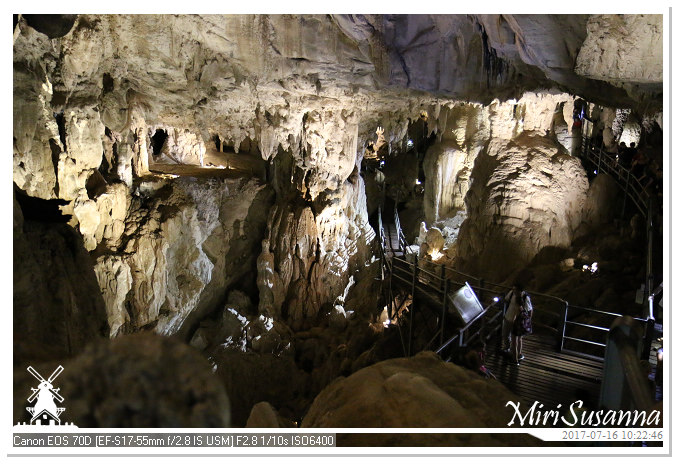 大自然的鬼斧神工。
Again, masterpiece of the nature.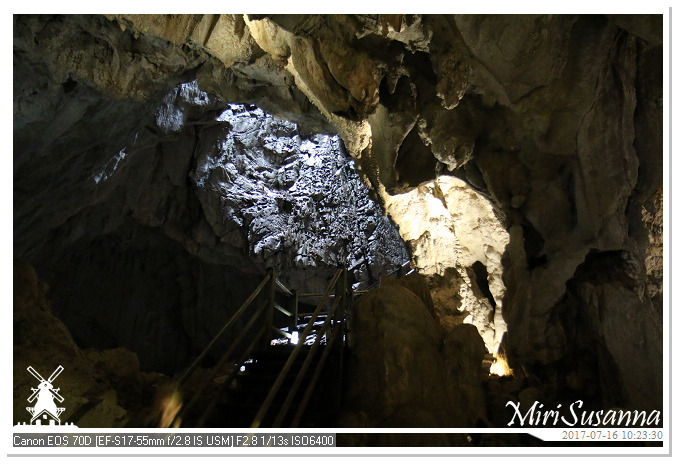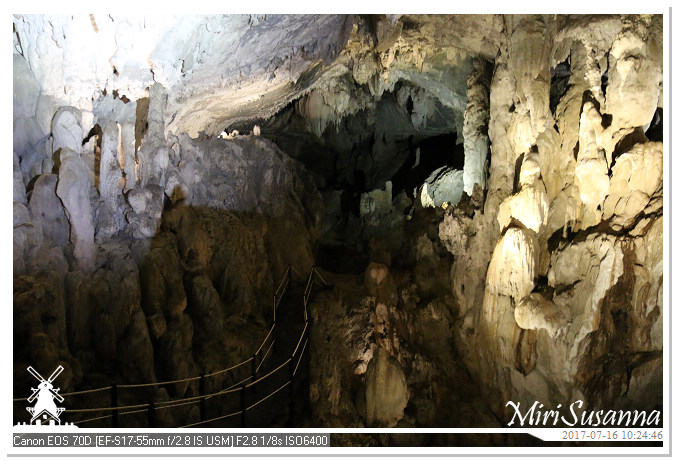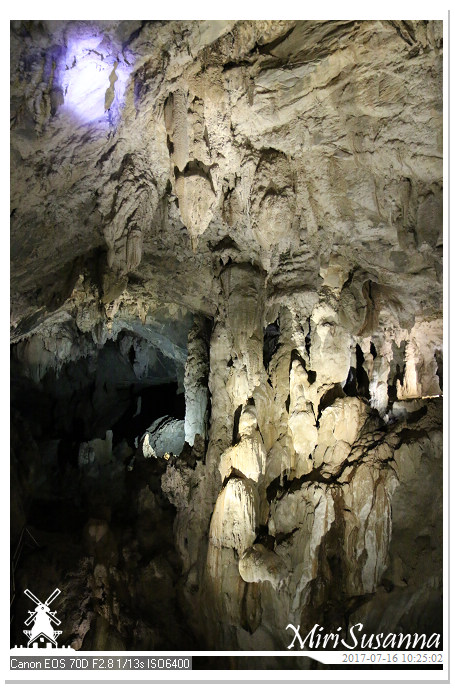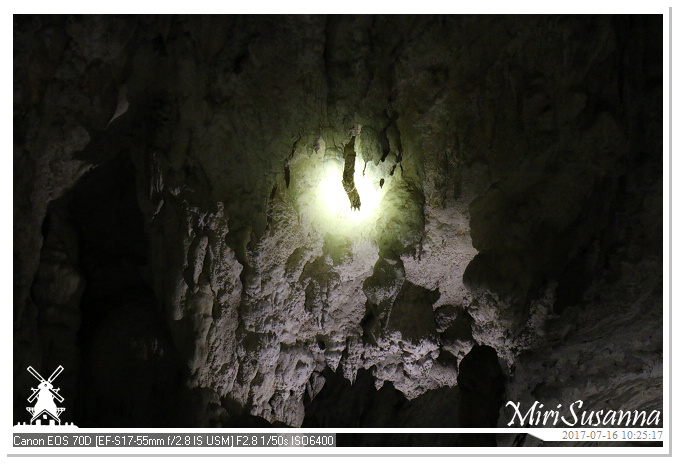 這是隻手臂,打燈後就凸顯了它的影子。
This's a hand with its shadow highlighted.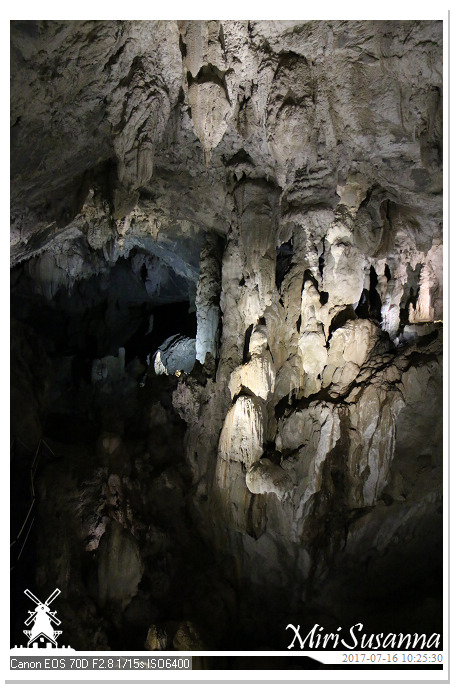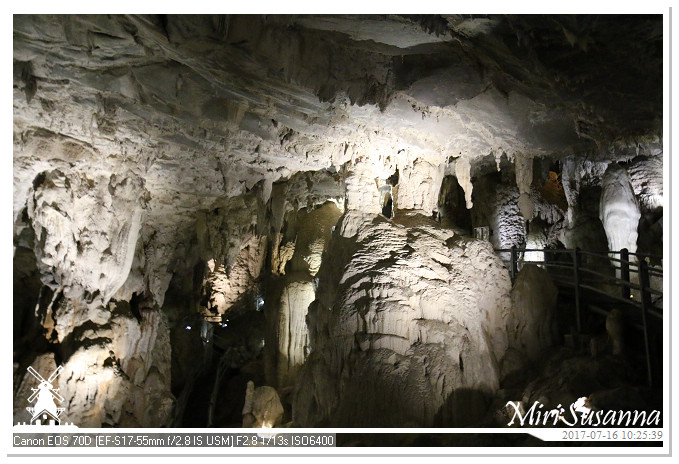 這岩洞內鐘乳石和石筍經歷了千萬年,依石灰岩滲透下來的水量、水流速度和其帶來的礦物質,沉積成今天的風貌。而且,他們還在以每55年大概一公分的速度在長大,所以入洞參觀絕對禁止觸摸它們。
These stalactites and stalagmites are formatted through thousands and milions of years. Their shapes and sizes are related to the volume, droppings speed and content of minerals in water which penetrates through the limestones into the cave. They are still growing with a speed of about 1 cm in 55 years, thus, please love them and don't touch them.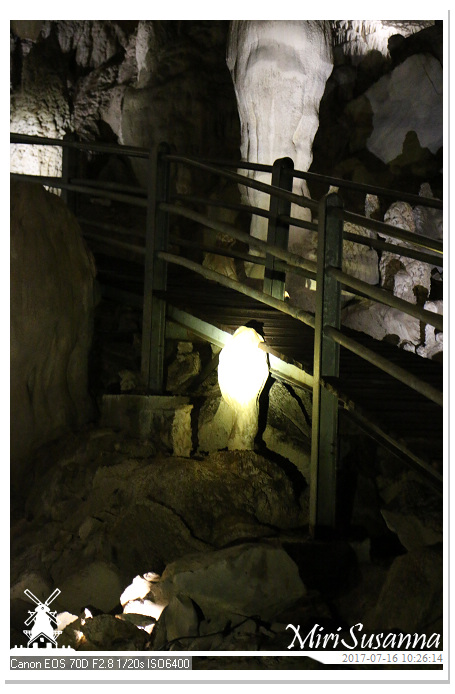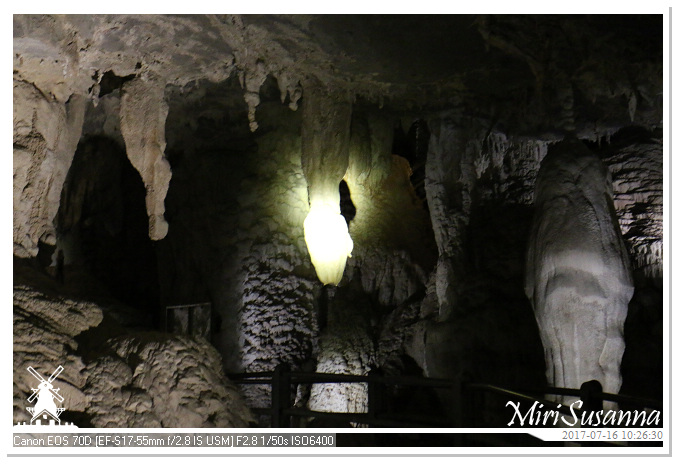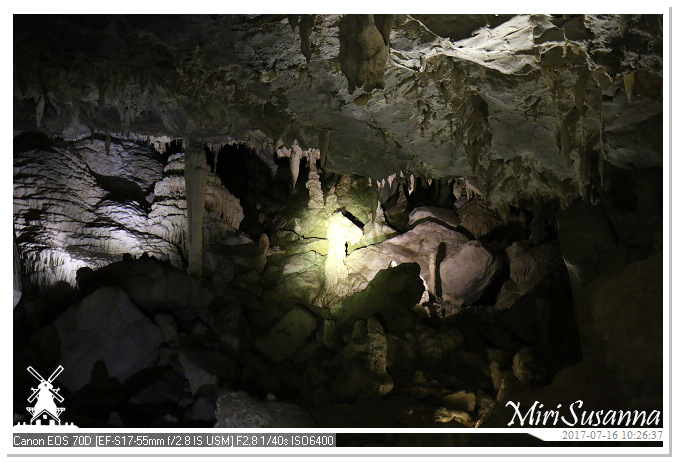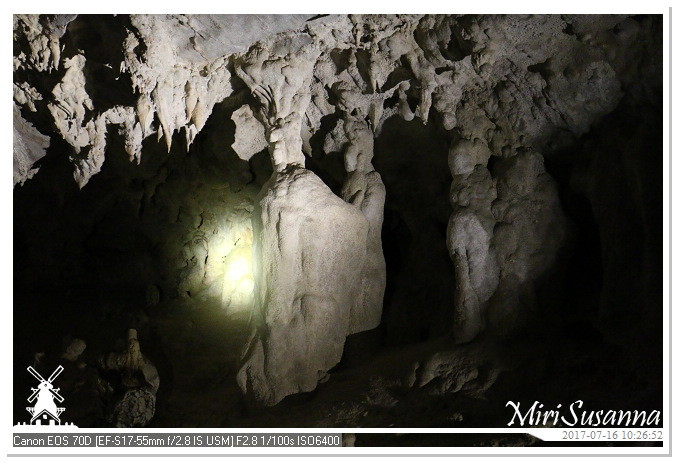 皇帝和隨從。
Chinese emperor.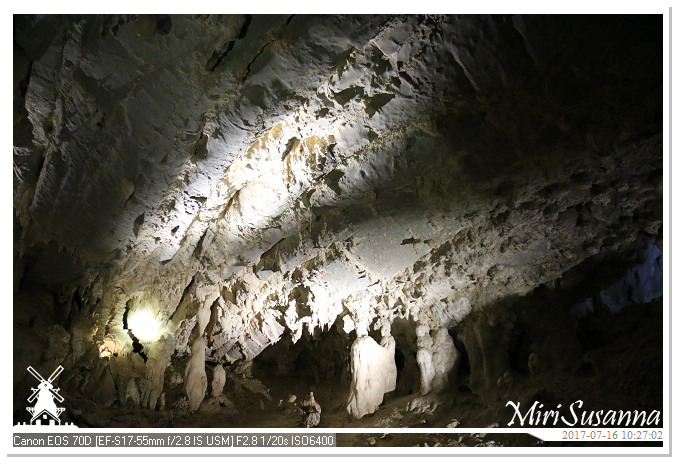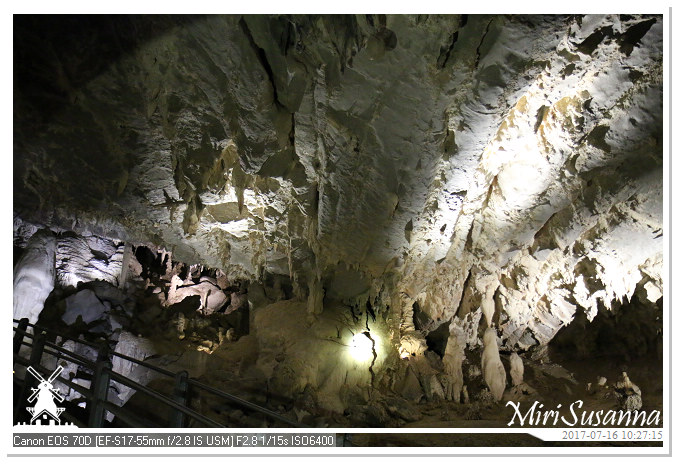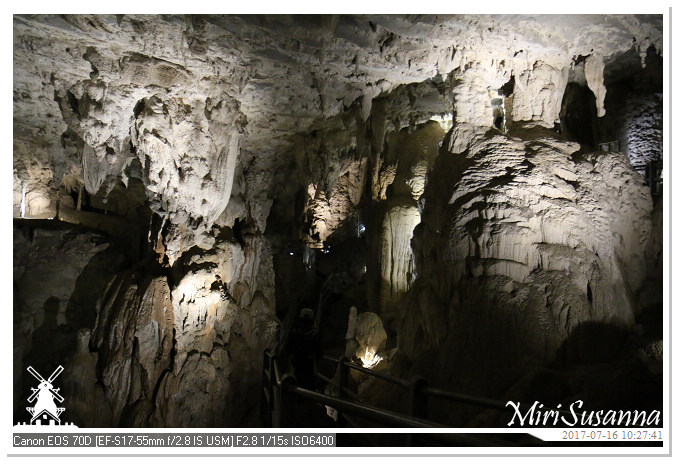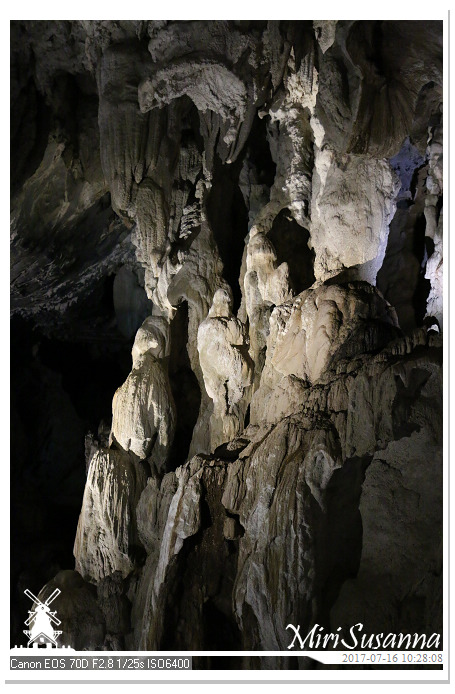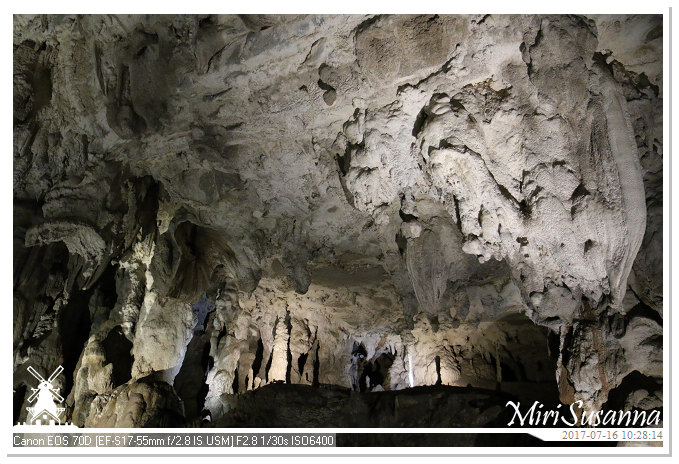 洞內的燈光換成白色,少了以前黃色燈光的輝煌氣勢。
The lighting in King's Chamber is changed to white colour. Compare to yellow colour in previous visiting, this gave me more a cool feeling than the warm one it used to be.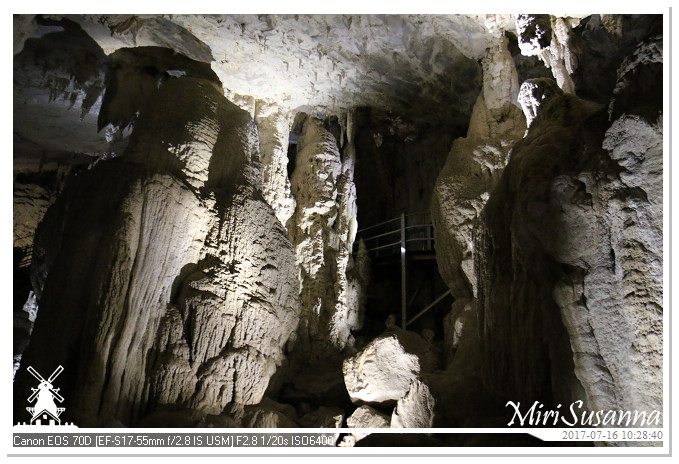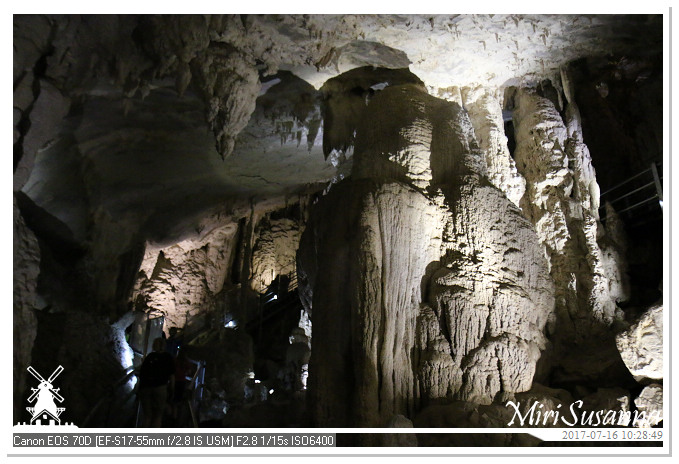 這堆壯壯的石柱就像撐起洞頂。
These pillars seem supporting the ceiling of this room.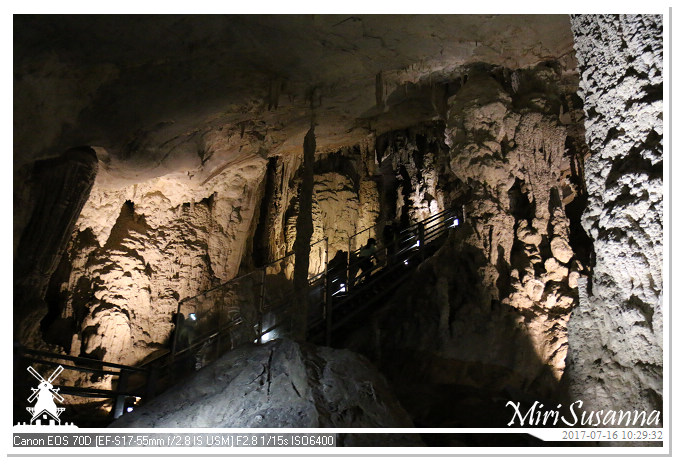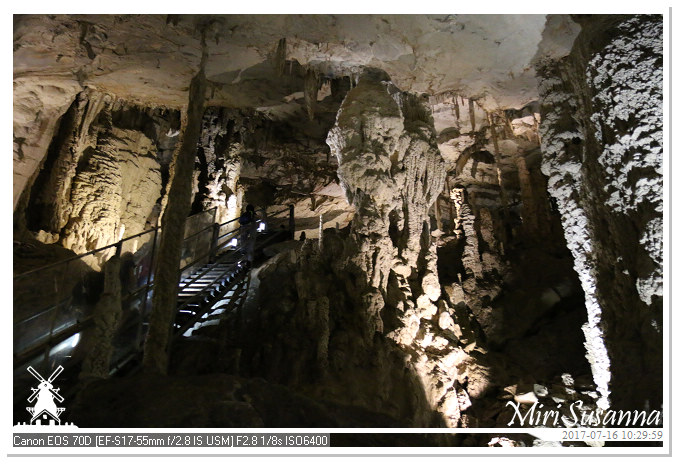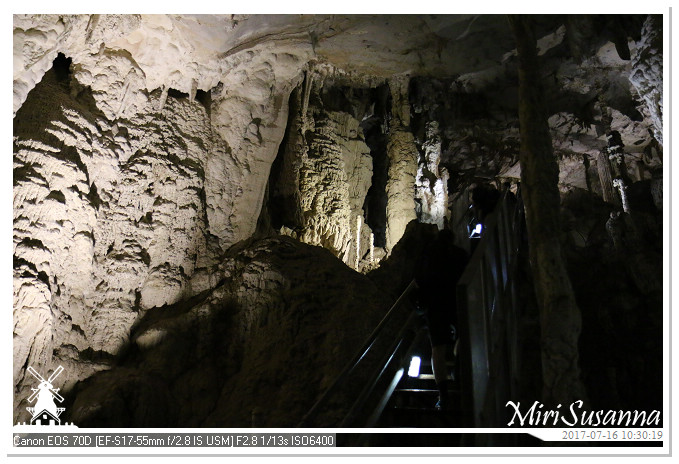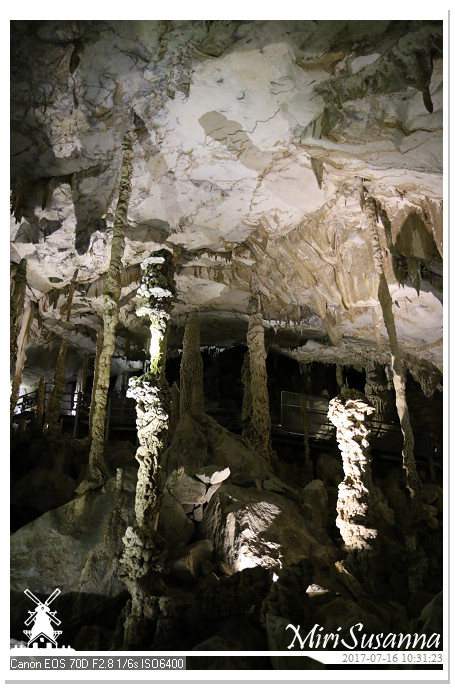 這一角是漂亮的石柱。
This corner is full with beautiful pillars.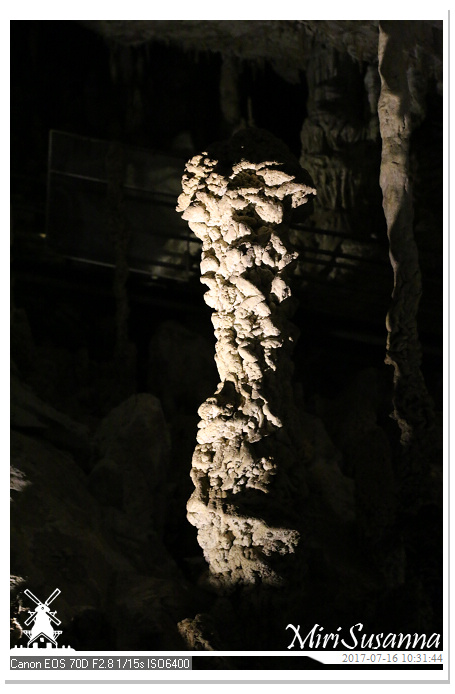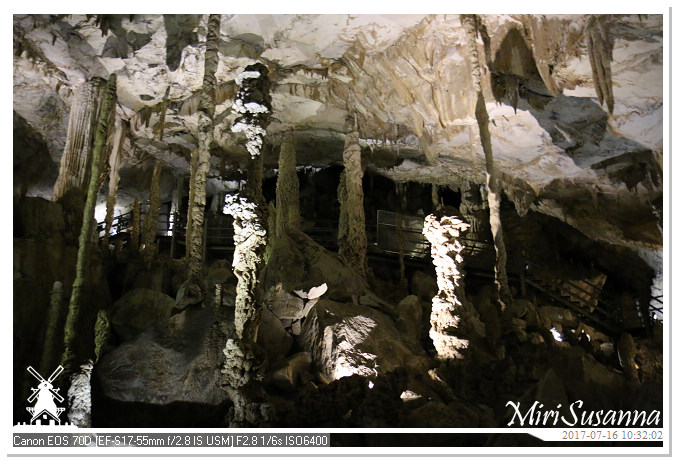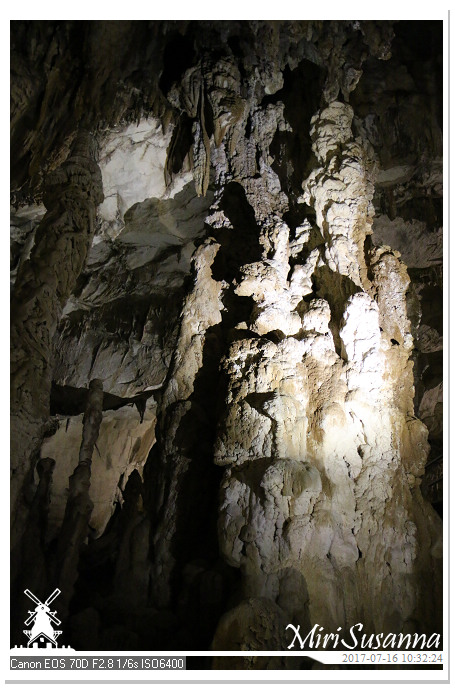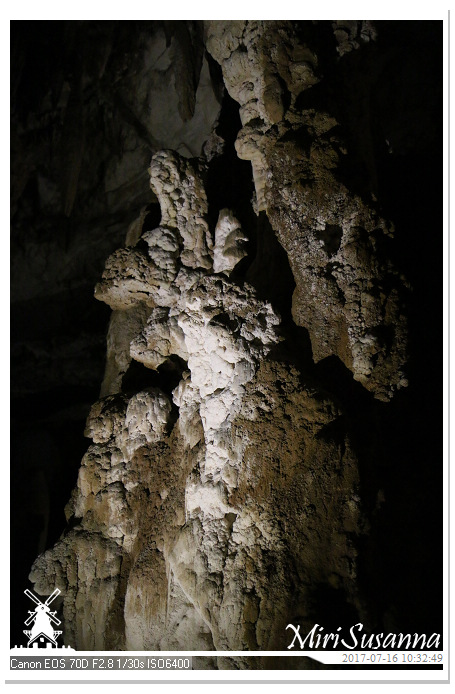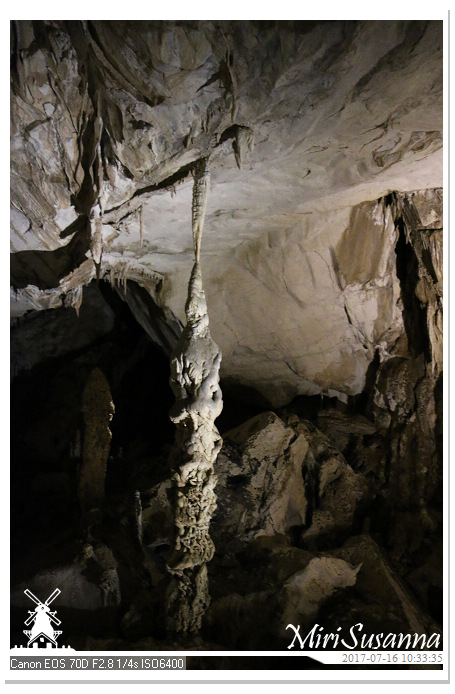 剛吻合上的石柱。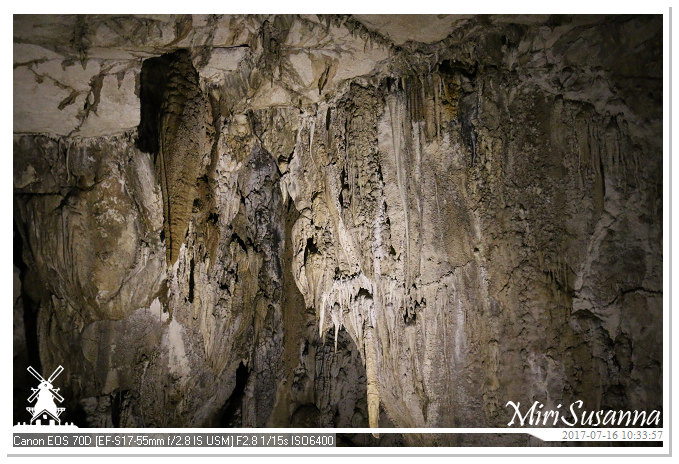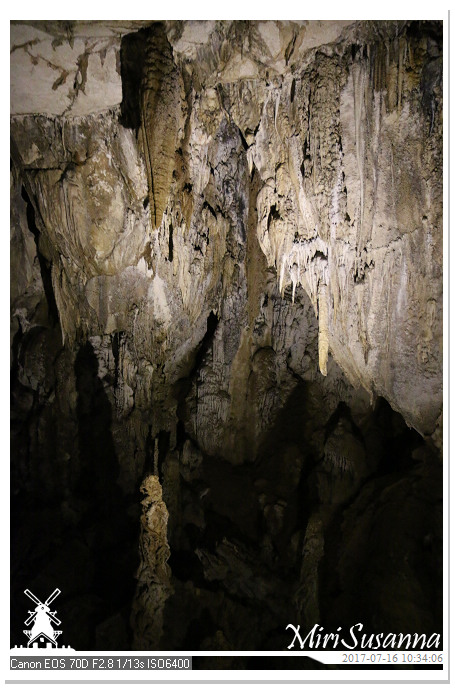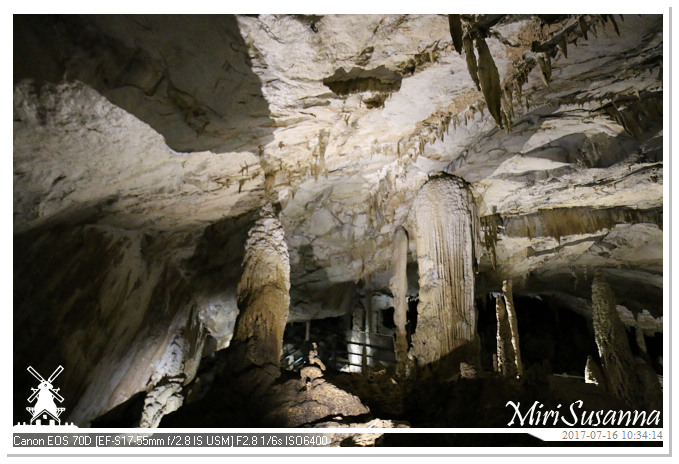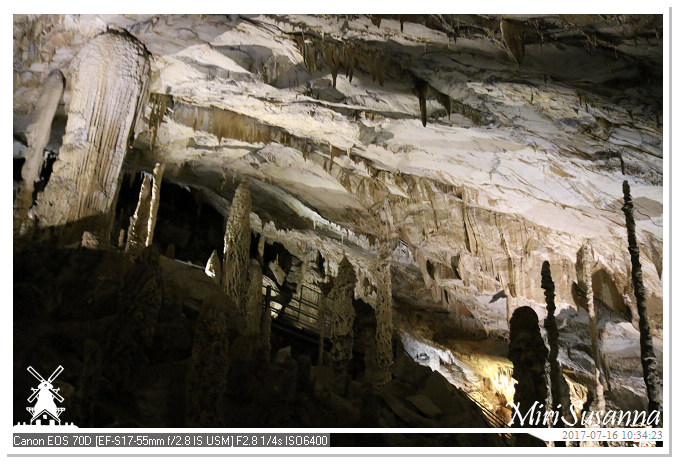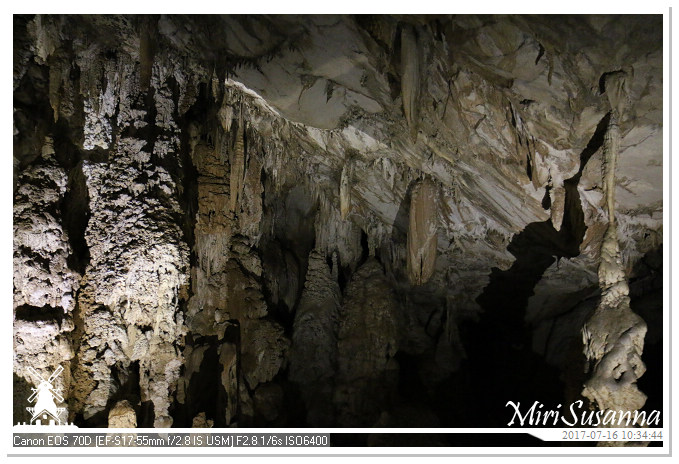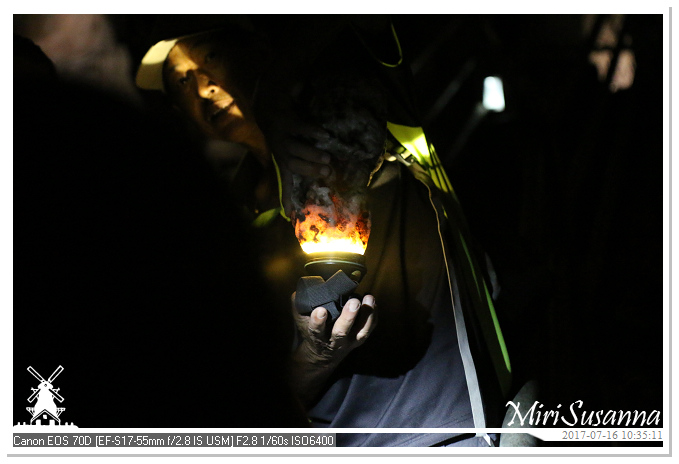 Ah Ting用手電筒把斷裂的石筍照亮,這裡面有水晶哦!
Ah Ting used his torchlight to light up a broken stalagmite and showed us that it contents crystal inside.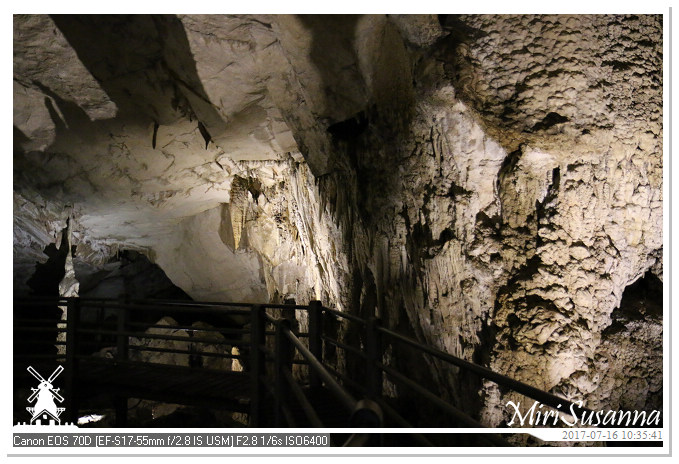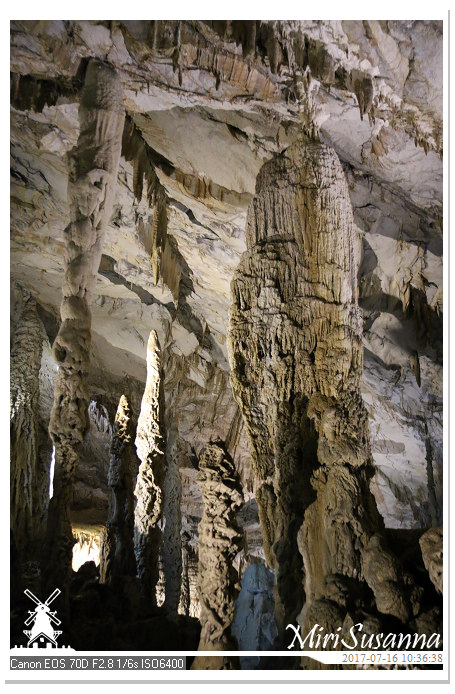 形形色色,怎麽看都美。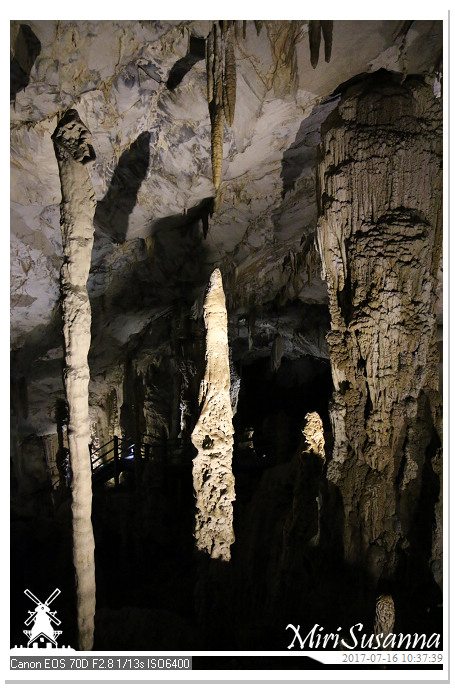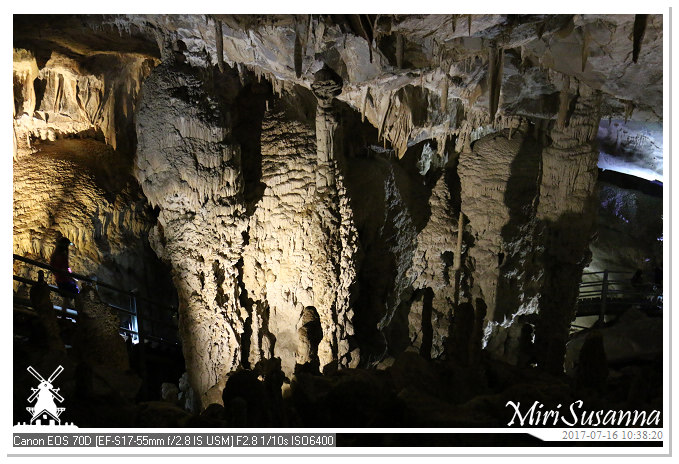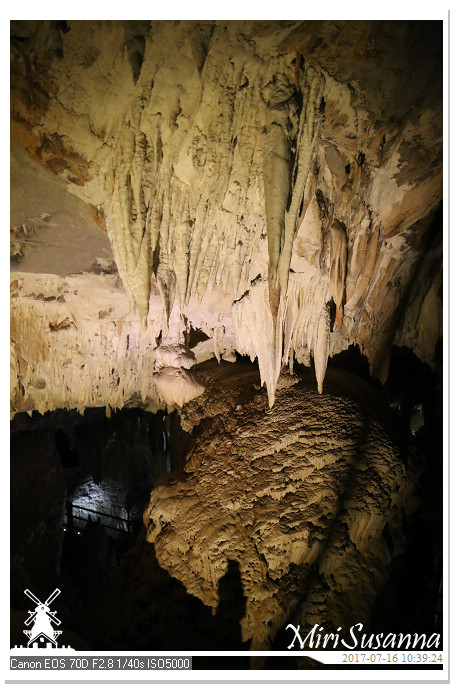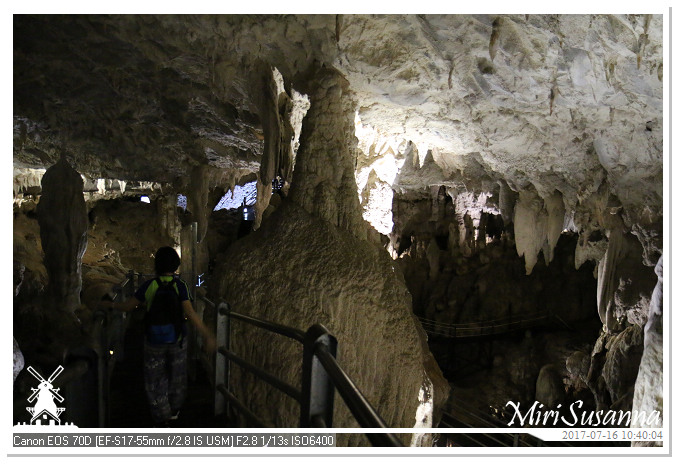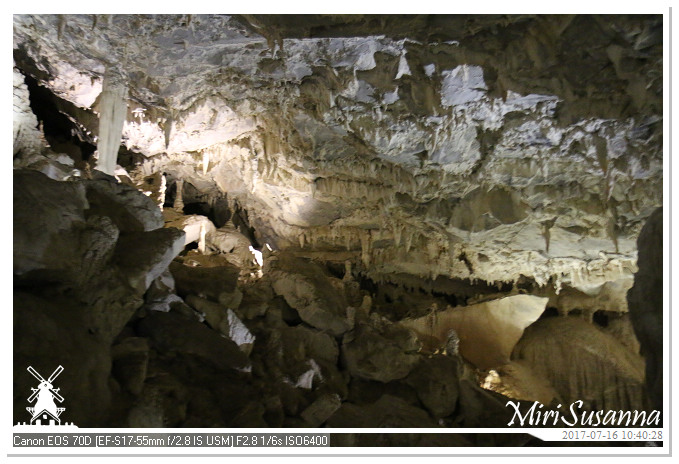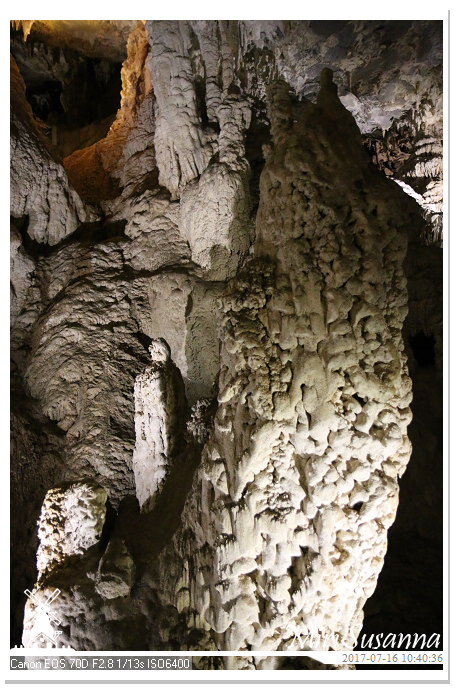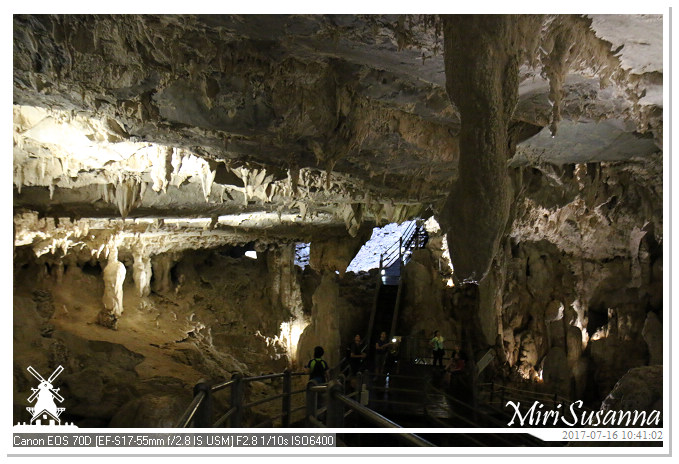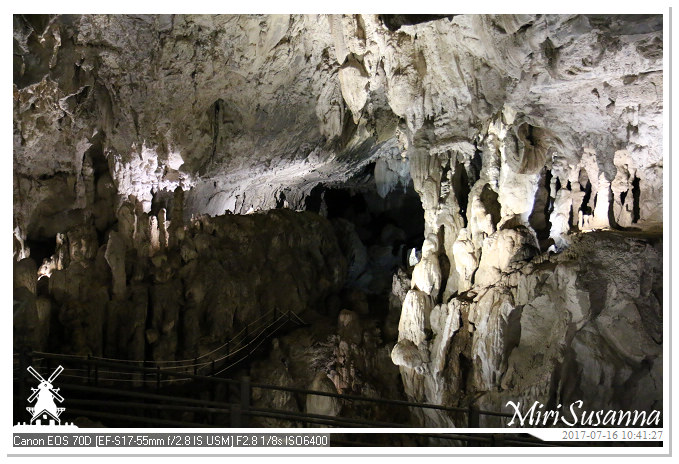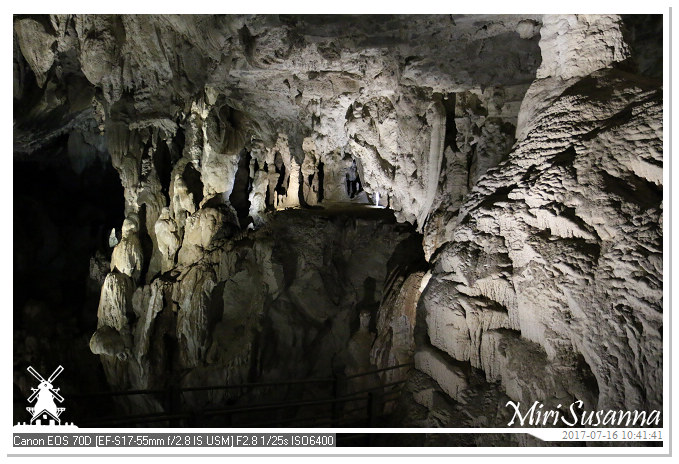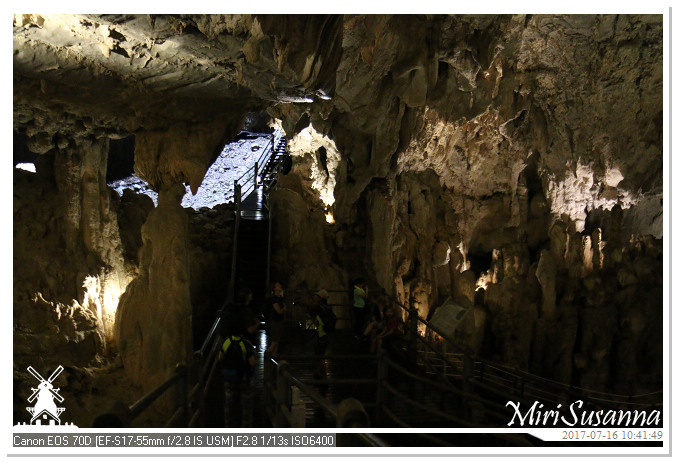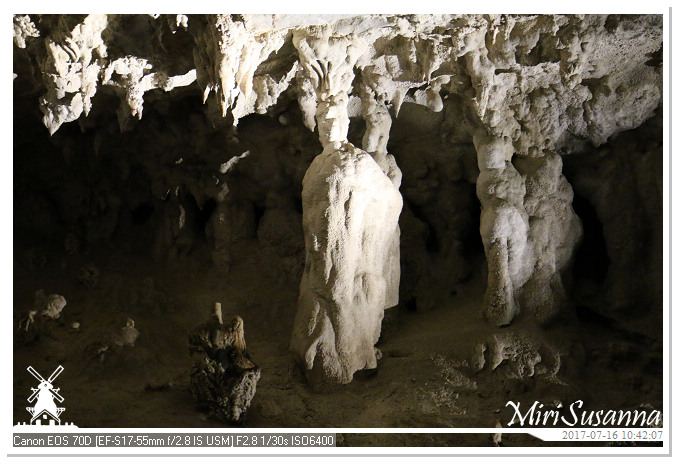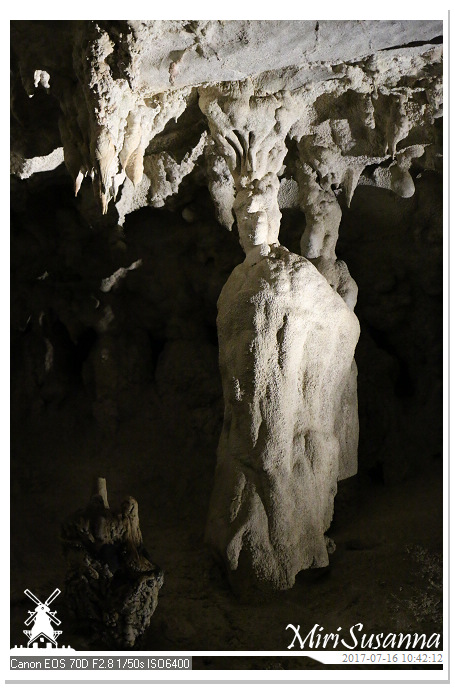 繞了一圈「帝皇之室」,就是這皇帝最唯妙唯俏了。
I love this emperor the most.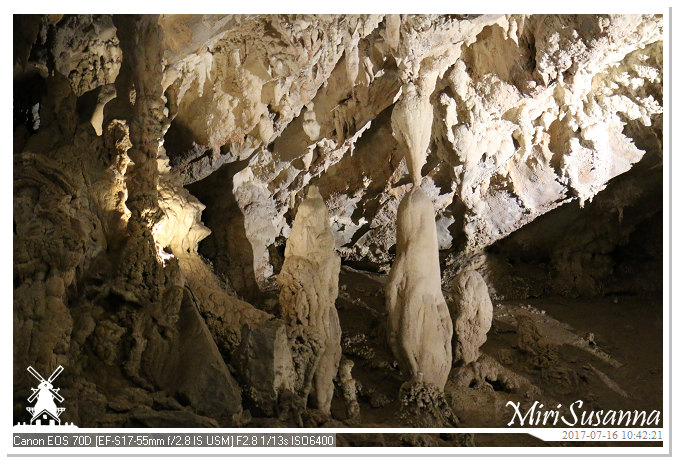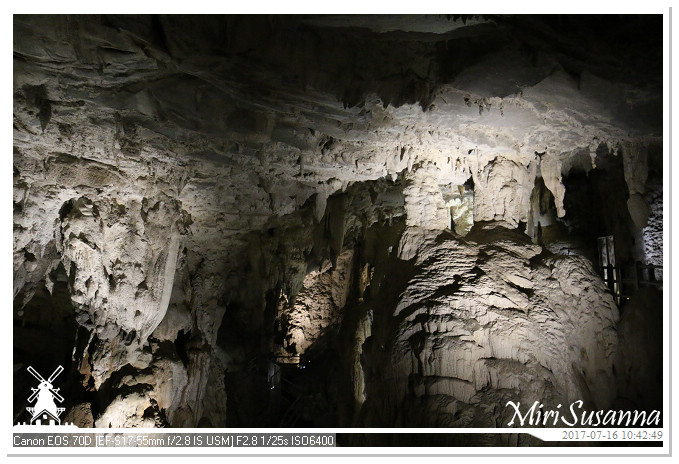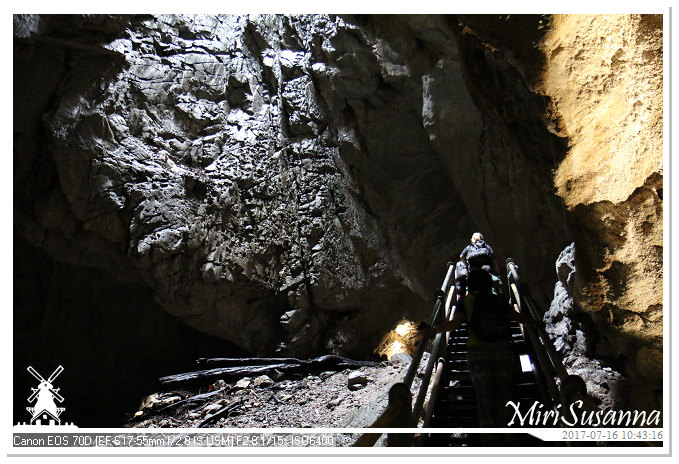 離開「帝皇之室」,往出口走。
Leaving King's Chamber and walking back to the entrance.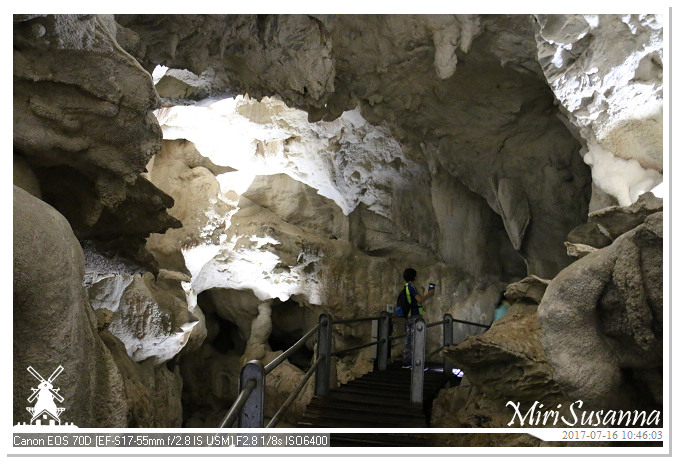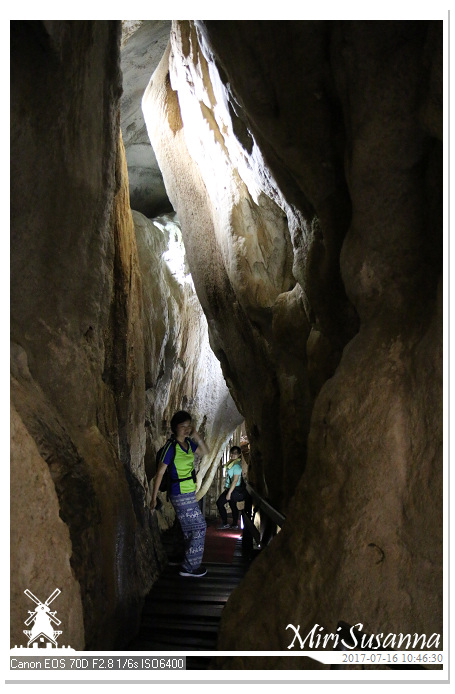 天氣越熱,這裡的風就越大。
The warmer the weather, the stronger the wind at here.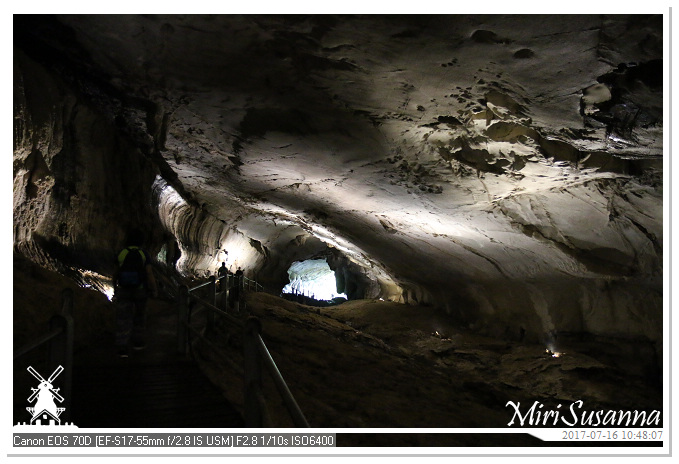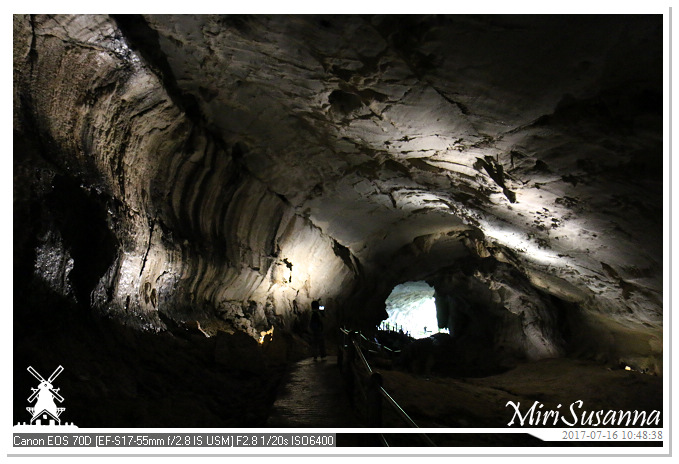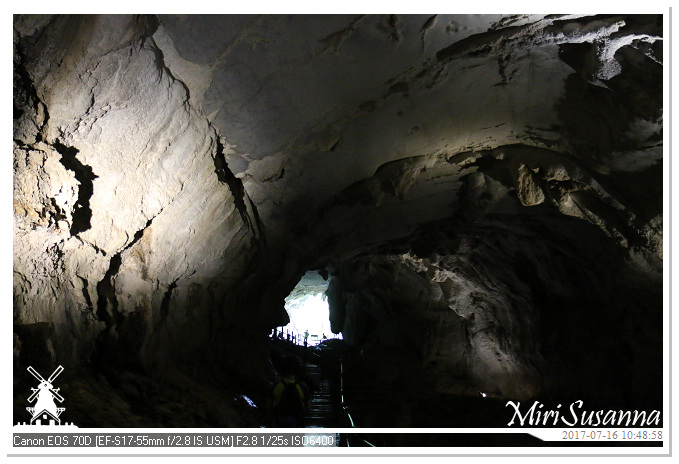 風洞的整體石壁白嫩,沒有鹿洞的滄桑感。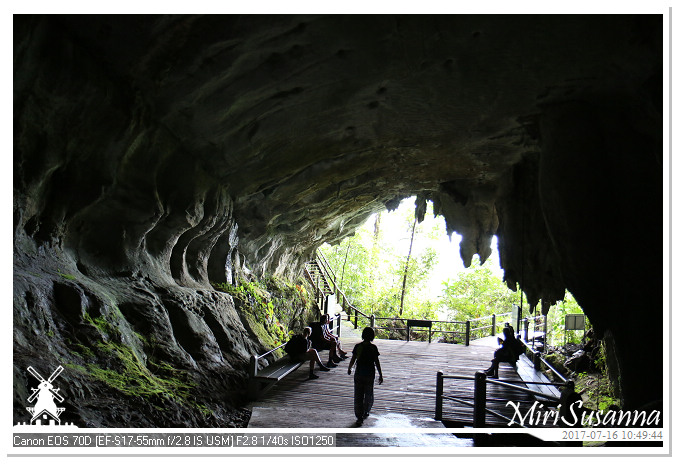 接著要去清水洞了。
Continue our way to Clearwater Cave.
~。Next post。~
〔17〕返馬之總匯:
All post of Malaysia 2017: